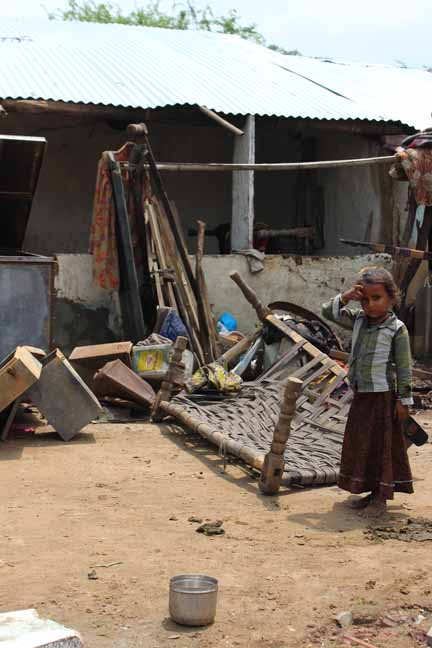 On 15 September 2014, a day before the Rajasthan poll results were announced, about a thousand Banjaras from 6 districts of Rajasthan and Madhya Pradesh came together to demand justice for the victimized Banjara community of Dungari Basti at a protest organized by the Banjara Sangharsh Samiti at the Collector's office in Bhilwada. "We are demanding the prosecution of the still at large main conspirators, provision of a relief package of Rs. 10 Lakh and return of the stolen jewellery to each family, as well as hastening the allocation process of the promised BPL cards and pattas. We will not stop till the people get justice" said Paras Banjara. He is the president of the Samiti that was formed in the wake of events of 19th august, when all 42 houses in the Banjara Basti of Dungari in Dhikola Panchayat of Bhilwada district, Rajasthan were burnt and looted of all valuables by a mob of about 2500 people.

About 2 kilometres away from the main village of Dhikola, the Banjara community settled in Dungari about 40 years ago. Now working largely as farmers, buffalo traders and labourers, they broke away from a traditionally nomadic nature to live more stable lives. Classified as a De-Notified Criminal Tribe, a hangover of the Criminal Tribe status imposed on them by the British, they remain a heavily stigmatized and oppressed community.

What I saw when I visited Dungari on 31st August was horrifying. All 42 houses had been burnt to rubble. Everything from the houses had been looted, and what was not, had been broken. The people were frightened, angry and in disbelief. Many were still wearing the same clothes they had been on the 19th, as they had none others left. In the habit of buying gold and silver with dispensable cash, and not keeping money in a bank or on them; the Banjaras had lost all they had- savings in jewellery carried over many generations, accumulated over decades and decades.

Each family took me to their house to show me how much had been destroyed, and have me photograph it. Even 12 days on, it seemed the village had not got much attention.

All houses had been destroyed with the same precision and hatred. The door broken down, jewellery boxes looted, cots, trunks, utensils, switch boards- smashed ruthlessly with rods; and finally the house sprayed with kerosene and set alight.

What remained was piled outside - Charred motorcycles, burnt grain, broken pots, plates and glasses, charred beds, burnt mattresses and blankets; smashed trunks, burnt bamboo, burnt bricks, disfigured grain canisters, broken jewellery boxes…

The mob had even vandalized the few tube wells the basti had- the pipes leading to them hacked, motors broken and thrown, rocks dropped into the bore to block water. Nothing left in the village had any value or use.

Not grain, not a cloth, not a cup, not a well.
According to eyewitnesses, the mob came from Dhikola, down the main highway towards Dungari in the morning, in full view of all. The rioters were armed with guns, iron rods, sticks and swords; many on foot and some on tractors and motorcycles. This was a strategic time to attack, as a majority of the Banjaras had gone on their annual pilgrimage to the Ramdev temple in Jaisalmer district, leaving their houses unguarded.

At a meeting in Dhikola on the eve of the attack, it was allegedly announced that any household not wanting to participate in the destruction would need to pay Rs. 11, 000 as a fine.  Only two families had the money and paid, and thus many people in the mob were there without choice

A police chowki is located right on the main road between Dungari and Dhikola. According to the Banjaras themselves; the police had prior information about what was planned. They warned them to flee that morning, and also aided in their evacuation- maintaining they would be unable to stop the mob; and could only help them flee.The police allegedly stood by throughout the mob's activities, from