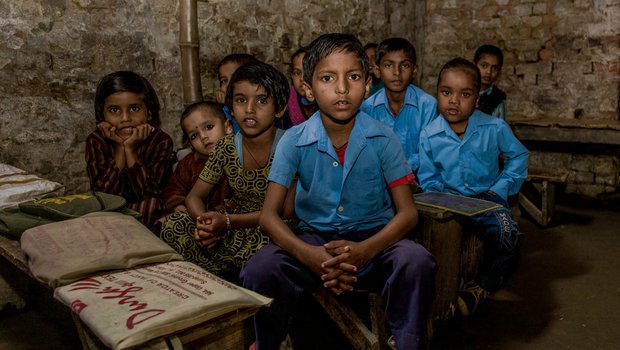 According to a new WHO-UNICEF-Lancet Commission report called 'A future for the world's children?' India ranks 131st among 180 countries in the category of child survival.
The report states that no country in the world is adequately protecting children's health, their environment and their futures. It also stated that the health and future of every child is under "immediate threat" from ecological degradation, climate change and exploitative marketing practices that push heavily processed fast food, sugary drinks, alcohol and tobacco at children.
The report also says that children must be put at the centre of every country's Sustainable Development Goals (SDGs). However, even though it has been five years since these goals were adopted, "few countries have recorded much progress towards achieving them".
Health Issues India states that though the country has improved on many counts – it recorded a 30 percent decrease in newborn mortality rates – it still continues to face an evident socioeconomic crisis. While the report states that there are positive examples of how policy changes have worked and how change can be driven through citizen action, India still has a long way to go.
The infant mortality rate in India currently stands at 33 per 1,000 live births, meaning nearly 800,000 to 850,000 infants die every year in India, the average daily number standing at 2,350. Speaking to IE, Lu Gram, India Index developer at the Institute for Global Health, UCL, said, "In terms of basic survival, one-fifth of Indian households still live in extreme poverty, nearly half do not have access to improved sanitation, and over a quarter do not have access to a skilled birth attendant. The government has launched initiatives such as Swachh Bharat, Janani Suraksha Yojana and MNREGA, etc. to deal with these issues, but it remains to be seen whether they will successfully tackle them or not. In terms of children's ability to thrive, India displays some of the worst indicators on child nutrition in the world, as 28 per cent of children are low birth weight and 42 per cent are stunted. It also has some of the highest rates of intimate partner violence, with 39 per cent of women having experienced IPV in the past (compared to 11-15 per cent seen in high-income countries). Another issue is the high youth suicide rate, as suicide is the most common cause of death for the 15-29 age group."
India is also riddled with problems of malnutrition, 69 percent of deaths of children below the age of five were caused due to it. Not just this, a contradictory issue of obesity is also on the rise among Indian youth. By 2030, the country is set to be home to 27 million obese children, becoming a major driver of childhood obesity.
The report highlights how children have been adversely hit by marketing, especially through internet and mobile targeting. A public survey conducted between September 2018 and December 2018 showed that 88.8 percent of youth started drinking before the legal drinking age and could procure alcohol without any age check.
A report by the Tobacco Atlas stated that 625,000 children in India ranging from 10 – 14 years of age continue to use tobacco each day. It states that though 0.64 percent boys – a number fewer than other countries smoke tobacco in India each day, the number is still pegged at more than 429,500 boys making the issue a dire public health threat.
Even climate change and environmental pollution – challenge that the country's government has pledged to overcome still stands to daunt it today.
The report reads, "Children and young people are full of energy, ideas and hope for the future. They are also angry about the state of the world."
India deals with vast amounts of air and water pollution. In the past, India stood 177th out of 180 countries which were ranked for their environmental performance. Air pollution, the report stated, caused 1.1 million deaths in the country each year and more than 5 cities in India stood in the top 10 list of the world's most polluted cities.
Anthony Costello, a co-author of the Lancet report said that India faced manifold challenges related to climate change in the near future. "We don't want to bequeath our children an unsafe world, with increasing heatwaves, proliferation of diseases like malaria and dengue, water shortages, population migration and malnutrition. India faces all of these challenges in the near future," he told Health Issues India, adding that "the Indian government should recognise that every effort to tackle climate change will be good for the health of children and all families: clean air, clean water, better play areas, safer roads, better nutrition, and population stability."
Citing a National Rural Health Mission (NHRM) case study from India, the WHO-UNICEF-Lancet Commission report states that state officials and communities have increased public awareness of their rights and empowerment to demand these rights. However it says that more focus needs to be given to data collection as the use of data can effectively contribute to monitoring and planning health policies and programmes, including those relevant to children's health and wellbeing, and their potential for wider scale-up.
It is the duty of Prime Ministers and cabinets to think across all ministries about the impact on the health of the children and their future, Costello says. The report too emphasizes – "Since threats to child health and wellbeing originate in all sectors, a deliberately multi-sectoral approach is needed to ensure children and adolescents survive and thrive form the ages of 0-18 years, today and in the future. Citizen participation and more importantly, soliciting the inputs of children and adolescents themselves, apart from the contribution of the government is imperative to grant the children the future they deserve.
Related:
India ranks first in child deaths under 5 years of age: UNICEF report
Children living in extreme poverty are most vulnerable to effects of climate change
Our children's future