Mumbai: India accounts for one-fifth of global deaths due to floods, according to government data that lend perspective to a new World Bank study that says climate change will lower the standards of living of nearly half of India's population by 2050.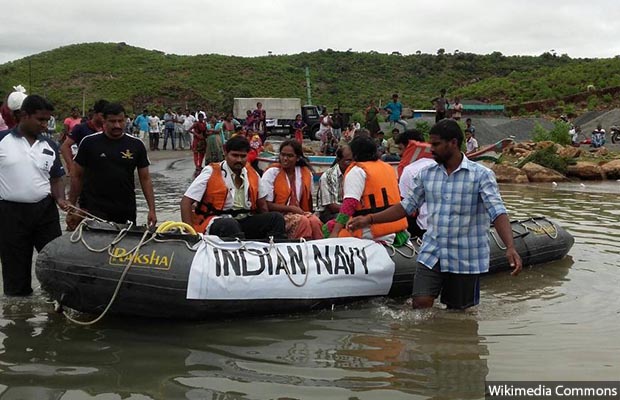 As many as 107,487 people died due to heavy rains and floods across India over 64 years between 1953 and 2017, according to Central Water Commission data presented to the Rajya Sabha (Parliament's upper house) on March 19, 2018. Damage to crops, houses and public utilities was reported to be Rs 365,860 crore–or as much as 3% of India's current gross domestic product–the data show.

"The main reasons of floods have been assessed as high intensity rainfall in short duration, poor or inadequate drainage capacity, unplanned reservoir regulation and failure of flood control structures," according to the reply to the Rajya Sabha.

With heavy rains sweeping western India, many cities such as Mangaluru, Mumbai and Junagarh have flooded during the 2018 monsoon season. Over 30 people died in floods that inundated 58 villages, The Times of India reported on July 7, 2018.

Climate change will exacerbate flooding

"Temperatures have been rising across the [South Asia] region, and are projected to continue increasing for the next several decades under all plausible climate scenarios," the World Bank study, published on June 28, 2018, said.

These changes will result in more frequent flooding, greater water demand and increased heat-related medical issues.

South Asian cities such as Kolkata, Mumbai, Dhaka and Karachi–that are home to over 50 million people–face a substantial risk of flood-related damage over the next century, the report said.

India is one of the world's most vulnerable regions to climate change. It has increased the frequency of downpours as well as the gaps between rainy days during the monsoon, as IndiaSpend reported in January 2018 and February 2018.

As India's climate warms, extreme weather, such as intense rain and floods, is predicted to worsen.

The new World Bank study mentioned above said the worst affected states by 2050 would be Chhattisgarh and Madhya Pradesh. Seven of the 10 most affected districts will belong to Vidarbha, Maharashtra.

India could see a six-fold increase in population exposed to the risk of severe floods by 2040–to 25 million people from 3.7 million facing this risk between 1971 and 2004, IndiaSpend reported in February 2018, based on a study published in Science Advances, a peer-reviewed journal.

"India is highly vulnerable to floods," according to the National Disaster Management Authority, a government body. "Out of the total geographical area of 329 million hectares (mha), more than 40 mha is flood prone."

Most deaths (11,316) due to floods/heavy rains in India were reported in 1977, while the least were recorded in 1953 (37).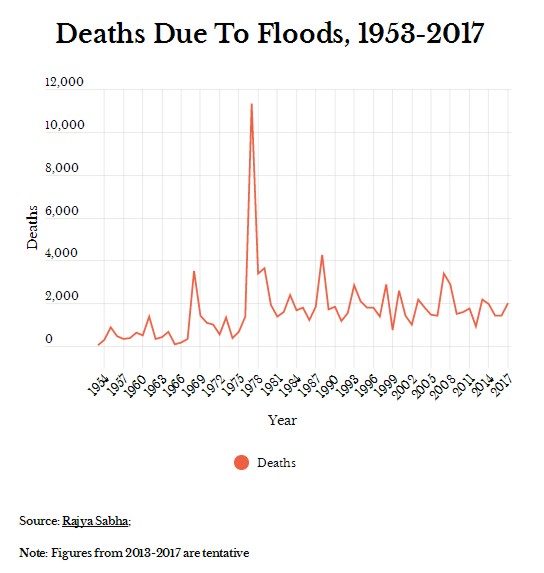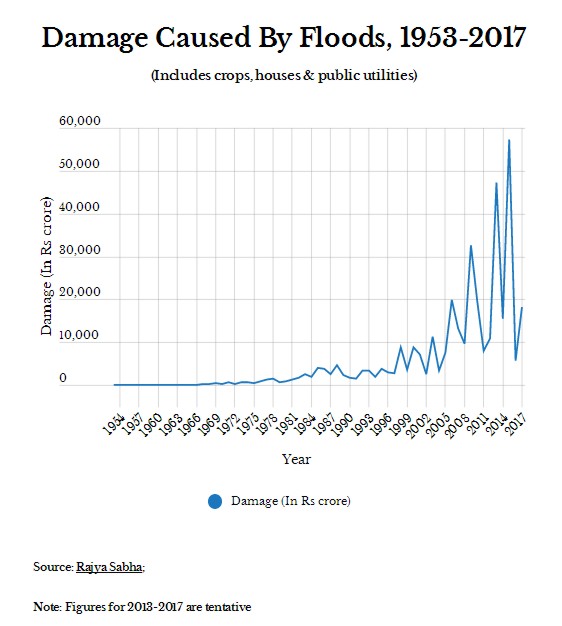 Over 1,600 people die every year due to floods, affecting nearly 32 million people. More than 92,000 cattles are lost every year, seven million hectares of land is affected, and damage is over Rs 5,600 crore.

"High losses from floods reflect India's inadequacy to cope with the current variability in climate, let alone future climate change," Ashvani Kumar Gosain, professor in the Department of Civil Engineering, Indian Institute of Technology Delhi, told IndiaSpend in February 2018.

States that are flood-prone include West Bengal, Orissa, Andhra Pradesh, Kerala, Assam, Bihar, Gujarat, Uttar Pradesh, Haryana and Punjab.

"Intense rains during the monsoon season cause rivers like Brahmaputra, Ganga and Yamuna to swell their banks, which in turn floods the adjacent areas," according to this reply to the Lok Sabha (lower house of Parliament) on April 4, 2018.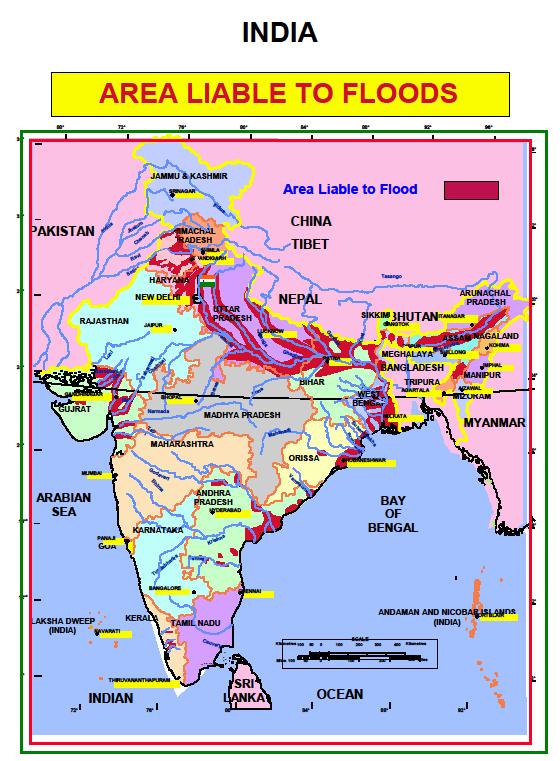 Source: National Disaster Management Authority

There are 226 flood forecasting stations across 20 states, two union territories and 19 river basins to monitor floods in the country. The government plans to expand the network to 325 stations by March 2020.

(Mallapur is an analyst with IndiaSpend.)
Courtesy: India