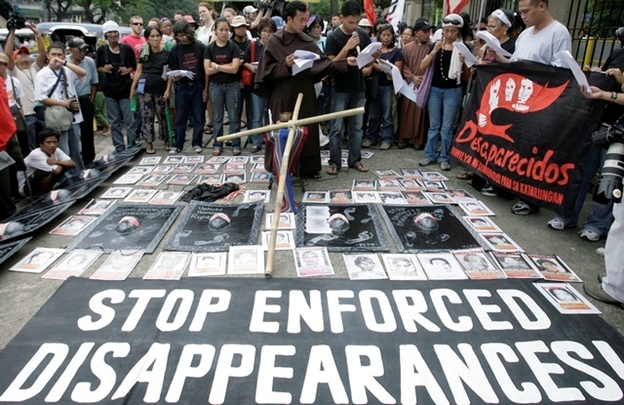 December 23, 2020 shall mark the tenth anniversary of The International Convention for the Protection of All Persons from Enforced Disappearance (ICPPED), an international human rights instrument of the United Nations that was adopted to prevent forced disappearances defined in international law as acts committed against civilians in times of war.
This treaty endorses the principle of "Affirming the right of any victim to know the truth about the circumstances of an enforced disappearance and the fate of the disappeared person, and the right to freedom to seek, receive and impart information to this end", as its Preamble reads.
As of October 2019, a total of 98 countries are signatories of the treaty, but only 62 countries have ratified and acceded to the Convention. The countries that have yet not ratified the Convention include India, Algeria, Angola, Azerbaijan, Bulgaria, Burundi, Cabo Verde, Cameroon, Chad, Congo, Comoros, Croatia, Cyprus, Denmark, Dominica, Dominican Republic, Eswatini, Finland, Ghana, Grenada, Guatemala, Guinea-Bissau, Haiti, Iceland, Indonesia, Ireland, Kenya, Lao People's Democratic Republic, Lebanon, Liechtenstein, Luxembourg, Madagascar, Maldives, Monaco, Mozambique, North Macedonia, Palau, Poland, Moldova, Romania, Sierra Leone, Slovenia, St. Vincent Sweden, Thailand, Uganda, Tanzania, Vanuatu and Venezuela.
In light of this, The United Nations Treaty Bodies have appealed to the counties to ratify the convention and address the reality of such human right violations.
#EnforcedDisappearance can happen anywhere. It has to stop.

As we mark the 10th anniversary of the Convention on Enforced Disappearance this week, we call on all States to ratify it and to address this crime.

Learn more ? https://t.co/h1FaXPJNQK#CED10 pic.twitter.com/YsmZJgL2lB

— UN Treaty Bodies (@UNTreatyBodies) December 21, 2020
Amnesty International's South Asia Director Mr. Biraj Patnaik has recognised the track record of South Asian Countries and their inability to not ratify the treaty yet. "South Asia has a particularly gruesome record when it comes to enforced disappearances, with some governments persisting with the practice while others have failed to provide answers to those who have waited years for them. It is about time that governments in the region properly investigate and punish cases of enforced disappearances and consign this practice to the past."
In India, reports of enforced disappearances are largely from areas declared "disturbed" under the Armed Forces Special Powers Acts (AFSPA), like Kashmir and Manipur. India has not made enforced disappearances a specific criminal offence under the Indian penal code. As a result, families of the disappeared have to file complaints under general provisions of Indian criminal law. Despite signing the United Nations' International Convention for the Protection of All Persons from Enforced Disappearances on February 6, 2007, India is yet to ratify it.
AFSPA has been widely criticised because of various human right violations like inhuman treatment, torture, fake encounters, arbitrary killings, enforced disappearances against which people have been protesting, probably the longest of it was the hunger strike by Irom Chanu Sharmila from Manipur. Worse still, the law in force in Manipur since the early 1950s ensures an immunity to those in positions of power, the army and paramilitary.
Unfortunately, according to the UN Human Rights Council, Report of the Working Group on the Universal Periodic Review: India, dated May 1, 2017, at the United Nations Review in Geneva, India managed to not accept its key recommendations and did not agree to repeal AFSPA quoting Extra Judicial Execution Victim Families Association v Union of India (2016) where the Court held that no military personnel could walk scot-free unless a thorough inquiry had been carried out on his conduct thus giving them no blanket immunity. India accepted the ongoing debate around this controversial enactment but dismissed the seriousness of the effect and misuse of it in the disturbed areas. This apathy has also led to a crumbling confidence of people on the State authorities.
A recent report by Human Rights Watch suggested that around 90 people were made to forcibly disappear in 2016 in Bangladesh alone. The numbers are more now. Although most of these cases were short-term disappearances, with the individual presented in court weeks later after the abduction, 21 people were later found dead, and nine people remain unaccounted for. Even after such aggressive militancy, Bangladesh is not even a signatory.
Afghanistan, torpified by armed conflicts over four decades, with tens of thousands being forcibly disappeared when the People's Democratic Party of Afghanistan seized power in the late 1970s, have failed to ratify the Convention too. Since the 1980s, Amnesty International estimates there have been at least 60,000 and as many as 100,000 cases of enforced disappearance in Sri Lanka. The victims include Sinhalese young people who were either killed or forcibly disappeared by government death squads on suspicion of leftist links in 1989 and 1990.
Human rights defenders, aid workers, journalists, government critics, and prominent community leaders and activists who have been suspected of links to the LTTE have disappeared facilitated by the police, military and paramilitary operatives during the conflict from 1983 to 2009. The UN Working Group on Enforced or Involuntary Disappearances has more than 700 pending cases from Pakistan, and Pakistan's State Commission of Inquiry on Enforced Disappearances has received reports of hundreds more, from across the country as of 2019. Both the countries have failed to acquire the membership of this Convention.
Norway is the latest country to have ratified the Convention on August 22, 2019.
Related:
Why the world needs a UN treaty to combat violence against women