The United States Commission on International Religious Freedom (USCIRF) has alleged that 10 of the 29 Indian states are suffering from severe religious rights violation, and blamed Hindu nationalist groups for the situation.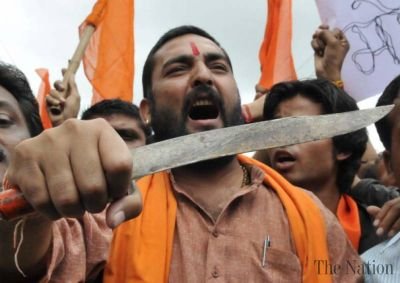 In its 2017 Annual Report released yesterday on the state of religious freedom in selected countries, USCIRF has put India with countries like Afghanistan, Egypt, Iraq, Kazakhstan, Turkey and several other countries.
India is put in Tier 2 where religious freedom violation is severe but does not fully meet the CPC, Country of Particular Concern standard. Bahrain too shares the same tier with India for cracking down on its Shi'a Muslim majority.
USCIRF has shown concern not only for minority communities but also for Dalits.
"Hindu nationalist groups—such as the Rashtriya Swayamsevak Sangh (RSS), Sangh Parivar, and Vishva Hindu Parishad (VHP)—and their sympathizers perpetrated numerous incidents of intimidation, harassment, and violence against religious minority communities and Hindu Dalits," said USCIRF in the report.
The annual report broadly mentions the fund-cutting cases of various NGOs and puts it with several other factors like the religious conversion, cow slaughter which are eventually helping these conditions in getting severe.
USCIRF further said, "National and state laws that restrict religious conversion, cow slaughter, and the foreign funding of nongovernmental organisations (NGOs) and a constitutional provision deeming Sikhs, Buddhists, and Jains to be Hindus helped create the conditions enabling these violations."
The 10 states which are of concern for USCIRF are Uttar Pradesh, Andhra Pradesh, Gujarat, Bihar, Chhattisgarh, Odisha, Karnataka, Madhya Pradesh, Maharashtra, and Rajasthan. USCIRF has warned that religious freedom violations in some of these states are 'systematic' and 'egregious' which may put them under CPC standards.
The report talks about members from Muslim community and Dalit community who have been facing tough times due to Article 48, which prohibits cow slaughter in 25 out of 29 states of India.
"The application of these legal provisions also economically marginalizes Muslims and Dalits (who adhere to various religious faiths), many of whom work in the beef or leather industries. During the reporting period, there were a number of incidents of Muslims and Dalits being charged under these laws or subject to violence based on such accusations," the report said.
The report also talks about the Anti-conversion laws – which are being practiced in Gujarat, Madhya Pradesh, Chhattisgarh, Himachal Pradesh, Arunachal Pradesh and Odisha – which makes choice of religion a crime. The report finds flaws in the anti-conversion and says, "While the laws purportedly protect religious minorities from forced conversions, they are one-sided, only concerned about conversions away from Hinduism but not toward Hinduism."
It adds, "Observers note that these laws create a hostile and, on occasion, violent environment for religious minority communities because they do not require any evidence to support accusations of wrongdoing."
USCIRF acknowledged the role of BJP president Amit Shah who dared opposition and made a call for enacting anti-conversion law across the country six months after the BJP came to power in 2014.
The report also mentions how cracking down of NGOs citing FCRA regulation has made the matter worse for the country and is "detrimental to the national interest".
USCIRF separately talks about violence against Muslims, Christians and Schedule castes and tribes that happened in the year 2016. It also talks about how so-called cow protection has served as a fuel for religious violence and how it has provided impunity to the accused personnel.
"Based on these concerns, in 2017 USCIRF again places India on its Tier 2, where it has been since 2009", the report said.
When USCIRF team tried to visit India during March 2016, the Indian government failed to issue visas to the team members even though they had full support from the US State Department and US Embassy New Delhi. The failure came out as a denial, which State Department spokesperson John Kirby termed as a disappointment. The Indian government had previously denied visa to USCIRF in 2001 and 2009.
USCIRF has recommended to US Government that it should press Indian government for providing enough training and education on human rights violation; to sack and rebuke government officials and religious leaders who pass derogatory remarks; to repeal and amend anti-conversion law which are not according to international human rights standards and to allow USCIRF officials to visit the country.
Courtesy: Two Circles