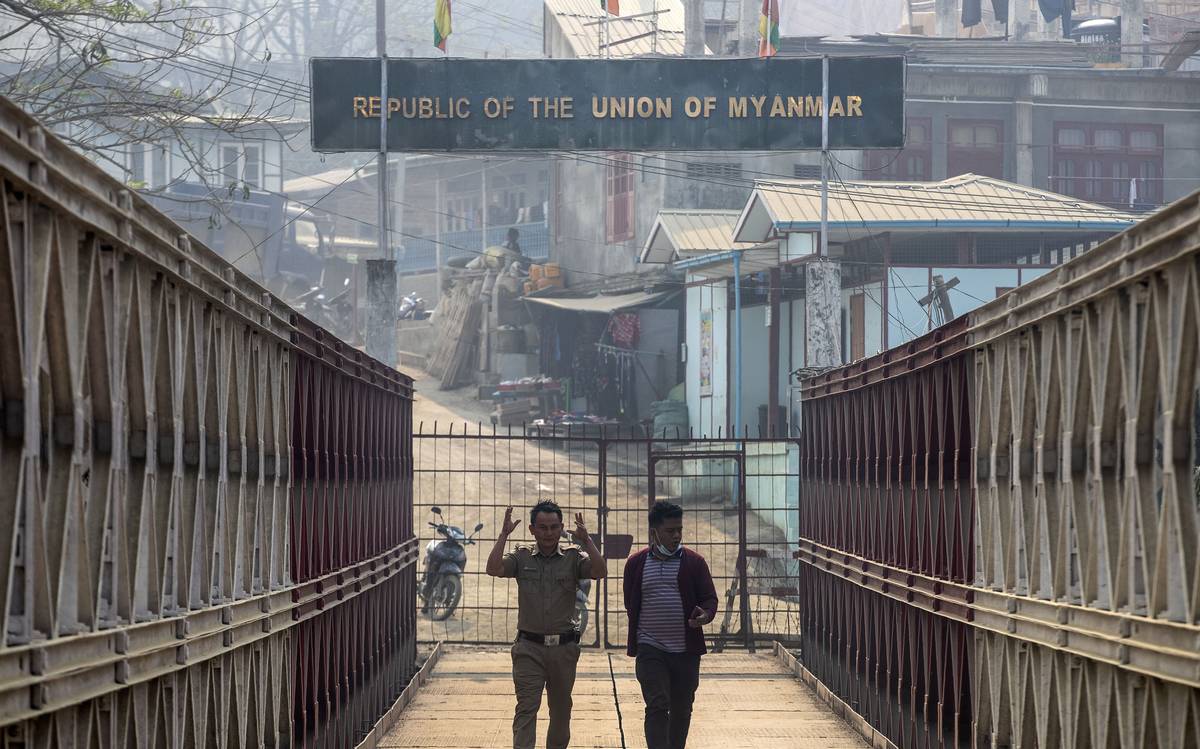 Image courtesy: AP
Even as thousands continue to suffer in Myanmar amidst the ongoing military crackdown after the February 1, 2021 coup, India has sealed all entry points along its border with the country. According to a report in The Hindu, India is also closely monitoring the areas "to prevent any Myanmar nationals from entering the country". This is ongoing even as Mizoram Chief Minister Zoramthanga shared that he has held a virtual meeting on Sunday March 21, with Myanmar's Foreign Minister of Zin Mar Aung.
Zoramthanga posted on his twitter account that he had had a "fruitful meeting (online)" and added that "Our thoughts and prayers are with Myanmar in these trying times,"
Had a fruitful meeting (online) this morning with Zin Mar Aung, Hon'ble Foreign Minister, Myanmar.

Our thoughts and prayers are with #Myanmar in these trying times. https://t.co/QLzZhwTKxC pic.twitter.com/QIw6wVkCxA

— Zoramthanga (@ZoramthangaCM) March 21, 2021
On March 18 Mizoram CM had also written to Prime Minister Narendra Modi on the burgeoning humanitarian crisis in the neighbouring nation and asked that "political refugees" from Myanmar be given asylum, food and shelter in India. However, there does not seem to be any agreement between the Union and the state government on this issue so far.
CM Zoramthanga had written to the PM stating, "India cannot turn a blind eye to the humanitarian crisis unfolding in front of us in our own backyard." He added that there were close ethnic and historical links between India and the neighbour as the "Myanmar area bordering Mizoram is inhabited by Chin communities who are ethnically our brethren with whom we have been having close contacts throughout all these years even before India became independent." According to news reports, around 300 Myanmar nationals including many policemen have crossed into India and sought refuge after the February 1 military coup overthrew the democratically elected government, and jailed the political leadership.
According to The Hindu, India and Myanmar have an arrangement called Free Movement Regime (FMR) which allows locals on both sides to go upto 16 km across the other side and stay upto 14 days. As there is shared history, heritage and family connections, it was reported that thousands of Myanmar nationals cross the border "regularly for work and to meet relatives". However, in March 2020, the FMR was suspended due to Covid-19 concerns, and no one has been allowed to cross the border since then, added the report.
According to news reports it was on February 26, that the State government had issued a Standard Operating Procedure (SOP) to Deputy Commissioners on how the refugees were to be handled. However the Ministry of Home Affairs (MHA) soon directed that this SOP be revoked. In a letter to the four States bordering Myanmar dated March 10, MHA said State governments have no powers to grant refugee status to any foreigner, and India is not a signatory to the United Nations Refugee Convention of 1951 and its 1967 Protocol.
Once again, no one has been allowed to enter India from Myanmar. According to news reports the Assam Rifles, the border guarding force there, is keeping a close watch. The Hindu reports that the India-Myanmar border is unfenced and "completely blocking it is not possible given the tough terrain. Mizoram shares a 510 km long border with Myanmar.
Meanwhile, the Mizo National Front led state government which has extended issue-based support to the NDA, remains in favour of allowing refugees from Myanmar into India. The CM in his letter to the PM had stated that "every day terrified Myanmar citizens are struggling to cross over to Mizoram in search of shelter and protection." He added that "Mizoram cannot remain indifferent to their suffering today."
According to a report in The Indian Express, Zoramthanga informed PM Modi about the Union Home Ministry's advisories to deport the refugees, and said, "this is not acceptable to Mizoram." He said that he understands that some foreign policy issues require India to "proceed cautiously", but "we cannot ignore this humanitarian crisis".
The IE reported that the Assam Rifles also told the Centre that it is not "in sync" with the state government on the issue and that their "rather contradictory" positions "can result in deterioration" of their "working relation". The force warned that because of the coup, "the situation is volatile and there are inputs of a likely refugee crisis." It informed that by early March, a number of refugees had been "successfully pushed back" and the "balance have been provided shelter by the state administration" although there were inputs of "more such crossings across the IMB".
According to IE, Assam Rifles recommended that the MHA pass "necessary directions… so that the state government doesn't facilitate any such movement of Myanmar nationals seeking refuge in Indian territory."
Related:
What will become of Jammu's Rohingya refugees?
Coup in Myanmar: Military detains Aung San Suu Kyi and President Win Myint