India is well known for an absence of institutional memory, a manifestation of which is not implementing recommendations of Commissions and expert bodies. In 1964, the Kothari Commission had recommended a 6 % allocation of 6 % of GDP, a policy recommendation endorsed by the National Policy of Education, two decades later in 1986.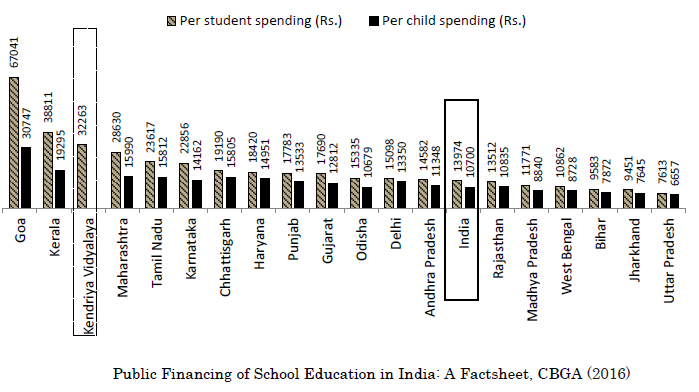 A recent Right to Education (RTE) Forum consultation in Delhi discussed this wide gap and anomaly.
A paper presented at the seminar, jointly prepared by the Centre for Budget and Governance Accountability (CBGA) and CRY for the RTE Forum, says, "After the implementation of RTE in 2010, the school education expenditure has increased just by 0.2% (from 2.5% percent of GDP in 2009-10 to 2.7% of GDP in 2015-16)."
It notes, however, "In this total education spending, state contributes 2.9 percent of GDP and rest one-fourth of the expenditure is financed by Union Government. The overall allocation for education could be lesser for 2017-18 as the share of Union Government has decreased from 0.8 percent in 2013-14 to 0.47 percent of GDP in 2017-18."
The paper, authored by Prof Protiva Kundu, says that per student spending is on education is Rs 13,974 per year, with wide variations across states. Thus, the highest spending is of Goa with Rs 67,041, and the lowest is of Uttar Pradesh Rs 7,613, said Prof Kundu, adding, the Kendriya Vidyalayas, which are considered as 'model' schools financed by the Union Government, spent around Rs. 32,263 per child, and should be considered as benchmark.
The paper further says that the Sarva Shiksha Abhiyan (SSA), which is supposed to be the main vehicle for implementing RTE after the Act came into force in 2010, was not being supported by adequate resources.
"It was expected that there will be a big-push of resources for SSA to meet the target of universalization of elementary education. Conversely, SSA is severely under-funded", Prof Kundu regrets in the paper.

Prof Krishna Kumar
She adds, "In the financial year, 2016-17, against an approval of Rs. 46,702 crore, the Ministry of Finance had allocated only Rs. 22,500 crore to the Ministry of Human Resource Development as central share for SSA."
Taking part at the consultation, well-known educationist and former NCERT director Prof Krishna Kumar said that the Government of India shouldn't overlook "demands and intentions" of earlier policies while formulating the New Education Policy, warning, "A country like India, which so diverse, a centralized education policy will not serve the larger purposes. Policies should be framed by taking local and regional needs in account."
Former foreign secretary Muchkund Dubey told the consultation that those who frame policies and allocate funds in the field of education "should bear the responsibility of proper implementation of policies and utilisation of funds", giving the example of how this is done in Brazil, Argentina, and Indonesia, adding, "India is the only country which is paying less attention on right to education despite it being a fundamental right."
Prof Kundu told the consultation – in which Prof Poonam Batra and Prof Anita Rampal of Delhi University, and Prof Vinay Kanth of Patna University among others participated – that "a recent CAG audit report shows that the SSA budget for 2014-15 had been reduced by Rs 5256 crore, against the budgeted provision of Rs 27,575 crore, due to lower collection of education cess."
She added, "With the implementation of goods and services tax (GST), how the education cess will be used is not very clear yet. Till now as per the GST council, the government will continue to levy education cess on imported goods and the closing balance of education cess will not be carried forward in GST, as it is not covered by definition of 'eligible duties and taxes' under CGST Act."
Courtesy: Counterview