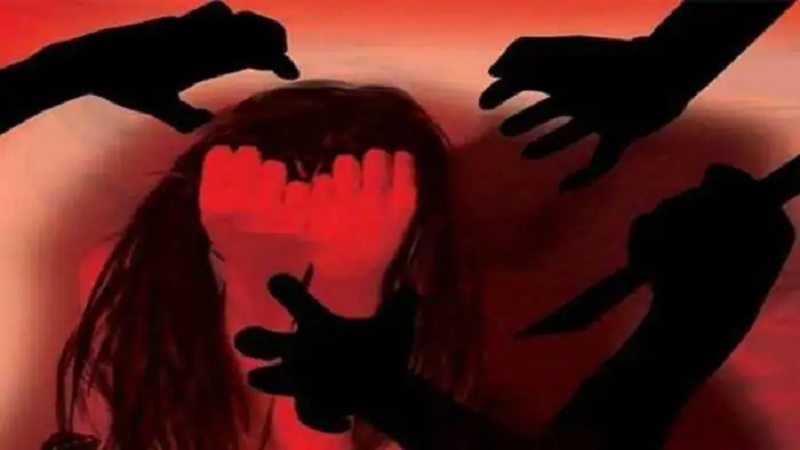 Image Courtesy:zeenews.india.com
Amid the intense chaos posed by the ubiquitous nature of Covid-19, India is still at the top in crimes against women. Whether it is domestic violence, sexual harassment, rape, abduction or anything related to crimes against women and girls the loopholes of security factors can be clearly dig up.
India is not completely coming out from the shock full experience of December 2013 Nirbhaya gang-rape in Delhi, the rape of a minor Bakarwal girl in Jammu. India's conscience can't say an easy adieu to 3-year-old girl child in Jharkhand, who was abducted from Tatanagar Railway station in August 2019. She was sleeping besides her mother. The culprits abducted, raped and most brutally beheaded the little one. After few days the headless body of child had found. Later the culprits themselves admitted the crime. Police could not find the head of 3-year-old girl. Readers can try to understand the depth value of each and every rape case that are happening in every period of time.
In this piece we explore the increasing crime against women in India in greater depth.
Death of a genius and her unfulfilled dreams
Recently, Sudiksha, a 20-year-old girl, who have received a scholarship worth USD 250,000 from Babson College in Massachusetts, United States was killed in a bike accident. She was riding a pillion on a motorcycle with her younger brother (though her family insists, her uncle was driving) and was on her way to her maternal uncle's home in Bulandshahr. That's when some men sexually harassed her and gave chase to the bike, leading to the accident. However, Uttar Pradesh Police have converted the case in to just an accident. Police officials says that the young woman and her younger brother were not wearing helmets. Thus, Police concluded that it was just a vehicular accident. However, the victim's family claimed that she had faced 'eve-teasing' by two men who were travelling in another vehicle. Family's statement is completely contradictory with UP police.
Who is responsible for the death?
Sudiksha was a high profile, promising and a meritorious student. There is a distance of 35 to 40kms from her home in Gautham Buddh Nagar's Dadri Tehsil to her maternal uncle's home. If they were not wearing helmets, and it was her minor brother who was riding the motorcycle, why did the traffic police did not stop them on their way? On the other hand, if Sudiksha had experienced sexual harassment, why can't Women's Commission and the police in the state take sufficient action against those who harassed her? Sudiksha's uncle had himself disclosed that harassment or 'eve teasing' as it is popularly referred to in India, preceded the road accident. Family also pointed out that Police and higher authorities have not cooperated with them, and didn't even provide ambulance after her post-mortem exam to ferry the corpse.
Sudiksha had big dreams. She wanted to be a successful entrepreneur. How may of us can imagine the worth of the scholarship she has received? Can you predict the value of hard work she put in for getting the scholarship? Where did we fail? Can we normalise the death of Sudiksha as just a loss to her own family? What is the point when a nation can't provide security to women? Sudiksha could have been an inspirational figure for lot of hardworking students coming from middle class and low-income families. But this unfortunate incident may haunt them. It is going to haunt badly every educated Indian for obvious reasons.
You will say UP is not a safe place for women to live in. Then let us look upon a brutal rape which has happened in the most literate state of India.
Can Kerala forget the injustice act it done to Walayar minor sisters?
It was on January 13, 2017, a minor girl in Palakkad district's Walayar found hanging at her home. Later after 52 days, her 9-year-old younger sister also found hanging. The autopsy reports reveal that the girls had been sexually assaulted before their deaths. The accused persons are still roaming around.
Opposition parties and women's movement made strong criticisms against police for biased investigation and the excessive political party interference in the subject. The alleged rapists were charged with POCSO act for rape and abetting suicide. Most shockingly the accused persons are going scot free now. The victims' mother argued that they are going through immense pressure to withdraw the case. Now if you visit Kochi you can see a sit-in-protest by Walayar minor girls' mother.
Several attempts are allegedly being made to sabotage the case. Protests on this rape case intensified recently. Why can't Kerala police do an independent investigation without any political interference in the case? The systematic exclusion of marginalised from mainstream is clearly evident in the case. A mother is waiting to seek justice by using sit-in protest as a weapon to wake up the authority. Why does everything have political leaning in India? If Kerala can't ensure justice to the minor girls there is no point in calling the state 'Highly literate God's own Country'. In a state where marginalized women are not safe enough to live with their standard of living, how would we consider the state as 'Fully Literate'?
Palathayi girl betrayed by teacher?
The brutal incident, a 9-year-old minor survivor from Kerala's Palathayi was allegedly raped by her teacher Padmarajan triggered the entire state. The accused Padmarajan is a local BJP leader. What is more disturbing is that now the investigation is happening against the minor girl in Kerala High Court. Investigating agency have said that the child has a tendency behaviour of telling lies!
In July the accused got bail. On the other side 'Women India Movement' claimed that Crime branch is with the rapist. Even though Rape is a non- bailable offence under Section 375 IPC, this alleged rapist is now playing the victim card. It is very unfortunate to grasp the fact 'Accused turning as victim and Victim turning as accused'. If you feel amazed at a moment just remember that you are living in India where political party influence can use as a weapon to normalise rape. Applying corrupted politics over rape culture is like adding fuel to fire. Can you imagine the psychological trauma that minor girl is going through?
Other instances
In July, a 3-year-old girl was abducted, raped and found dead in UP's Lakhimpur Kheri. The dead body was found in a sugarcane field. On August 14 and August 25 two more girls were found raped and dead in the same place. Reports says that by 20 days gap, three rape- murder case happened in the district. In one case the child was raped before being strangulated. Incident took place as a response of revenge between elders. In India, women and girls are being getting targeted as victims to solve their rivalry. India's northern state Rajasthan has witnessed another brutal incident in April amid the prevalent chaos during lockdown. A 3-year-old found bleeding in Bharatpur district of state. The 20-year-old accused named Rohitansh Jatav is still roaming around outside even after the police has found him guilty.
In March another disgraceful incident took place when a 10-year-old minor girl was brutally raped and hurled to death from the terrace of a two storey building in Chennai. Recently a former minister, named Prajapathi in Uttar Pradesh got bail in a 2017 gang rape. He was in jail since 2017 and now got an interim two months bail from Allahabad court. A 40-year-old woman and her daughter filed a complaint against him for gang rape and making a bid to rape her teenage daughter.
Aranmula Covid Patient Rape case
At a time when Kerala has garnered praise for controlling Covid cases carefully, a Covid positive woman was allegedly raped by an ambulance driver named Noufal on the way to hospital. While dropping the lady to the hospital he threatened her, and apologised by telling not to share the incident with any others. Most importantly, every ambulance driver requires clearance certificate to enter in the job. Noufal had not even obtained clearance system certificate from GVK Emergency Management and Research Institute (EMRI) Pathanamthitta. The accused was carrying two women in the ambulance at that night. A middle-aged lady was dropped in Aranmula and the 19-year-old was taken to Pandalam by him and on the way, she was brutally raped.
The woman herself reported the rape attempt to a health staff when she reached morning in the hospital. She also had submitted crucial audio evidence against the accused which resulted to be a turning point in the case. Later the accused driver was arrested and removed from service. Opposition parties in Kerala demanded immediate action against the rapist. Another political game occurred when K Surendran, the leader of BJP Kerala opposes Government for not taking legal action against the rapists in Kerala and blamed Kerala to be a state where women are in dangerous condition. Ironically this same leader did not utter a single word and kept silence when Palathayi rape case was happened. The addition of political color to sexual harassment against women in India is a crucial thing to be checked.
'Beti Bachao Beti Padhao' – A Savior Initiative or a Soulless Promise
In January 2015, Government of India launched a productive scheme called 'Beti Bachao and Beti Padhao'. The campaign aimed for the welfare of girl child in India. Reports says that the campaign helped in eradication of female foeticide to an extent. It aims to address the issue of child sex ratio. As for the campaign 'a selfie with daughter' hashtag was on trending during 2015 following worldwide attention to the trend. Government is taking care of 'Save Girl Child' and 'Educate Girl Child' campaigns. Thus, such an initiative is much needed in a patriarchal society like India. But the problematic question is that, does the implementation of BBBP work well in India's rural and urban settings? We cannot say the implementation is proper.
What is the point of taking a selfie and posting it in social media if we can't ensure proper security to a girl child in India? What is the possibility of 'Women friendly environment' if education is not protecting a girl from sexual assaults? Campaigns like BBBP is necessary but if we give the same awareness to men about the increasing number of rape and harassment cases against women that would be healthier.
In case of Sudiksha, India has lost a talented young student. Girls in India need effective security measures from the side of authority rather than a selfie contest campaign. Programs like BBBP should initiate schemes to overcome mental trauma that a rape survivor faces. Girl child protection schemes need to put a check on the tactical mixing up of politics in harassment cases.
Few days back, a news has become sensational when Kangana Ranaut, a leading Bollywood star got Y category security. The question is that like her, will all the women get the same respect and security in India? If not, privilege is becoming a factor now to decide a woman's need of security. We should take into consideration the living situation of other women and underprivileged over here. The mainstream political parties need to understand that if a crime against a woman takes place that is not their apt time to make use of vote bank politics. India cannot prevent assaults and crimes against women when politicising the issue always. What is the point of politicising here? The proper implementation of women safety programs may help India in reducing the rising number of assaults against women.
*The writer is pursuing MA Mass communication and Journalism at Pondicherry University
Related:
Lynched, raped, left for dead: Dalits, women remain easy targets for criminals in UP
Whatever happened to 'zero tolerance' for child abuse by 'godmen' and priests?