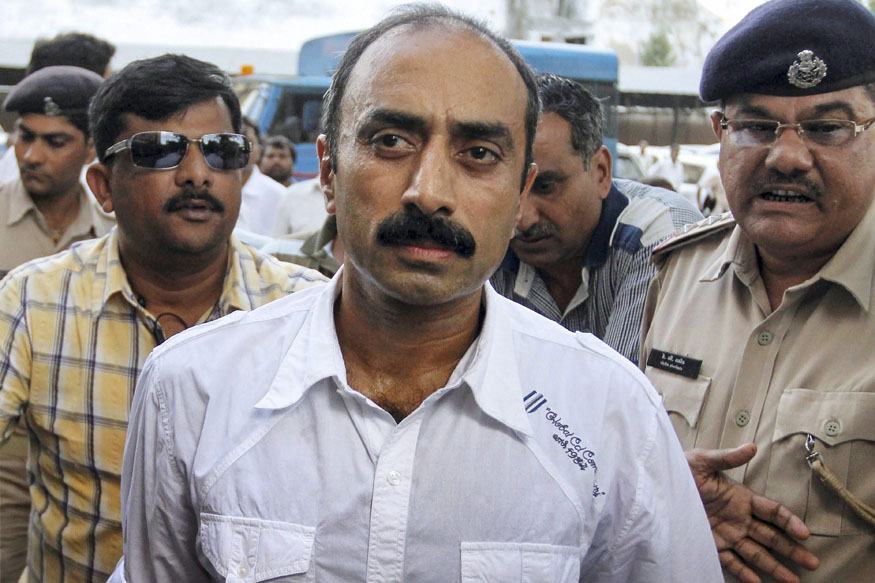 Sanjiv Bhatt has been hounded by a vindictive State for exposing Prime Minister Narendra Modi's alleged role in the Gujarat genocide of 2002. From prolonged incarceration on trumped up charges to continued harassment, Bhatt and his family have endured it all with dignity and grace. Now, the former cop has found support among Indian diaspora in the United States.
On Monday Hindus for Human Rights (HfHR) and Indian American Muslim Council (IAMC) held a virtual press conference to urge India's Supreme Court to give bail to former police officer Sanjiv Bhatt, saying his conviction in a murder case was wrong and based on fraudulent evidence. The groups said that Bhatt had been targeted only because he had alleged that Indian Prime Minister Narendra Modi had been complicit in the Hindutva extremist violence against Muslims in Gujarat nearly two decades ago.
At the virtual press conference, Saurin Shah, the Ahmedabad-based lawyer who defended Bhatt in court, gave a detailed chronology of the "sham" case in which he was falsely implicated by a vindictive State. In October 1990, Bhatt was posted at Jamnagar, Gujarat, when local police arrested 133 rioters, one of whom died 18 days after release. Importantly, none of the 133 people, including the person who died later at a private hospital, had made any allegations of police torture or brutality, even when they met a magistrate. The medical record at the jail where the rioters were imprisoned do not mention any injuries to anyone. The alleged murder victim, Prabhudas, was twice examined by the jail doctor and at the local government hospital, and none recorded any complaint of torture or injuries.
Yet, Bhatt was accused of police brutality and torturing the man, causing injuries that led to his death.
"In 2018, he was interrogated on a decades-old case, was tried on completely bogus charges without any opportunity for the defense to call their witnesses, and was put him away for life," said Raju Rajagopal, co-founder of Hindus for Human Rights.
Rasheed Ahmed, Executive Director of Indian American Muslim Council, said the Indian government must stop "politically managing Mr. Sanjiv Bhat's case and let the law take its course under the supervision of independent judges not the judges who are either scared of government or have themselves becomes political."
The virtual press conference saw a bevy of human rights activists and even political leaders expressing solidarity with Bhatt.
Congress Member of Parliament Dr. Shashi Tharoor said, "Sanjiv's case is a reflection of the grim times that we live in, where constitutional values and fundamental privileges that have been granted by the constitution to all Indians appear in many cases to be diluted and in many cases perhaps even supplanted by illiberal forces."
"If anyone speaks against the government or asks a question, which is a fundamental right of our democracy, they are somehow punished. Raids are carried out against them, false cases are brought up, fraudulent charges are made, and they are made to silence," said classical dancer, actor and human rights activist Mallika Sarabhai. "I hope that today we will be able to appeal to the better sense of our great courts to say what is being done to Sanjiv is wrong and needs to be corrected immediately," she said. "Vindictiveness should find no place in our courts or in any of the decisions taken. It is a sign of weakness and it is a sign of fear. And our courts can neither be weak nor fearful. I hope that our appeal will see that Sanjiv gets a fair trial and that this case is dismissed as the frivolous case that it is," she added.
Another former cop who today finds himself in the crosshairs of a vindictive State, SR Darapuri said that he could relate to Bhatt's plight. "A large number of human rights activists and other prominent personalities who have dedicated their lives to the social cause are facing the same consequences," said Darapuri, who was arrested in Uttar Pradesh last year for opposing the anti-Muslim Citizenship (Amendment) Act. said. "Unfortunately, our criminal justice system has been subverted to serve the interest of those in power." The world "must recognize the impending danger of the onslaught of fascism in India, he added.
Documentary filmmaker Anand Patwardhan also threw his weight behind Bhatt and urged Indian civil society to build a movement for Bhatt's release. He said Bhatt had been jailed "for no other reason than the fact that he opposed the massacre in 2002" and spoke against it.
"Sanjiv is paying a price for what he did and the people who are in power are in a situation right now to be able to manipulate things, so that they can get away with their crimes. Everyone knows about it," said Gandhian activist and Magsaysay Award winner Sandeep Pandey.
Women's rights activist Arundhati Dhuru said even thirty years ago in his early career Mr. Bhatt "never used the power of his baton or firearms but he always stood by the side of the people to fight" against oppression.
Related:
Life sentence for Sanjiv Bhatt in 30 year old case example of state vendetta?
Sanjiv Bhatt case: Wife releases statement, other documents
Thuggery should never elevate itself into a technique of governance: Sanjiv Bhatt
Sanjiv Bhatt is paying the price for being, honest, upright, courageous: (daughter) Aakashi