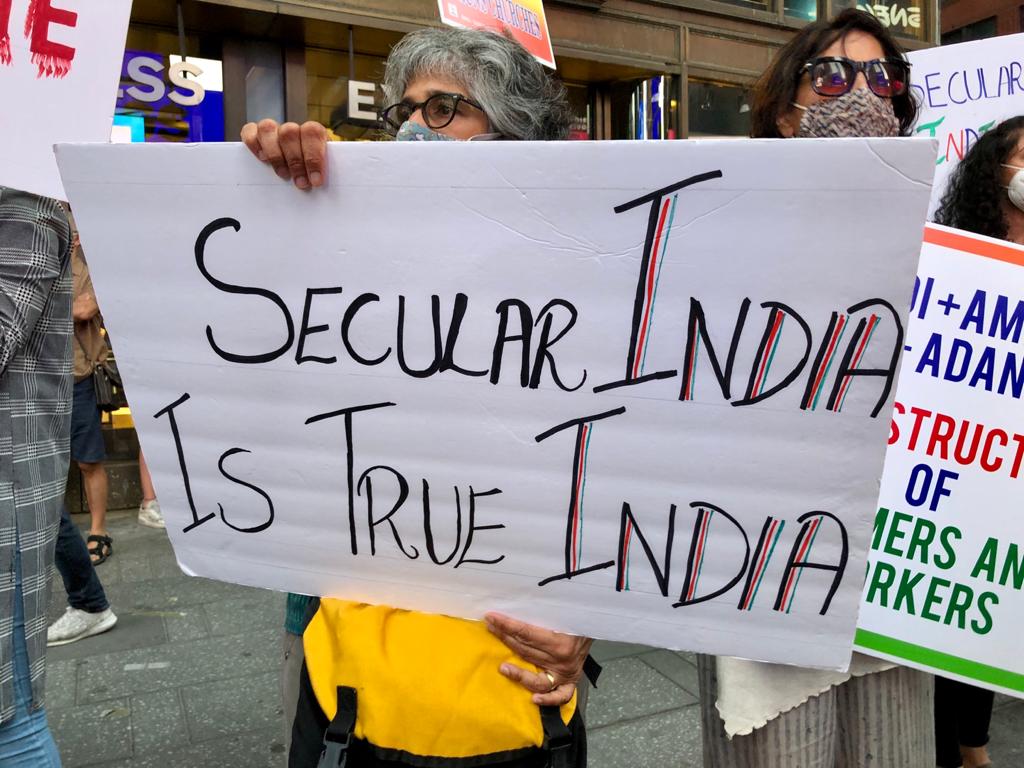 On Wednesday evening, the day of the laying of the foundation of the Ram Temple in Ayodhya, a group of Indian-Americans came together in New York to disrupt the celebrations at Times Square. The 'Coalition to Stop Genocide in India', a broad coalition of Indian Americans and US based civil rights organizations and activists, organized a rally to protest celebrations related to temple politics, especially destruction of the mosque.
The American Indian Public Affairs Committee (AIPAC) had allegedly organized celebrations to show support for construction of the proposed Ram Temple for which the 'ground breaking' ceremony was held in Ayodhya on Wednesday, August 5. To counter this, protesters from Coalition to Stop Genocide in India came together with placards and chanted slogans to highlight human rights abuses in India.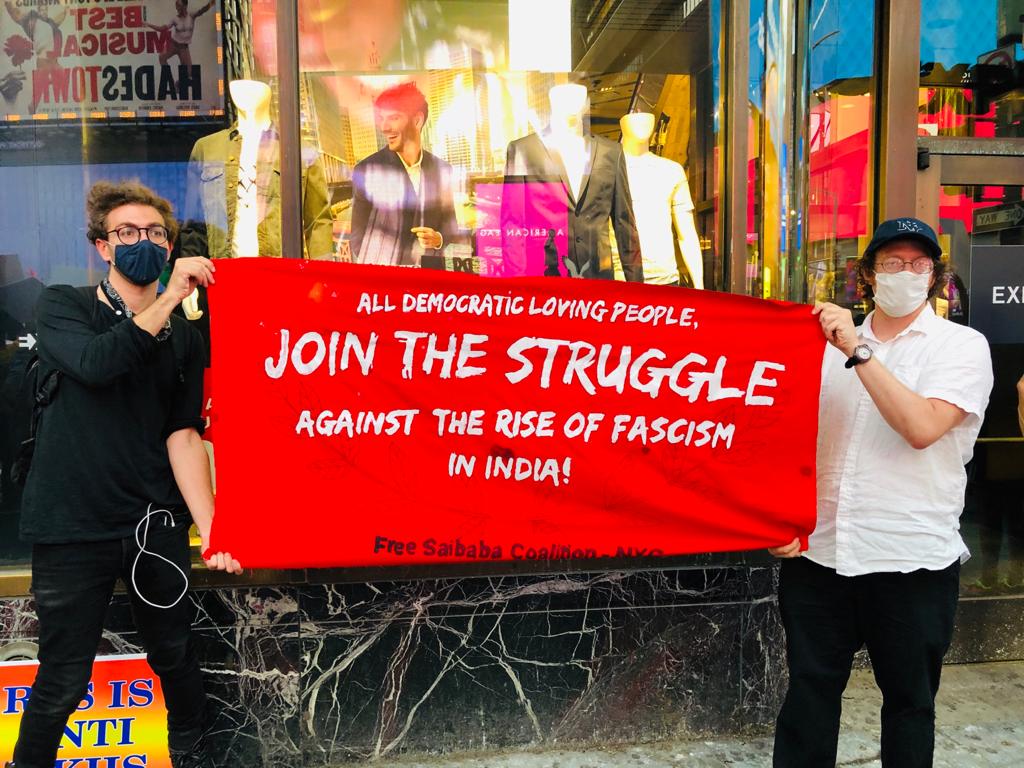 According to a press release by the group, "For some who had gathered to celebrate the construction of the Ram Temple in India on the ruins of the Babri Mosque, the protests were a reminder that normalizing hate and bigotry would not go unchallenged in the US."
Sunita Vishwanath, President of Hindus for Human Rights, said, "The reality is that the Ram Temple issue was leveraged by Hindutva forces to polarize Indian society in a destructive campaign that has resulted in untold human suffering and that continues to this day."
Jawad Mohammed, General Secretary of the Indian American Muslim Council (IAMC) said, "There is no doubt that Ram is a revered figure in Hinduism, and respect for all religions is part of our commitment to pluralism." He added, "However, people's reverence for Ram has been manipulated in order to serve a vile and hateful agenda whose evil fruits are evident not only across India but now increasingly in the US as well."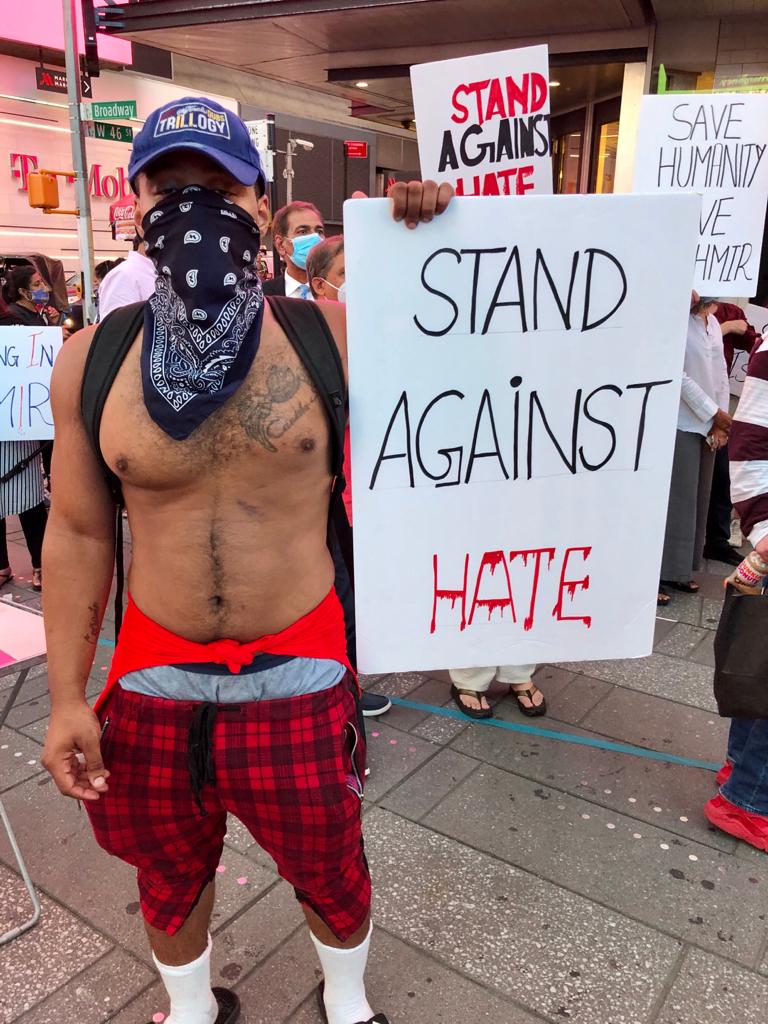 New York City Councilmember Daniel Dromm said, "I condemn any attack on an individual or group because of their faith and stand with my Muslim siblings here in my district and in India as they fight for dignity and human rights." He added, "I also thank all the Hindus and others who have taken a stand against dog-whistle propaganda cloaked as cultural celebrations."
The Coalition to Stop Genocide in India includes dozens of organizations, including Indian American Muslim Council (IAMC), The Council on American-Islamic Relations (CAIR), Islamic Soceity of North America (ISNA), Coalition Against Fascism in India, Hindus for Human Rights (HfHR), Boston Coalition, Organization for Minorities in India (OFMI), South Asia Solidarity Initiative, Ambedkar Association of North America (AANA), Ambedkar King Study Circle (AKSC), Council for Minority Rights in India (CMRI), North American Indian Muslim Association (NAIMA), Ambedkar International Mission, Coalition of Seattle Indian Americans, Guru Ravidas Sabha, Periyar International USA, Ambedkar International Mission Society, Canada, Students Against Hindutva Ideology (SAHI) and International Soceity for Peace and Justice.
Related:
San Francisco passes resolution opposing discriminatory CAA, NRC and NPR
Joe Biden bats for restoration of rights in Kashmir
US slams India yet again on subject of religious freedom
Designate India as 'Country of Particular Concern', impose sanctions: USCIRF