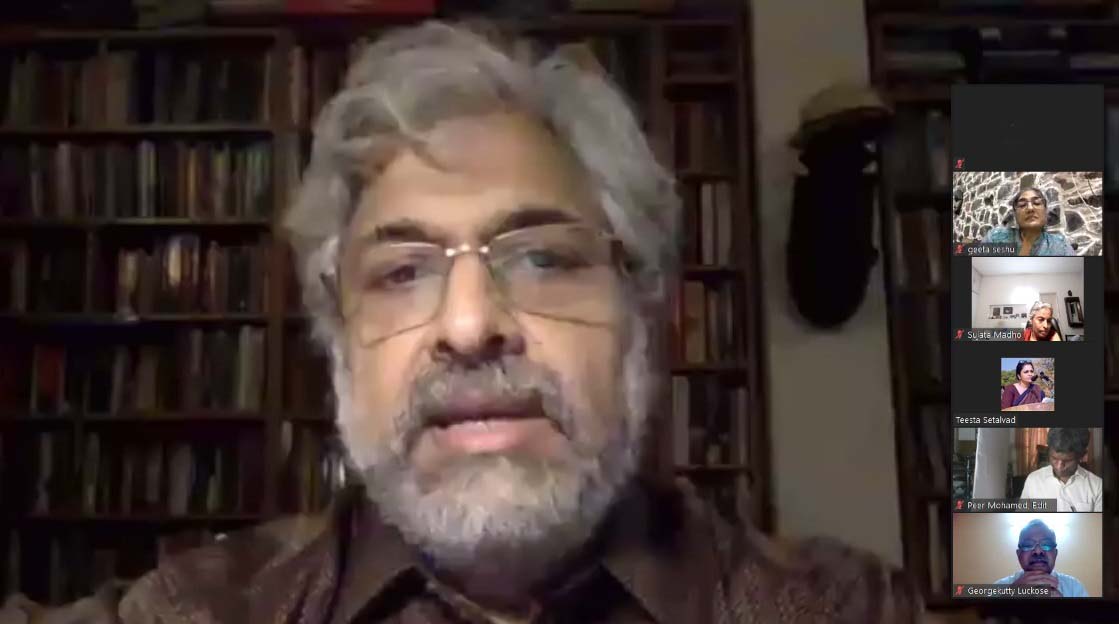 On September 5, the third death anniversary of journalist Gauri Lankesh, SabrangIndia along with premier independent news portal The Wire, the Brihanmumbai Union of Journalists (BUJ) and the Delhi Union of Journalists (BUJ) organised a webinar titled 'Attack on Free Speech in Times of Covid-19' where several senior and independent journalists, activists as well as representatives of media unions shared their experiences on how there was concerted attack on press freedom and a clear bid to crush any voice that doesn't parrot the regimes narrative, and how such instances have only increased amidst the Covid-19 pandemic.
The event was moderated by SabrangIndia co-founder Teesta Setalvad, who is a senior journalist and also a human rights defender with a formidable repertoire of fighting for the rights of oppressed and persecuted people hailing from various socio-cultural minorities. Setalvad was also a close friend of Gauri Lankesh, the fearless journalist who was slain for standing up to right-wing extremists. In a moving tribute to Lankesh, Setalvad said, "Gauri's journalism was her passion and her activism represented grace and civility. For Gauri, the personal was the political." She said, "This Webinar is a tribute to her memory, the journalism and values that she stood for. The journalism of Gauri Lankesh inspires us. I feel like in some way she is watching over us."
Gauri's sister, filmmaker and poet, Kavitha Lankesh also joined the webinar to share her memories of Gauri. She said, "I feel a little numb. I wonder what would Gauri say to all that is happening these days, especially given the lockdown. We should pledge to continue the fight started by Gauri. These days most media are not talking about the issues that #GauriLankesh used to raise. We must continue and keep the work and voice of Gauri alive."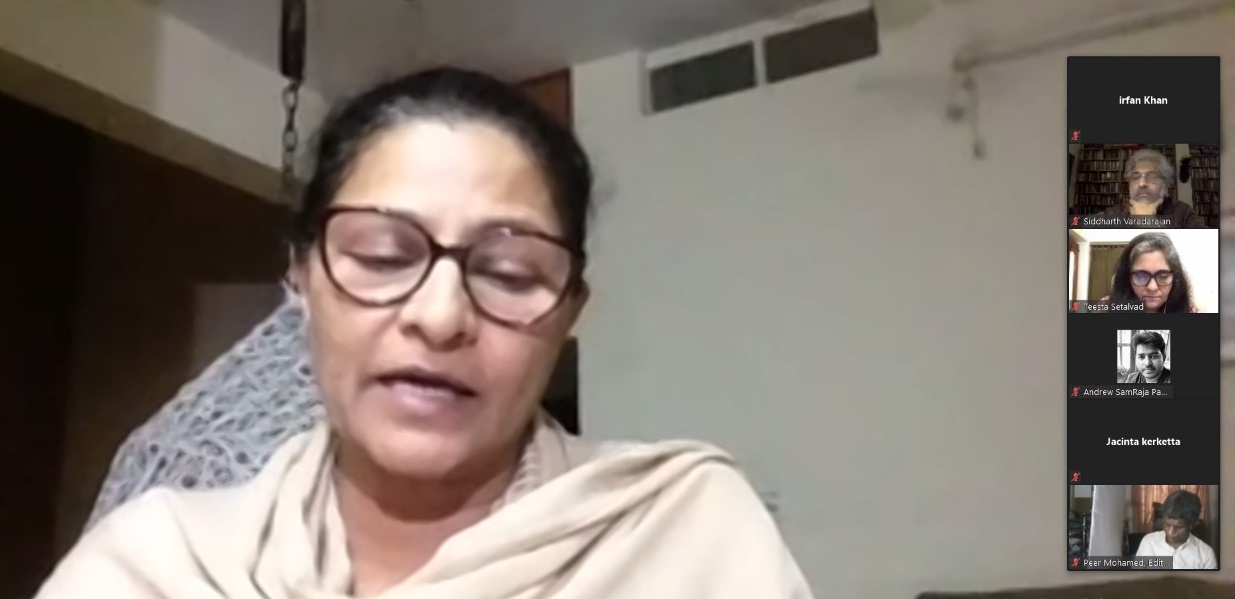 The Wire co-founder Siddharth Varadarajan, who has also faced state repression and been targeted for his fearless reportage is a kindred spirit and was a co-organiser of the webinar. "Many channels are actively discrediting independent media. Vibrant democracy needs a vibrant independent media. We need greater solidarity,"said Varadarajan who was targeted for reporting on Uttar Pradesh Chief Minister Adityanath attending a religious ceremony amidst the Covid-19 crisis. Varadarajan is not new to being in the regime's crosshairs. He and his publication were put through the ringer for their reportage in the infamous Jay Shah case. He was also accused of defamation in a 2012 case before the Madras High Court in connection with reportage on late J Jayalalitha when he was working for The Hindu. "Cases against journalists go on for years. The Madras HC threw out a case against me after 7 long years! The pressure is going to mount. The media will continue to be targeted," said Varadarajan.
Activist and poet Meena Kandasamy talked about Tamilian journalists who have been recently targeted by India's right-wing. The Southern States have always opposed Brahmanical fascism owing to the strong influence of the Dravdian movement she said. Moreover, due to a general perception of India's "cow belt" as representative of the whole of the country, the South often gets ignored by 'national' news media. "We have to look beyond the English-speaking and cow belt mainstream and look elsewhere," said Kandasamy.
Kandasamy also shared examples of how right-wing stooges target those who dissent against the Hindutva ideology. As an example, she mentioned Nelson Xavier from News 7 who was portrayed as anti-Hindu only because he was studying at a Christian-run college. "The cohesive action of the Right targets journalists even remotely connected with the Periyarian struggle," she said adding that it is near impossible to find someone in Tamil Nadu not influenced by the legendary social reformer. She also said that women were often subjected to doxing and Tamilian Muslims were threatened by the label of 'terrorists.' She described the journalism landscape as one where journalists are locking accounts for fear of being monitored by the Bharatiya Janata Party (BJP) groups.
From the South, the conversation went towards the North where Kashmiri journalist Gowhar Geelani said, "Kashmir is being used as a laboratory for experiments that will come to other parts of the country as well." Geelani said, "Journalists are supposed to be storytellers, but in Kashmir, many times, they have become the story themselves!" He summarised the suppression of freedom of speech using short mnemonics of three 'P's, 'F's, and 'C's.
The three Ps referred to the People, the Politicians and the Pulpit that have been silenced and kept from expressing any form of dissent. He also mentioned an extra 'P' of the newly introduced 'media policy' that empowered the bureaucrats and clerks to decide what content is 'anti-national' or 'seditious.' Following this, the authorities then go after the media and journalists like Aasid Sultan (still in custody.)
Geelani then explained the three Fs – Fear, FIRs and a False narrative. He said that the government creates a fear that very few people manage to fight against. Those who raise their voice, face FIRs lodged against them and their family. This suppression leads to a false narrative about the State.
The government thus uses the three Cs – Censorship, Criminalisation of opinions and a Controlling narrative – to manufacture consent and reduce journalism to a Public Relations (PR) mechanism.
"There is no freedom of expression and there is no expression after freedom. That is only for the police, government and people of authority," he said.
Similarly, editor of Imphal Free Press Pradip Phanjoubam, said that reporters faced a similar censure in the Northeast. "It's like Alice in Wonderland – we don't know what the law is," he said.
He said the current government is of the view that any criticism can break the government. Manipur has seen a lot of political volatility in the recent past on account of questionable defections. The BJP had only recently managed to gain a foothold in the Northeast and was clutching on to Manipur fiercely. Phanjoubam said people have been arrested on frivolous grounds and that the numbers of those arrested could match those in Kashmir. People were arrested for saying "the Chief Minister shouldn't waste time during the Covid pandemic."
From Jharkhand, freelance journalist and poet Jacinta Kerketta said that censure of speech acts as a sign of demise in any democracy. Even prior to the lockdown, the situation was such that either side of the political spectrum blamed the other. In recent times, people have also become more territorial. Adivasis are not allowed to roam around freely in their own land.
"If we, Adivasis, have to ask for permission before going anywhere then who are we," she asked. She also spoke about how self-styled right-wing vigilantes often tried to derail efforts to educate Adivasis by questioning the religion and political affiliations of the educators.
Kerketta said, "The Covid lockdown has created a lockdown in the minds of people. Freelance journalists are told to toe the line in their writing. Adivasis don't even want to write because of the dangers in the field of journalism." She said people were fearful and thus focusing on self preservation in face of open hostility. "There is now a helplessness with which people engage in writing and speech," said Kerketta.
On the other hand, Founder of Simplicity news platform D. Andrew Sam said that he enjoyed great support of the journalism community during his time of arrest. Sam was arrested for reporting mismanagement of the coronavirus crisis by the city administration. "We were reporting facts, but government officials contradicted our reports and used their resources to misinform the public by playing down the figures," said Sam. Many journalists came to the police station but found that the charges against him were jumbled in a false narrative with even rumour being spread about him being booked for harassing a woman! He said that journalists will always have to work with people who try to keep information opaque. However, he managed because of the support and pressure put by the community.
Following the accounts of the individual journalists, President of Delhi Union of Journalists (DUJ) Sujatha Madhok said that the journalism produced during the pandemic has been wonderful. "Unfortunately, the issues portrayed are not something a government at any level wants us to talk about," she said. She also highlighted how the lockdown was being misused by media houses to sack journalists, the fear of economic hardship thus hanging over their heads, making journalists vulnerable.
She emphasised that young journalists need to unionise, organisations need to ally and activists need to be reached out because censure has become a problem for the entire nation. Madhok pointed out that while journalists may not be very well-connected, employers are and thus are very concerned about what information goes into the open. She also said that the lockdown has been convenient in picking up people due to limited protests.
Building on this, Founder of the Free Speech Collective Geeta Seshu, said that no case lodged by a journalist between 2014 and 2019 has reached conviction despite detailed complaints. Additionally, journalists are absolutely unaware of their rights.
Seshu criticised the Information and Broadcasting Minister for objecting to India's ranking given by Reporters Without Borders when he ought to have looked at data and facts. The government said that it will use the Disaster Management Act on any media house giving news that could upset the masses, said Seshu. Thus, there can be no argument that free speech in India is under attack. "The message from the top is that any kind of news that is critical or differs from the government narrative will face a crackdown under the guise of controlling panic," she said.
Moreover, she observed a weakening of journalists due to self-censorship and a growth of the regime's lapdogs in the media who claim to speak for the nation. Sheshu said, "In these last five months free speech has been under attack. There is self censorship. There is also a very partisan media that uses inflammatory programming to attack the very journalistic values that we need to uphold."
Related:
11 Questions which Mr. Jay Amit Shah & BJP need to answer after The Wire's story
3,500 jurists, writers and artists slam FIR against The Wire editor
Withdraw FIR against Wire Editor: DUJ