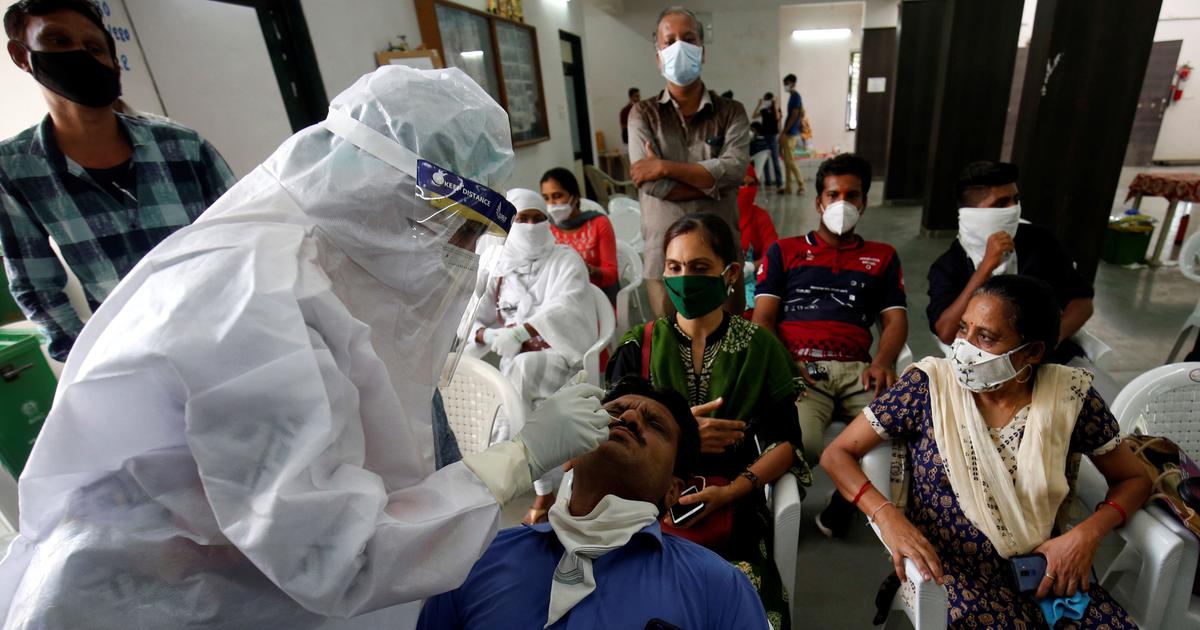 Image: Amit Dave/ Reuters
While the Health Ministry has stated that "India has demonstrated a consistent rise in the Covid-19 testing infrastructure since Jan 2020," it is important to note that India has recorded over 80 lakh Covid-19 cases now.
On Thursday there was a spike of 14 percent with over 49,881 new cases being recorded, taking the total tally part 80 lakh or 8 million. The number of Covid-19 deaths recorded in the last 24 hours is 517, taking the total fatalities to 1,20,527. The fatality rate though has now reduced to 1.49 percent.
According to the Union Health Ministry there is good news as far as national recovery rate is concerned, and it stands at 90.99 per cent, with 73.15 lakh patients reported to have recovered from the infection. However, one cannot ignore that even now, there are 6,03,687 active Covid-19 of cases across the country.
Delhi has been recording a high surge in new infections once again. Over 4,000 cases in a day have been reported from Delhi for the past few days, it is almost 7.5 per cent of the total national caseload. As the festive season begins across the country, and as temperatures, wind speeds dip in in various parts the Union Ministry of Health and Family Welfare on Thursday announced they had reviewed the situation in West Bengal, Delhi and Kerala, and advised that the states and Union Territories (UTs) gear up "testing, tracking & treatment' during the festival season.
79% of the new recovered cases are observed to be concentrated in 10 States/UTs.

Maharashtra has contributed the maximum with more than 8,000 single day recoveries followed by Kerala with more than 7,000 recoveries.#StaySafe #IndiaWillWin pic.twitter.com/11JYllYQ6j

— #IndiaFightsCorona (@COVIDNewsByMIB) October 29, 2020
The review was conducted by Rajesh Bhushan, Union Health Secretary via video Conferencing today, along with Dr V K Paul, Member (Health), NITI Aayog, and Dr Balram Bhargava, DG, ICMR and participants included Health Secretaries from the concerced states/UT, along with senior health department. The Ministry of Health and Family Welfare (MoHFW) had raised concerns regarding rising cases in these areas.
Delhi has 29,378 active cases and rising, a fatality Rate of 1.76% and a positivity rate of 7.9%. After 5,673 new cases were recorded in the last 24 hours. This is a rise of nearly 46% in a month. According to the health department representatives from Delhi this was due to "social gatherings during the festivities, deteriorating air quality, increasing incidences of respiratory disorders, and clusters of positive cases at work places".
The Centre has told the Delhi government to "ramp up testing, increase RT-PCR tests, focus on contact tracing and effectively enforce isolation of the traced contacts within the first 72 hours". It was advised to focus on "containment zones, and strict perimeter control to be implemented as per MHA guidelines. Give additional thrust to IEC practices and proactively promote wearing of masks and other COVID appropriate behaviours."
West Bengal has 37,111 active cases as of Thursday, a Case Fatality Rate of 1.84% and the positivity rate is 8.3% with over 3,924 new cases recorded in the last 24 hours. There has been an average daily increase of 23% in the last four weeks. According to the MoHFW, "Darjeeling, Nadia, Medinipur West, Jalpaiguri, Hooghly are the top districts showing an increasing trend in cases. Whereas, Murshidabad, Nadia, Coochbehar, Kolkata and Darjeeling have registered an increase in the weekly deaths last week." West Bengal's tests per million population (TPM) stand at 41,261, against the national TPM of 77,220. West Bengal health authorities were advised "not to compromise on testing and keep the level of daily tests at a higher level with greater proportion of RT-PCR tests." The state was asked to ensure "early identification, and early hospitalisation" and to focus on rapid contact tracing, and quick isolation of contacts.
Kerala too is recording a rise with 93,369 total active Covid-19 cases, "average daily cases have recorded 11% increase over the last four weeks. The number of new cases in the last 14 days is 98,778. In the last 24 hours, Kerala has registered the maximum number of new cases with 8,790 cases," stated the MoHFW. Thrissur, Alappuzha, Kottayam, Pathanamthitta, Malappuram are the districts showing maximum increase in cases. However the state's fatality rate is low at 0.34% "Tests per million of the population are 66,755 and the positivity rate is at a significantly high level of 16.5%. The positivity rate has registered a 41% increase over the last four weeks," stated the ministry which asked the Kerala government to "ramp up IEC practices and promote mask wearing with more rigour".
Out of the 49,881 new confirmed coronavirus cases recorded in the last 24 hours, about 79 per cent of the new cases are from 10 States and UTs. After Kerala's high number of over 8,000 cases, comes Maharashtra with more than 6,000 cases, then Delhi with 5,673 cases followed by West Bengal at 3,924 cases.
Related:
Covid-19: NHRC issues advisories to states and UTs
Remembering T Peter: Trade unionist and leader of India's fishworkers
Covid snatches another Ambedkarite: Charles Wesley Meesa no more!