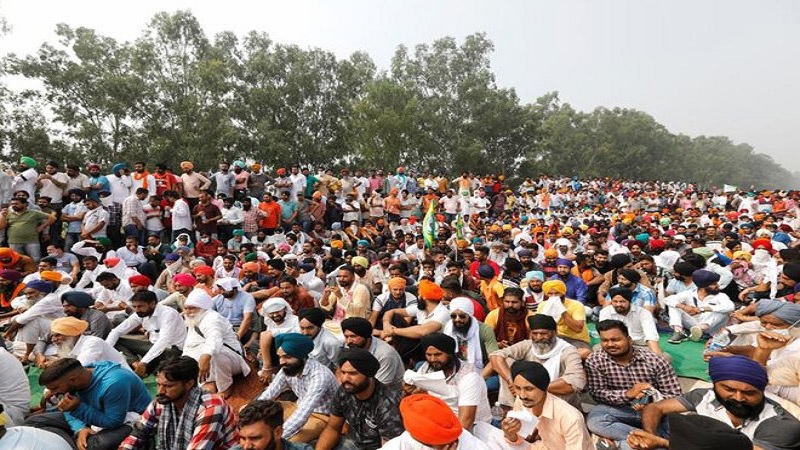 Image Courtesy:businesstoday.in
Farmers and workers will observe "Anti-Privatisation Day" on March 15, 2021 and hold demonstrations near railway stations to protest the anti-people policies of the central government, said a joint press release on March 4, 2021.
Farmers organisations also extended support to the strike actions of banks on March 15, March 16, the General Insurance Corporation of India (GIC) unions' strike on March 17 and the Life Insurance Unions' protest on March 18.
Similarly, trade unions promised support to blockade the Kundli–Manesar–Palwal (KMP) Expressway for five hours and to fly black flags atop houses on March 6. Leaders also promised solidarity for all other farmers' protests.
Following a joint meeting on March 1, trade union leaders and farmers decided to occasionally coordinate for joint action programmes to strengthen the evolving unity between workers and farmers.
"There was appreciation of the fact that the farmers had extended their solidarity to the call of trade unions on November 26, 2020 and the consistent support including solidarity actions by the Joint Platform of CTUs to all the agitation programmes called upon by the SKM from then onwards," said union leaders in a press release.
Leaders agreed that peasants needed to intensify the struggle to save farmers' lands, stop contract farming and amend the Essential Commodity Act as well as the Electricity Amendment Bill in national interest. They also voiced their support for legalizing and ensuring Minimum Support Price for farmers produce.
The trade unions apprised SKM representatives about the dangers of the central government decisions regarding privatisation of Public Sector Enterprises and the grievous impact of the four labour codes on workers.
"The four Labour Codes take away the right of forming unions and protection of the working people from exploitation and excluding workers from existing social security schemes and workplace safety norms," said trade union leaders.
Both sides said the "hated enactments" were passed without following democratic process of consultations or a transparent parliamentary process. They affirmed that the corporate loot of farmers and working masses through usurping land and other national resources is a big challenge as the government is taking position in favour of corporate loot.
Related:
Labour activist Shiv Kumar granted bail by Haryana court
Nodeep Kaur case: NHRC seeks report from Haryana Police over alleged custodial torture
IT raids, govt's desperate attempt to attack farmer supporters: SKM
BJP begins to pay a political price as farmers' struggle completes three months
Farmers focus on assembly election stating "govt only understands votes"
2020-2021: The historic farmers agitation and its significance
March will witness mahapanchayats across India, says the SKM