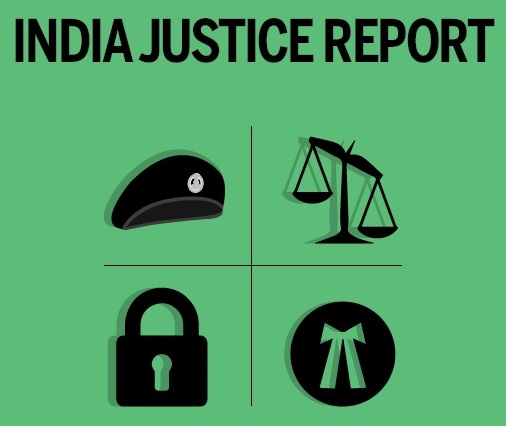 India's database on justice delivery indicators is fragmented, making it difficult to derive a comprehensive picture. The India Justice Report 2022, a collaborative effort, compiles 102 indicators to rank states' capacity based on the "four pillars" of justice delivery—police, judiciary, prisons, and legal aid. "Each pillar was analysed through the prism of budgets, human resources, workload, diversity, infrastructure, and trends (intention to improve over a five-year period), against the state's own declared standards and benchmark," the report states adding that it "separately assesses the capacity of the 25 State Human Rights Commissions" as well.
The India Justice Report, in partnership with organisations including DAKSH, Commonwealth Human Rights Initiative, Common Cause, Centre for Social Justice, Vidhi Centre for Legal Policy and TISS-Prayas, was initiated in 2019 by Tata Trusts. The report uses data from the Bureau of Police Research and Development, data from the Department of Justice, and Parliamentary questions, Prison Statistics of India, the National Judicial Grid, the National Legal Services Authority and state budget documents. It is the culmination of quantitative research carried out over 24 months, based on data and official statistics collected from government sources.
In the third edition of IJR, Karnataka topped the ranking. Five of the top six places are taken up by states from southern India. These positions aren't fixed – an important message of IJR 2022 is that small but consistent improvements lead to big jumps in ranking.
Former CJI UU Lalit, who's written the foreword to IJR, fears that India's capacity to satisfactorily deliver justice lags its demand. The data in the report bears out his apprehension. This is the foremost challenge in the criminal justice system. According to Lalit, this report, deconstructing the data on budgets, infrastructure, human resources, workload and by measuring changes across time in each sub-system in each state and bringing it all together in one place, provides us an important tool for evaluating the delivery of justice holistically.
A brief overview of the findings present in the report:
According to the IJR 2022, released on April 4, four of the five South Indian states, with the exception of Kerala, were ranked at the top in diversity in the justice system. The report tracks states' progress on justice delivery mechanisms – the judiciary, police, prisons and legal aid.
This report presents a wealth of data that exposes the shortcomings of our justice system. Covid slowed India's pace of case-clearance by courts, causing our backlog to grow from 41 million in 2020 to 49 million in 2022. According to the report, India had 5.6 million cases pending for more than a decade, with 190,000 pending for more than 30 years. The judiciary is still severely understaffed, with only 15 judges for every million Indians, which is less than a third of the 50 recommended by the Law Commission in 1987.
Meanwhile, according to IJR, overcrowding in Indian prisons will reach about 30 extra inmates in 2021 for every 100 they were designed to hold. Only a minority of these inmates were convicted, with 77% still awaiting a decision on whether they were guilty or innocent, up from about 69% two years ago. Undertrials serving more than five years in prison have more than doubled to 11,490 in the period between December 2017 and December 2021. It is important that this aforementioned figure weigh heavily on our minds, as we live in a country that had "bail not jail" as their primary norm.
According to IJR data, there was a 67% decline in legal services clinics between 2020 and 2022. At the end of 2022, there were only 4,742 clinics. This could explain the decline in other indicators such as the average length of time spent in jail by undertrials.
The report also looks at police forces. Vacancies, training budgets, police station cameras, and other indicators show state-level variation. Except in Union territories governed by the Centre (including Delhi for this purpose), law-enforcement officers work directly for state governments, implying that politics plays a structural role in khaki justice delivery. Lack of police diversity is a problem in all states, whether it's due to gender, caste, or other identity markers.
When it comes to the "police", the report flags the issue of inadequate women representation in the police, which currently stands at 11.75%, despite their numbers doubling in the last decade. Moreover, about 29% of the officer positions are vacant. The police-to-population ratio is 152.8 per lakh, whereas the international standard is 222, the report also mentions. All police stations are supposed to have women's help-desks, but 28% do not and many others don't have women cops ready to respond round-the-clock, although fail-proof help is the least we should expect.
The full report can be read here:
Related:
SC for freedom of expression: Strikes down ban on Media One
Long Delayed Justice: Retired Police SI guilty of extra-judicial killing 31 years down, sentenced to life imprisonment
More than 1100 days in prison: Gulfisha Fatima awaits bail
9 years since the passing of the NALSA judgment, has the cycle of discrimination and ostracism finally been broken for the transgender community?
How diverse and inclusive is the Indian judiciary?
While the OBCs are ripe fruit for electoral stakes, last 5 years reveals low representation in All India Services
More 90k undertrials in UP prisons with 24% SCs, 5% ST and 46% OBC: MHA
Zero reported deaths due to manual scavenging: Ramdas Athawale
2,000+ govt jobs, transit accommodation & cash relief to Kashmiri Pandits, says MHA mum on their security