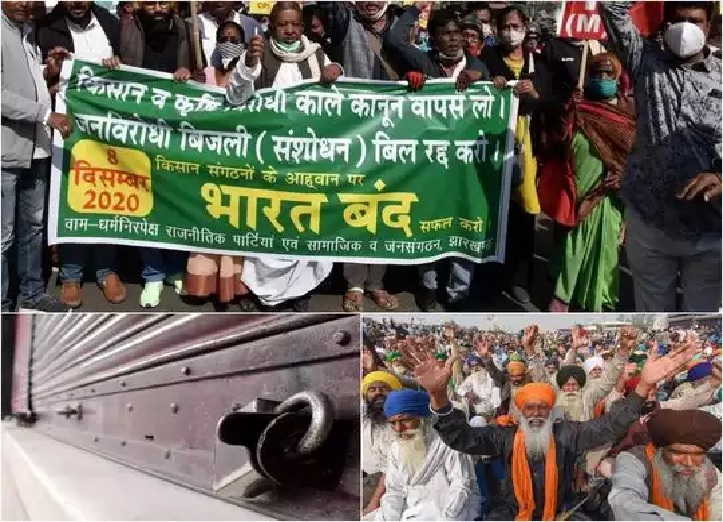 National political parties and student Unions across India have asserted their support for the December 8, 2020 Bharat Bandh called by farmers' organisations to denounce the three farm Acts forcibly passed by the central government.
"We appeal to all students of our country to support the Bharat Bandh call on December 8 and hold protests in their respective areas or campuses in solidarity with farmers and demand to repeal three new Farm Acts and Electricity Bill 2020," said student organisations in a joint statement on December 7.
Members said that the National Democratic Alliance (NDA) regime aims to destroy farmers' future by attacking their livelihood. Moreover, even their children, who already struggle to avail proper education due to neoliberal educational policies, will be further marginalized by the new laws – the Farmers' Produce Trade and Commerce (Promotion and Facilitation) Act, 2020, the Farmers (Empowerment and Protection) Agreement on Price Assurance and Farm Services Act, 2020, and the Essential Commodities (Amendment) Act, 2020.
They condemned the undemocratic means like digging of highways, unwarranted arrests and false cases on farmers' leaders used to prevent farmers from reaching Delhi. They also heavily criticised the "paid corporate media" that ridiculed and tried to discredit protesting farmers, often stooping to spreading fake news and rumours to achieve their objjectives.
"BJP leaders are calling them anti nationals, Khalistani's and terrorists. The NDA regime has been on a spree of privatization since its coming to power. The NEP 2020 has commercialized education to an unprecedented extent and has sold the education sector to the corporates. It is the same corporate loot that the NDA is encouraging through the recently passed Farm Acts," they said.
As many as 35 student Unions including the Students Federation of India, The All India Student Association, Ambedkar University Delhi Student Union, the Jawaharlal Nehru University Student Union, Student Unions of IIT-Delhi, IIT-Kharagpur, IIT-Madras and many others have promised to stand by farmers during the Tuesday protest.
Similarly, 11 national political parties such as the Indian National Congress (Congress), Dravida Munnetra Kazhagam (DMK), the Rashtriya Janata Dal, the Communist Party of India (Marxist) and many others expressed their support for Bharat Bandh with farmers through a Press Release on December 6.
The complete statement can be seen below: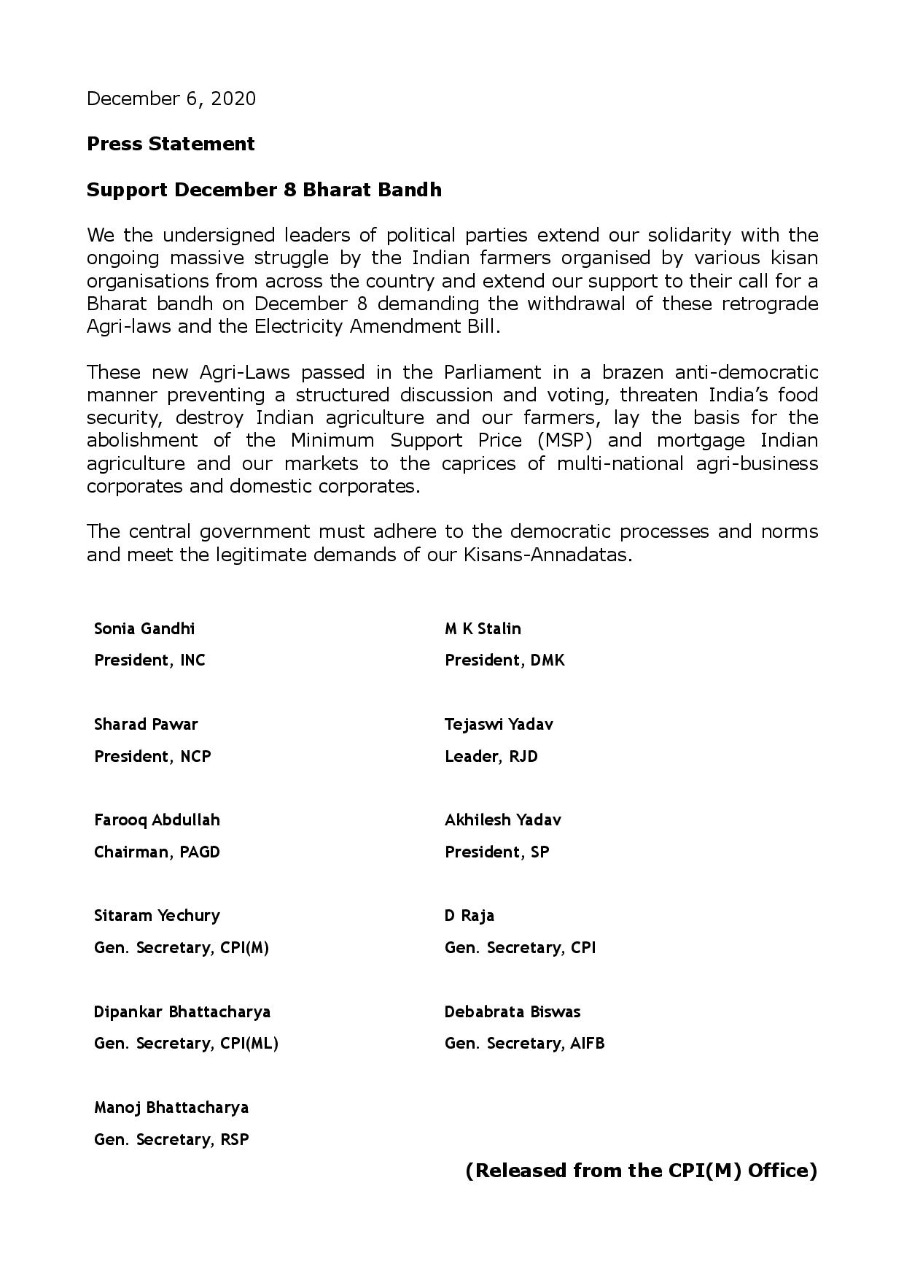 For the past 12 days, millions of peasants have slept at Delhi borders and demanded the repeal of the policies that could put farmers at the mercy of big corporates.
India's struggle for independence was led by marginalised workers and peasant masses and the Indian state has declared a war on its own people instead of addressing a democratic agitation of farmers.
Related:
December 8 'bandh': Delhi Traffic Police announce diversions, close borders
Center-Farmer talks: Next round on Wednesday, December 9
Support grows for Farmers' struggle