As many as 18% positions of teachers in government-run primary schools and 15% in secondary schools are vacant nationwide, according to data tabled in the Lok Sabha (lower house of parliament) by the human resources development minister on December 5, 2016.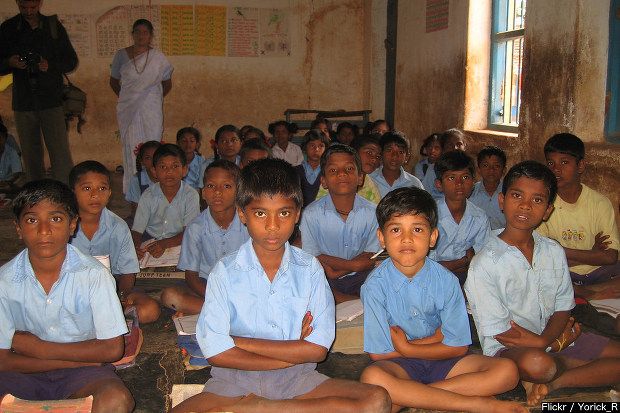 Put another way, one in six teaching positions in government schools is vacant, a collective shortage of a million teachers.

These figures represent average vacancies nationwide; some states have filled all posts; in some, more than half are vacant. States with lower literacy rates appear to have larger shortages of teachers. Up to 55% of India's 260 million school children attend government schools, according to 2015-16 education data.

Among 36 states and union territories, Jharkhand has the most acute secondary school teacher shortage: 70% (38% for elementary school).

Half of all secondary school teacher posts in Uttar Pradesh are vacant, as are a third in Bihar and Gujarat.

The reasons for shortage of teachers are lack of regular recruitment, not clearing position, bungled deployment of teachers, lack of specialist teachers for certain subjects, and small schools, which cause available teachers to be thinly spread.

Of 6 million teaching positions in government schools nationwide, about 900,000 elementary school teaching positions and 100,000 in secondary school—put together, a million—are vacant.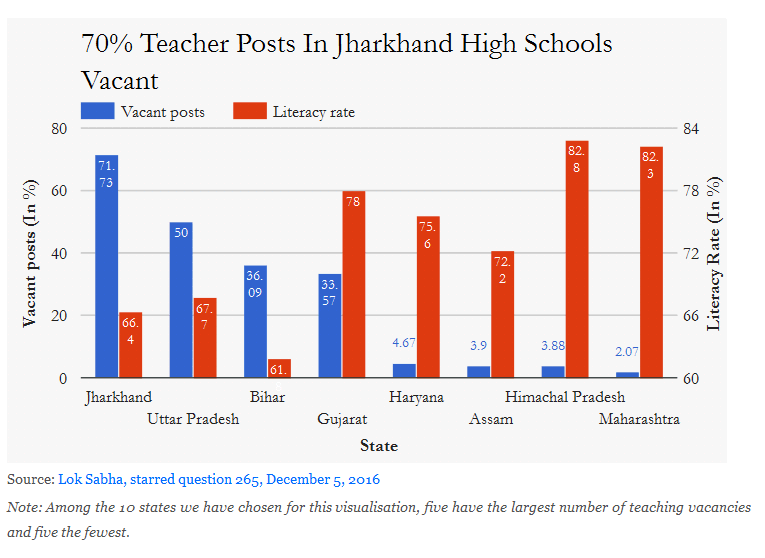 The large Hindi speaking states—Bihar, Jharkhand and Uttar Pradesh, home to 333 million people—are collectively short of a quarter of the elementary and secondary school teachers they require.

Goa, Odisha and Sikkim have no vacant elementary teaching positions.

Assam, Himachal Pradesh and Maharashtra, with 3.9%, 3.9% and 2% vacant posts, are among larger states closest to having a full complement of secondary school teachers; Mizoram and Sikkim report no vacancies. In general, India's Hindi speaking areas report the highest teaching vacancies.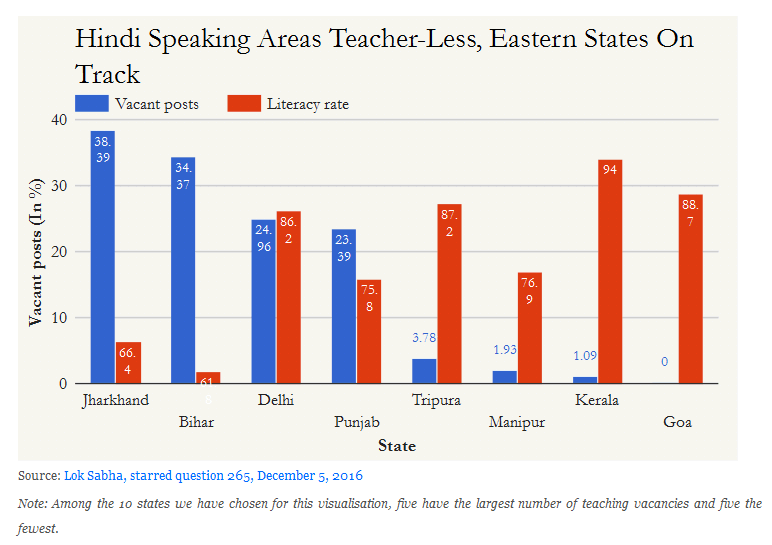 The only Indian state with no teaching vacancies either in elementary or secondary schools is Sikkim.

Big cities and union territories from Hindi-speaking north India, such as the national capital region of Delhi and Chandigarh, mirror the teaching shortages of poorer Hindi areas; both cities are 25% short of teachers in government-run elementary schools.

(Waghmare is an analyst with IndiaSpend.)
Courtesy: India Spend