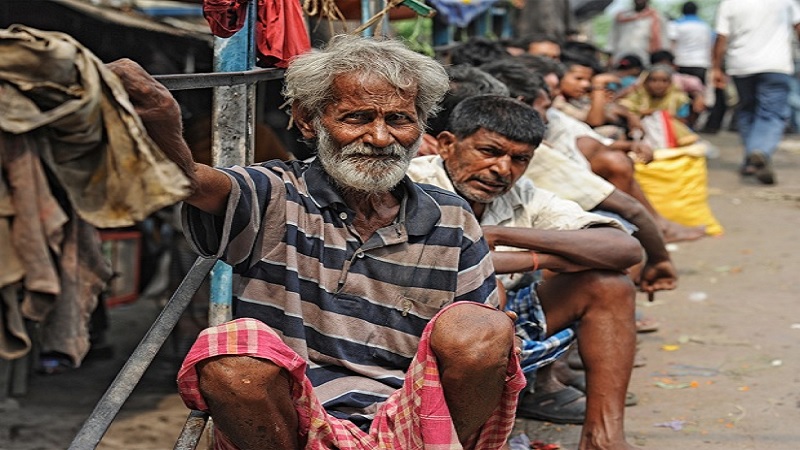 Image Courtesy:business-standard.com
Many experts and reports analysing the socio-economic impact of Covid-19 have demanded fiscal support for India's vulnerable and below poverty line (BPL) population amidst the Covid-19 crisis.
On June 17, 2021, this notion was reaffirmed when Confederation of Indian Industry (CII) President T. V. Narendran said, "There is an estimated fiscal headroom of up to Rs. 3 lakh crore that can be channelised towards direct cash transfers to vulnerable people, higher allocation for MNREGA, short-term GST rate cuts and lower excise duty on fuel."
However, recent protests by India's peasantry, ASHA workers and labourers indicate that these demands are still a distant dream, especially cash transfers.
An urgent need for cash transfers
In May, the Azim Premji University released the 'State of Working India 2021' report that recommended the union government carry out cash transfers of Rs. 5,000 (per month) for three months, in addition to food packages, to as many households using digital infrastructure, not limited to Jan Dhan accounts.
The same month, the Centre for Monitoring Indian Economy (CMIE) said that over 15 million jobs were lost. Employment fell from 390.8 million in April to 375.5 million in May. This means a loss of 15.3 million jobs, and the decline continues even in June.
"This is not as bad as the loss of 114 million in April 2020 but comes second only to that draconian month of a nationwide lockdown. The May 2021 fall in employment is higher than the 12.3 million fall recorded in November 2016, the month of demonetisation," said CMIE Managing Director Mahesh Vyas in his report.
Already, the Pew Research Center on March 18 reported how India contributed over 75 million people out of the over-131 million estimated poor people calculated after the global pandemic.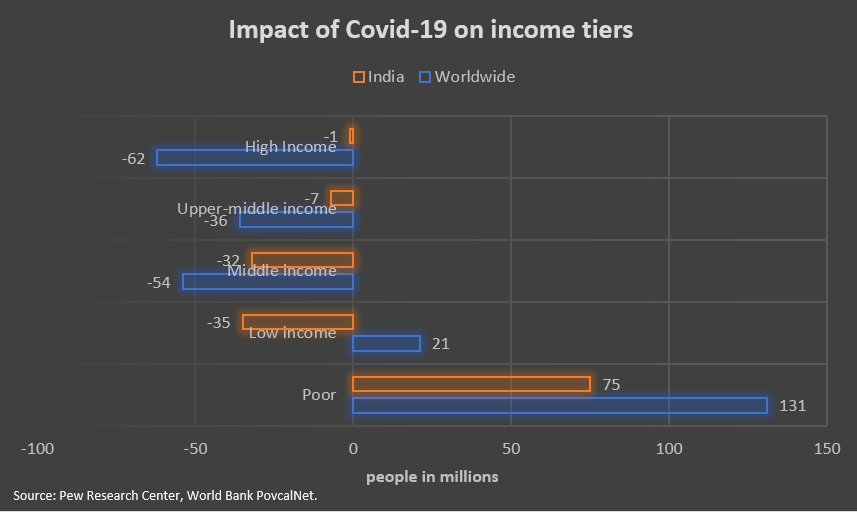 The Government of India, for its part, on April 23 announced the restart of the PM Garib Kalyan Anna Yojana that provides five kgs of grain for free to priority households for May and June. However, the fiscal issue for India's labour force remains.
How are the BPL groups faring?
Working at the very frontline of the Covid-pandemic, ASHA workers have been suffering due to dismal wages for years. On June 15, Maharashtra's ASHA workers went on an indefinite strike refusing the pittance of Rs. 30 to Rs. 35 a day. The women's group firmly demands a monthly salary of Rs. 18,000 for ASHAs and Rs. 22,000 for ASHA supervisors.
"We have been constantly working during the Covid-19 pandemic, raising awareness among people for hardly Rs. 30 a day. Now that the rains have begun, our work will increase because more people are likely to fall sick. But when we fall sick, not a single rupee of help comes from the government," a ASHA worker supervisor from Maharashtra told SabrangIndia.
Similarly, the 'No Country for Workers' report by the Stranded Workers Action Network (SWAN) suggests monthly cash transfers of Rs. 3,000 for six months. SWAN volunteers had already helped 7,050 people avail money transfers from SWAN. However, around six percent of the people required an additional cash transfer due to the continued lack of external aid.
Citing one of numerous unemployment stories, the report said, "Asha and her husband are self-employed and have a nine-month old baby. They sell pani puri to earn a living but their income has dried up since New Delhi announced a lockdown. Left with only a meagre amount of dry ration, the couple has been desperately searching for ways to buy milk for their baby."
Incidentally, SWAN volunteers received more distress calls from women during the second wave compared to 2020 due to the rising unemployment.
Limitations in delivering cash transfers
The State of Working India 2021 report found that the Public Distribution System (PDS), MGNREGA and to a lesser extent cash transfers helped in preventing widespread starvation. However, observations of 2020 also showed that there is an urgent need to make financial infrastructure accessible to the vulnerable sections of society. Further, there is a need to increase the amount of cash transfers.
Regarding the procedure of direct benefit transfer, there is also a growing discourse around the JAM trinity (Jan Dhan accounts, Aadhaar card and mobile phones). The need for zero balance Jan Dhan accounts, mobile connectivity and an administrative demand for Aadhaar card hinders the non-digital population from accessing money transfers.
For example, during the Covid-crisis, the PM-KISAN programme announced cash transfers of Rs. 500 per month between April and June 2020 for all women Jan Dhan account-holders. These accounts refer to the PM Jan Dhan Yojana (PMJDY) that can provide banking services to every unbanked adult.
However out of around 400 million Jan Dhan accounts, 205 million accounts were owned by women as of April last year. Around 326 million women live below the national poverty line, meaning that more than one-third of poor women would be excluded from the benefit, even if all female-owned PMJDY accounts belonged to poor women.
Moreover, in contrast to the ration-pension-NREGA system where lists of beneficiaries are publicly available, and beneficiaries are usually certain about their status of inclusion, not all women know if their accounts are PMJDY accounts.
Another issue is the final step where people have to actually access the cash. Surveys used in the report found that 26 percent of poor women live more than 5 km away from the nearest bank or ATM.
"Still, the potential coverage of a cash transfer programme undertaken via the Jan Dhan accounts, at 150 million, would be higher than any other programme barring PDS, if the cash did reach every BPL account holder and they were able to avail of it," said the report.
Related:
92 percent of India's workforce faces historic and unprecedented crisis: SWAN report
India's dairy farmers face another harsh summer – but not because of the heat
Provide ration, transport, community kitchens for migrant workers: SC
Formulate medical scheme for migrant workers: Delhi HC to gov't