A recent circular issued by the Rajasthan government directs every cash starved secondary and senior secondary school to purchase collected works of RSS ideologue Deendayal Upadhyaya for its library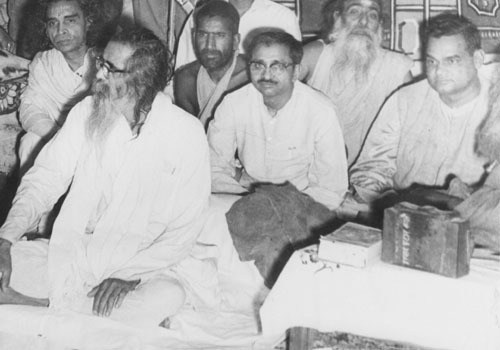 (Photo courtesy : livehindustan.com, From left to right – Golwalkar, Deendayal Upadhyay and Atal Bihari Vajpayee. Photo taken in Mathura during Goraksha/Cow Protection movement, 1965)
"Deendayal Upadhyaya is to the BJP [Bharatiya Janata Party] what Mohandas Karamchand Gandhi was to Congress" opined R Balashankar, former editor of the Rashtriya Swayamsewak Sangh's (RSS) organ Organiser and now a member of the BJP's central committee, on Prasikhshan Maha Abhiyan.
(The Indian Express,; September 24, 2016).

Cows inhale, exhale oxygen, says Rajasthan education minister Vasudev Devnani
(The Times of India)
Rajaram (name changed) principal of a school near Jaipur, Rajasthan is a worried man.
An honest teacher all his life, is not able to comprehend the rationale behind the recent order by the state education ministry asking every secondary and senior secondary school to purchase collected works of Deendayal Upadhyay.
Not only that he has never heard this name before but does not know how funds can be managed for the same. The school does not have a proper library till date. The budgetary situation of the school is such that despite repeated demands by the girl students the sole toilet in the school still remains unrepaired.
The circular sent by the state government on February 27 has asked all secondary and senior secondary schools to buy the compendium of essays and speeches titled 'Deendayal Upadhyay Sampoorna Vangmay' – which has been published by a Delhi publisher in 15 volumes at a concessional rate of Rs 4,000. Schools are asked to draw from the school development fund – meant to be utilised for local needs – to make the purchase. The compendium has been edited by Mahesh Chandra Sharma – former state BJP president – which was released by PM Modi in October last year.
Where can one keep all these 15 volumes and how can their purchase benefit ordinary students – who lack good quality text books – he asks himself but does not get satisfactory answer.
Definitely, as principal of a secondary school Rajaram is not alone who finds himself in such a quandary. There are scores like him spread across the state who have similar questions before them . It need be added that this is not for the first time that state government has ordered/instructed schools to order a particular book which is not at all related to their course. It was only last year that Rajasthan government was in the news when it was reported that a biography of RSS founder-member Dr Hedgewar – written by Rakesh Sinha – should be purchased by every government school.
Directions for purchase of Hedgewar's biography earlier and instructions now to buy collected works of another RSS ideologue, it is becoming increasingly clear that the state education ministry is not concerned about the growing criticism of the status of education in state but more keen to push what Congress has called 'saffron agenda' in schools.
Close on the heels of the order to schools to buy Deendayal's works came another news – credited to the education minister himself that he has changed the name of Akbar Fort in Ajmer to Ajmer fort. His alleged remarks about Emperor Akbar also created controversy.
Rajasthan Education Minister Vasudev Devnani Saturday indicated that the emperor Akbar may have been a terrorist. Devnani made the reference while responding to the alleged threat he received for changing the name of Akbar fort to Ajmer fort. He later denied that he called Akbar a terrorist, and had called him an invader.

And the biggest problem with all such orders and the debate or the controversy they generate is that the status of education in the state never gets discussed which suffers not only from lack of sufficient funds, good quality teachers and satisfactory infrastructural facilities in all schools but is also inundated with textbooks which as an expert committee said suffer from 'limitations of content' and implicit biases.
It was only last year that a website had provided details about 'what is wrong with Rajasthan education' through four charts. The story published exactly a year ago had described the education minister's zeal to introduce "major changes" in the curriculum to "inculcate the feeling of patriotism in students", 'circumventing Right to Education law by scrapping "no-detention" policy that is believed to help keep students motivated to complete their education' and his lack of concern "to remedy the falling standards of education in Rajasthan." According to the report,
"Only about 45% of students of Class 3 in the state could actually read words while 20% of those in Class 2 were unable to recognise letters, according to the latest Annual Status of Education Report published in 2014." and over the years the reading and comprehension ability of primary students has actually decreased.
Quoting the survey report the write-up had also talked about 'deteriorating learning outcomes' in the state and compared it with nationwide figures and how "more than 80% of the students in Class 3 across the country were able to recognise words as opposed to Rajasthan's tally of 55% in 2014." The state's record in keeping children enrolled had also come under scanner. According to it,
" A 2013 study carried out across 21 cities at the behest of the Ministry of Human Resources Development found out that school leaving rates in the state are almost double the national average in some cases."
Around two years back the state government's move for Public Private Partnership (PPP) in School Education had also come under scanner from members of civil society and educationists. The open letter issued by them had not only exposed status of education in the state and questioned the way government wanted to ameliorate the situation. It pointed out 'extremely low levels of investment in the public education system in the state and expenditure made by the state government in elementary level of education which was above 3% of Gross State Domestic Product and per-student expenditure by the government was much less in Rajasthan than in other states' and how the state 'has the highest number (in absolute numbers) of out-of-school-children in India and ranks 4th among the Indian states with respect to child labour, how as per the recent Socio Economic and Caste Census, 2011, Rajasthan has the highest number of illiterates in the country and how its transition rate in secondary education is likewise below the national average. This move to go in for PPP in education was later rescinded by the government when it faced resistance from more than 3.5 lakh teachers and also it feared a political backlash.
While the state suffers from double 'school leaving rate than the national average', 'low levels of investment in education', 'highest number of out of school children' it had no qualms in closing down thousands of government schools in rural areas since last more than two years under the name of rationalisation and curbing of 'under utilisation of resources'. It did not take into consideration the possibility that with increase of distance between home and school the poorer among them will not be able to bear the cost of commuting and will have to drop out.
As an aside it may be mentioned here that the Centre advised states to "follow the Rajasthan model of "merging" government schools with low enrolment" and the Union human resource development ministry has even decided to prepare guidelines for such mergers.
The content of textbooks of Rajasthan state board has also been a cause of concern among academicians.
A team of academicians which reviewed the revised textbooks had even decided to file a public interest litigation in the Rajasthan High Court looking at the inherent flaws and limitations of content from a pedagogical point of view. Apart from questioning the hurried manner in which these textbooks were prepared in mere 45 days they also questioned the surreptitious manner in which content was saffronised and the way marginalised communities remain unrepresented.
For example, the study material refers to Indus Valley Civilization as Sindhu Ghati Culture, calls Aryans the native of India, hails Varna Pratha as a good practice and striking as wrong or demonstrates its bias towards minority communities openly.
In such a milieu where Jawaharlal Nehru hardly finds mention or Nizamuddin Auliya is described as a great saint 'despite being a Muslim' it does not appear surprising that Deendayal Upadhyaya is being introduced before the impressionable minds with a bang.
Born in the year 1916 (death Feb 1968) Deendayal Upadhyay started his social-political life as an RSS Pracharak under the direct guidance of MS Golwalkar, second supremo of RSS. He joined RSS in his early 20s and decided to become a Pracharak (full time worker) in the year 1942. Although it was a period of tremendous ferment in Indian society – where anti colonial struggle against the Britishers was at its peak and people were going to jail or facing batons, bullets – he like all the fellow Swayamsevaks/Pracharaks kept himself aloof from them and concentrated on organisation building. As a loyal soldier of the organisation he was just following the line set by Sangh Supremo Golwalkar as he had famously said :
"In 1942 also there was a strong sentiment in the hearts of many. At that time too the routine work of Sangh continued. Sangh vowed not to do anything directly. However, upheaval (uthal-puthal) in the minds of Sangh volunteers continued. Sangh is an organisation of inactive persons, their talks are useless, not only outsiders but also many of our volunteers did talk like this. They were greatly disgusted too."[MS Golwalkar, Shri Guruji Samagra Darshan (Collected Works of Golwalkar in Hindi), vol. IV, Bhartiya Vichar Sadhna, Nagpur, nd, 40]
Remember the contemporary reports of the British intelligence agencies on the Quit India Movement were straight forward in describing the fact that RSS kept aloof from the movement. According to one such report,
"..the Sangh has scrupulously kept itself within the law, and in particular, has refrained from taking part in the disturbances that broke out in August 1942".[Andersen, Walter K & Damle, Shridhar D.The Brotherhood in Saffron: the Rashtriya Swayamsevak Sangh and Hindu Revivalism, Westview Press, 1987, 44.
Deendayal Upadhyay is credited with starting a monthly Rashtra Dharma from Lucknow in the 1940s for spreading the ideology of Hindutva nationalism. Later he started a weekly Panchjanya and a daily Swadesh. He later became one of the most important leaders – its theoretician and ideologue as well – of Bharatiya Jana Sangh, the forerunner of the present day Bharatiya Janata Party. The Jana Sangh adopted "Integral Humanism" as its "guiding ideology" in 1965 which was also adopted by the BJP in 1980. His death at Mugharsarai station still remains a mystery with one of his colleagues (Balraj Madhok) in his autobiography even pointing fingers towards few key leaders of the Parivar itself.
"He was killed by a hired assassin. But conspirators who sponsored this killing were those self-seekers and leaders with criminal bent of mind of Sangh-Jan Sangh"
[Balraj Madhok, Zindagi Ka Safar—3: Deen Dayal Upadhyay Ki Hatya Se Indira Gandhi Ki Hatya Tak, Dinman Prakashan, Delhi, 22, 23.]
A cursory glance at some of his speeches and writings gives one an idea about his thinking. He was of the firm opinion that "the solution of the world's problems lies in Hinduism and not in socialism". For him Hindus only form the nation,
"Hindutva alone is the basis of nationalism in Bharat […] It is altogether wrong for the Hindus to prove their nationhood by European standards. It has been accepted as axiomatic for thousands of years."[ibid., 27.]
and Muslims were a 'complex problem':
"after independence many important problems had to be faced by the government, the political parties and the people… But the Muslim problem is the oldest, the most complicated and it assumes ever-new forms. This problem has been facing us for the last twelve hundred years."[[v] BN Jog, Pandit Deendayal Upadhyaya: Ideology & Perception-Politics for Nation's Sake, vol. vi, Suruchi Prakashan, Delhi, 73.]
Anybody can see that the manner in which Deendayal Upadhaya looks at Muslims as a 'problem' has deep resonance with the worldview of Golwalkar – the second Supremo of RSS who has described Muslims as 'Internal Threat no 1' in his book, Bunch of Thoughts or his ideas about freedom struggle, or Hindus as basis of nationhood are no different from Golwalkar's worldview.
It followed that he disliked, rather abhorred, the idea of secularism. In an RSS meeting in Aligarh, Upadhyaya said:
"By declaring Bharat as a secular nation, the soul of Bharat has been attacked. A secular state is full of woes [sic]. Although Ravana's dharmaless state of Lanka had plenty of gold, it had no Rama Rajya (state) in it."
In one of his articles he said:
"If we aspire for unity, we must really understand Bharatiya Nationalism, which is Hindu Nationalism, and Bharatiya Culture is Hindu culture."
For him the Constitution had to be changed radically as,
"It runs counter to the unity and indivisibility of Bharat. There is no recognition of the idea of Bharat Mata, our sacred mother land, as enshrined in the hearts of our people. According to the first para of the Constitution, India, that is Bharat, will be a federation of States, i.e. Bihar Mata, Banga Mata, Punjab Mata, Kannada Mata, Tamil Mata, all put together make Bharat Mata. This is ridiculous. We have thought of the provinces as limbs of Bharat Mata and not as individual mothers. Therefore our Constitution should be unitary instead of federal. [The] Jana Sangh believes that Bharatiya culture like Bharatvarsh is one and indivisible. Any talk of composite culture, therefore, is not only untrue but also dangerous, for it tends to weaken national unity and encourages fissiparous tendencies" (Jana Sangh's Principles and Policies, January 25, 1965, page 16).
Or he defended casteism in no uncertain terms,
"Even though slogans of equality are raised in the modern world, the concept of equality has to be accepted with discretion. Our actual experience is that from the practical and material point of view, no two men are alike… Considerable bitterness could be avoided if the idea of equality as conceived by Hindu thinkers is studied more carefully. The first and basic premise is that even if men have different qualities and different kinds of duties allotted to them according to their qualities or aptitudes, all duties are equally dignified. This is called swadharma, and there is an unequivocal assurance that to follow swadharma is itself equivalent to the worship of God. So, in any duties performed to fulfill swadharma, the question of high and low, dignified and undignified does not arise at all. If the duty is done without selfishness, no blame attaches itself to the doer." [CP Bhishikar, Pandit Deendayal Upadhyaya: Ideology and Perception: Concept of the Rashtra,vol. v, Suruchi, Delhi, 169.]
Unpacking Deendayal Upadhyaya's much talked about ideas of 'Integral Humanism', Christophe Jafferlot discusses fascination of the Hindutva idelogues towards Varna vyavastha for whom it was 'a model of social cohesion to which each caste could adhere, including the 'untouchables'. Jafferlot adds:
"Upadhyaya shared similar beliefs. The organic unity of the varna vyavastha is one of the key ideas of his philosophy of 'integral humanism', referred to as the cornerstone of their ideology by Sangh Parivar leaders. In 1965, he wrote: 'In our concept of four castes, they are analogous to the different limbs of Virat-Purusha, the primeval man whose sacrifice, according to the Rig Veda, gave birth to society in the form of the varna vyavastha.' For him, the varna vyavastha was endowed with the organic unity that could sustain the nation-making process.

Or he denigrated the freedom struggle in these words:
"We were obsessed by the misleading notion that freedom consisted merely in overthrowing foreign rule. Opposition to a foreign government does not necessarily imply genuine love of Motherland… During the struggle for independence great emphasis was laid on the opposition to British rule… It came to be believed that whoever opposed the British was a patriot. A regular campaign was launched in those days to create utter dissatisfaction against the British by holding them responsible for every problem and misery which the people in our country had to face."[Ibid., 11.]
His euologisation in the Sangh-BJP camp is understandable as he stuck to 'Golwalkar's organicist thought' but also 'supplemented it with Gandhian discourse'.The Danish scholar Thomas Blom Hansen records:
"Deendayal Upadhyaya… developed a set of concepts that, under the name of 'Integral Humanism', was adopted by the Jana Sangh in 1965 as its official doctrine. Integral humanism did not depart much from Golwalkar's organicist thought but supplemented it by appropriating significant elements of the Gandhian discourse and articulated these in a version of Hindu nationalism that aimed at erasing the communal image of the Jana Sangh in favour of a softer, spiritual, non-aggressive image stressing social equality, 'Indianisation' and social harmony. This creation of a new discourse suited specifically to the legitimate problematics and dominant discourses of the political field of the 1960s and 1970s in India also reflected an attempt to adjust the party and the larger Hindu nationalist movement to a new high profile on the right fringe of the political mainstream, with a considerable following in the urban middle classes in north India after the 1967 general elections. One of the most significant changes in relation to Golwalkar's writings was the use of the term 'Bharatiya', which Richard Fox has aptly translated 'Hindian', a mixture of 'Hindu' and 'Indian'" (The Saffron Wave: Democracy and Hindu Nationalism in Modern India, Oxford University Press, pages 84-85).
Pralay Kanungo, a Delhi Academic, expresses similar ideas :
""Deendayal Upadhyaya supplements Golwalkar's cultural nationalism with his theory of integral humanism (Ekatma Manavavad). This new theory adds some sophistication to the RSS concept of Hindu Rashtra and enriches its ideological underpinnings" (RSS' Tryst with Politics; Manohar, page 118).
A year and half ago a special issue of Rashtra Dharma a journal which was started by Deendayal Upadhyay – former PM Atal Bihari Vajpyaee had also served as its joint editor once – was released by Union Minister Kalraj Mishra in Lucknow. This special issue of the monthly carried articles about him and his views.
An article in the magazine written by Dr Mahesh Chandra Sharma, who has edited the 15 volume compendium of Deendayal Upadhyay's works caught eyeballs as it clearly said that Sangh ideologue Deendayal Upadhyaya was against 'Hindu-Muslim unity' and believed that issue of 'unity' was 'irrelevant' and appeasement of the Muslims was the problem. It also claimed that Upadhyaya said that "a person turns an enemy of the nation after becoming a Muslim". According to the article, Upadhyaya also believed that while a Muslim may be good individually, he in "bad in a group", and further a Hindu – who may be bad individually — is "good as part of a group". According to the author, Upadhyaya called those advocating Hindu-Muslim unity as Muslimparast and opposed such 'unity' policy of the Congress.
"If the nation's control is in the hands of those who belong to India but are not different from Qutubuddin, Allauddin, Muhammad Tughlaq, Firoz Shah Tughlaq, Shershah, Akbar and Auarangzeb, then it should be said that centre of their affection isn't the Indian life," it read. (do)
As we write these lines one can very well surmise that there would be many schools in Rajasthan who would be busy implementing the latest circular mentioned above by the education ministry or few might have put their orders for the delivery of the compendium from the Delhi publisher.
And principal Rajaram's (name changed) query about the proposed purchase that how can it benefit ordinary students – who even lack good quality text books, must have remained unanswered still.
References :
1. Merchant of Hate – A G. Noorani, Frontline, Nov 11, 2016 ; http://www.frontline.in/the-nation/merchant-of-hate/article9266366.ece
2. http://www.countercurrents.org/2016/09/29/resurrecting-pandit-deendayal-upadhyay-who-died-a-mysterious-death-for-shudhi-of-indian-muslims/
This article was also published on Kafila.