For much of the past 20 years, Indonesia has been held up as a model of democratic transition for other countries, particularly those with significant Muslim populations.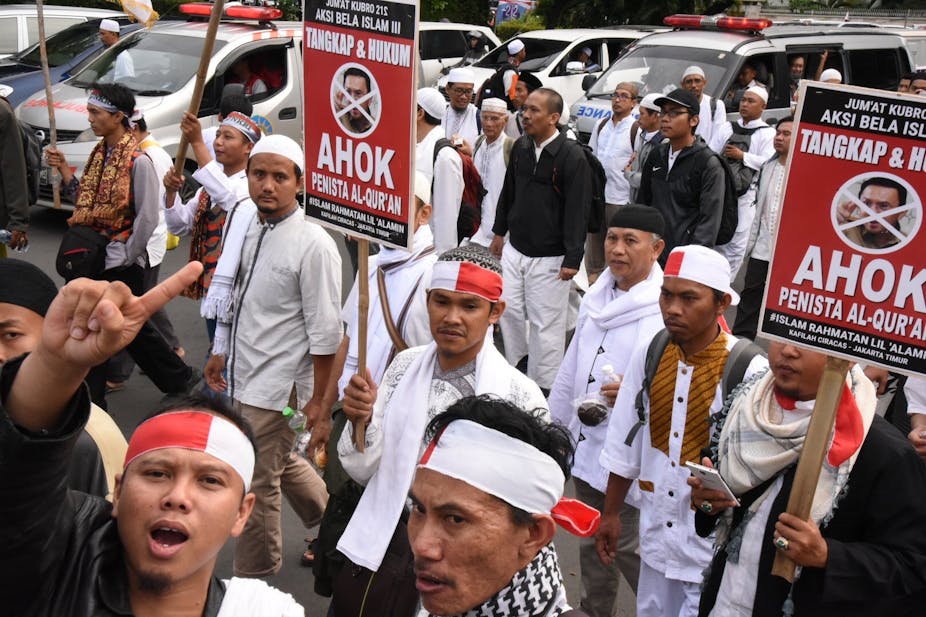 More than 250,000 people took to the streets in a 2016 protest organised by hardline Muslim groups against Jakarta's Christian mayor. Lauren Farrow/AAP
This is an edited extract from Tim Lindsey's essay 'Retreat from Democracy', which appears in Australian Foreign Affairs #3, published 9 July.
Indonesia's leaders like to present their nation as embodying an exemplary path away from authoritarianism. Their form of government, they say, is tolerant yet enshrines religious practice, offering a political alternative for Muslim communities that is more palatable to the West than the failed Arab Spring and the extremist catastrophes that have engulfed the Middle East since the US intervened in Afghanistan and Iraq.
This view of Indonesia now needs rethinking. The country's hard-won advances towards liberalism and tolerance may be under threat. This nation of more than 260 million people – over 85% of them Muslim – has often been called the "smiling face of Islam", but that label may no longer apply.
Indonesia's recent questioning of its own liberal-democratic aspirations has been accompanied by growing expressions of intolerance, including violence towards vulnerable minorities. As next year's presidential election approaches, the temptation to resort to regressive identity politics and opportunistic populism will increase, and Indonesia's departure from its post-1998 progressive tilt is likely to become more pronounced.

Sliding towards a 'Neo New Order'?
In Indonesia today, reform has stagnated. Although the democratic transition in 1998 was presented as a national consensus, this was never entirely true. It always had opponents, some of whom felt politically constrained to accept democratisation as a necessary evil but never accepted it as a final settlement.
As well as the hardliners, today these include enormously wealthy oligarchs, tenacious survivors of former dictator Suharto's regime and elements of the armed forces. These disparate forces that together form Indonesia's revisionist and populist right have little in common and often compete with one another. However, they also create expedient alliances from time to time, motivated by a common desire to roll back at least some of the democratic system initiated by Reformasi, the reform era.
Together they can sometimes intimidate or outflank progressive civil-society leaders. Governments, local and national, seem uncertain about how to respond to these challenges, and vacillate between inaction, opaqueness or endorsement of reactionary policies. As a result, 20 years on from Reformasi, the spirit of reform that drove democratisation seems distant.
Most Indonesian champions of civil society would agree that Reformasi ended long ago – maybe well over a decade ago – but a new label to define what replaced it has not yet emerged. This reflects an uncertainty among many Indonesians about where their country is heading. Many prominent critics of the government believe that while electoral democracy seems entrenched, liberal democracy is under threat from populism, Islamism and renewed conservatism.
For them, Indonesia seems to be sliding towards what some call the "Neo New Order". Others say this is too harsh, arguing that electoral democracy is now firmly entrenched and the critical change that marked the end of Suharto's system, the retreat of the military from government, has not been reversed.
However, it is increasingly difficult to argue that all is well with Indonesian democracy. The forthcoming elections aside, rampant corruption is perhaps Indonesia's single biggest political issue. The courageous Corruption Eradication Commission is under continual attack from politicians and police. The human rights courts are virtually defunct and rarely hear cases.
The National Commission on Human Rights is ineffective; the Constitutional Court has faced its own corruption scandals; the press is confronting increasingly prohibitive defamation laws that assist politicians and oligarchs; and civil society is under pressure from elite push-back and Islamist provocation.
Indonesia's alt-right: trolls, hackers and vigilantes
The tensions over Islam are part of a much older struggle in Indonesia to determine who controls the interpretation of the religion, and thus religious power. However, the recent rise of conservative Islamist hardliners also resembles the rise of populism and conservative politics elsewhere in the world. Islamist conservatives are in many ways the local equivalent of America's alt-right – and they are just as adept at online disruption and manipulation.
Research by State Islamic University Jakarta links the rise of religious intolerance among young Muslims to their increased access to the internet and social media. Indeed, Jakarta tweets more than any other city in the world, and Indonesians are very big users of Facebook, as well as WhatsApp, Instagram and Telegram, an encrypted-messaging service.
One of the best-known examples of online disruption involves the so-called Muslim Cyber Army, the most prominent of a number of tags adopted by Islamist trolls in Indonesia. Active across all platforms popular in Indonesia, Muslim Cyber Army members enjoy building an atmosphere of mystery, threat and self-importance, sometimes using the Guy Fawkes mask, popularised by the graphic novel and film V for Vendetta, of the hacktivist group Anonymous in their postings.
This is deeply ironic, given the distance between their ideological objectives and the libertarian ambitions of most Western hacktivist groups. The Muslim Cyber Army does, however, share a willingness to exploit online anonymity to enable criminal activity – for example, by hijacking the social media accounts of the dead.
An Indonesian researcher, Damar Juniarto, has shown that Muslim Cyber Army trolls are highly effective, working collectively and using tools such as Twitbots to flood Twitter with coordinated messages. They target their more liberal opponents by "doxing": publishing their personal information and contact details. This often triggers physical attacks from groups such as the notorious vigilante organisation Islamic Defenders Front, or Front Pembela Islam (FPI), within a few days and, in some cases, police attention on suspicion of blasphemy.
A list of such targets went viral in a video produced by the "Blasphemer Hunter Team". These groups have attacked President Joko Widodo ("Jokowi"), former Jakarta governor Basuki Tjahaja Purnama (known as "Ahok"), foreigners and LGBTI Indonesians – targets they share with some prominent hardliner "buzzers", or social media opinion leaders, many of whom are keyboards for hire.
Juniarto also suggests that many of these groups have close ties to politicians and senior military figures. Certainly, social media manipulation and "fake news" hoaxes produced by Islamist groups were powerful factors in the campaign that led to Ahok's defeat in last year's Jakarta gubernatorial elections. The winner was Anies Baswedan, a protégé of former general Prabowo Subianto, Jokowi's possible rival in the 2019 presidential election.
It would be naive to think this won't happen again in next April's crucial legislative and presidential races. During the 2014 presidential campaign, Jokowi, a Muslim, endured claims he was a closet Christian and ethnic Chinese (his detractors chose to ignore the fact that his opponent, also a Muslim, has a Christian mother and siblings).
The upcoming presidential election – which may well be a rematch between Jokowi and Prabowo, but for the first time held simultaneously with legislative elections – is expected to see the most vicious cyber campaigning yet.

Tim Lindsey, Malcolm Smith Professor of Asian Law and Director of the Centre for Indonesian Law, Islam and Society, University of Melbourne
This article was originally published on The Conversation. Read the original article.