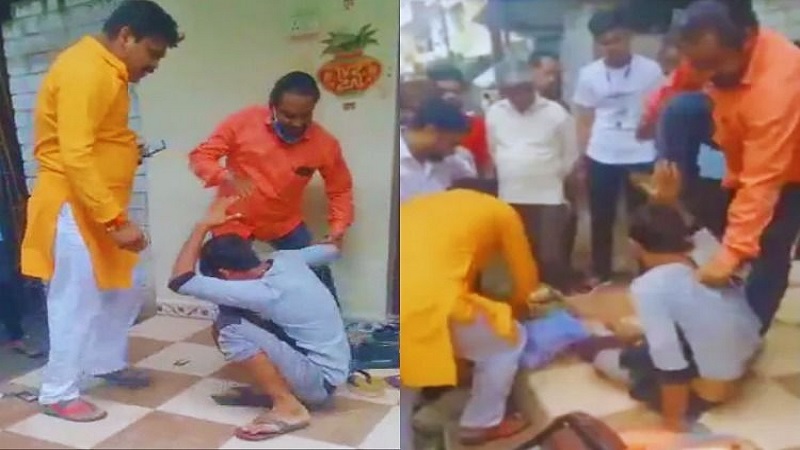 Image Courtesy:livelaw.in
Bangle seller Taslim Ali, will soon return home to his family after 115 days in jail, for a crime he says he never committed. The Indore bench of Madhya Pradesh High Court granted the bail to Taslim Ali, who was in jail on the charges of "sexually harassing a 13-year-old girl, and carrying two Aadhaar and voter identification cards". His bail had been rejected by a sessions court on September 4.
Ali, hails from Hardoi, Uttar Pradesh, and was arrested on August 23, in the Banganga area of Indore, Madhya Pradesh. A day earlier he had filed a complaint against half-a-dozen people accusing them of thrashing him and robbing around ₹10,000. However a complaint against Ali was filed on the same day.
According to his lawyer Ehtesham Hashmi, the single-judge Bench of justice Sujoy Paul granted him bail on Tuesday after he furnished a bond of ₹50,000. The money was crowdfunded by local social workers, as Ali and his family are in financial distress. Advocate Hashmi, who is fighting the case pro-bono too, is a relieved man, he has closely seen what Ali's family has been going through as the breadwinner has been in jail. "Ali got bail after 10 hearings. However, four people, who were arrested for allegedly thrashing him were granted bail in 30 days only," said Hashmi, adding that Ali "has not committed any crime and was targeted due to his religion, and was bashed up mercilessly."
Ali, once released, will have to appear before the court during the hearing of the case. According to the lawyers the hearing of the bail petition at the High Court had been deferred at least nine times due to various reasons. Ali has been in custody since August 23, as per the bail order records he "while selling the bangles was abused, threatened and assaulted by certain hooligans on 23.08.2021. He lodged a report at the Police Station Banganga, Indore on 23.08.2021 at 13:45. As a counterblast, the person, who threatened the applicant have cooked up a story that applicant while selling the bangles has sexually assaulted a minor girl. As an afterthought, a cross F.I.R. was lodged on the same date i.e. 23.08.2021 at 6:00 pm." In his rejoinder submission, Advocate Hashmi placed "photographs filed with the application" to prove that Ali had been "badly beaten by the hooligans."
Justice Sujoy Paul granted bail on personal bond of Rs.50,000, and a local surety of the same amount. Justice Paul in his order noted, "The nature of accusation is not such which leads to a conclusion that applicant should remain in custody till decision of the matter. No criminal antecedents of the applicant could be shown to this Court. There is no material to show that applicant was instrumental in threatening the persons / complainant etc.Considering the nature of accusation and in absence of any criminal record, I deem it proper to enlarge the applicant on bail. Accordingly, the bail application is allowed."
The Case Background
A video clip of Tasleem being beaten up by a mob was widely circulated on social media. In the video, it can be seen that someone is tugging at the victim's shirt and other men are emptying his bag full of bangles he meant to sell to find out what he is carrying in his bag. After discovering that the bags only contained multiple packs of bangles, the man calls out to women in the market and asks them to come and pick up as many bangles as they want. He also warned the victim not to come back to the area, or be seen in any Hindu locality from that day onwards.
Throughout the video, other men continue to hit him and assault him. The youth is constantly joining his hands and begging them to let him go as the mob continues to threaten him and his religious identity. The men then started encouraging more and more people from the crowd gathered to hit the youth, and people even came up and beat him black and blue, kicking him, slapping him. The men are then seen pulling his pants looking for money and his ID card. One of the men can even be heard saying that don't hit in a manner that would leave a mark or visible injury.
State Home Minister Narottam Mishra had also told reporters that the man was selling bangles to women by posing as a Hindu and eventually a case was registered against the young man, who was a victim of the mob assault.
Related:
CJP moves NCM over hate crimes against Muslims in Madhya Pradesh
Indore: Police file FIR against Muslim family that was attacked 'for not leaving village'
Indore: Muslim bangle seller beaten by mob, denied bail in molestation case
Hate Watch: Muslim bangle seller thrashed, wares looted in Indore