With a difference of less than 24 hours, two judgements came to be delivered that, metamorphically, sent shivers down the spine of the country. The first one was deliveredby a Sessions court in Gadchiroli, Maharashtraon March 7, sentencing a wheelchair-bound Delhi University Professor G N Saibaba and four others to life imprisonment under various sections of the Unlawful Activities (Prevention) Act (UAPA) and the IPC for aiding and abetting Naxal activities. A sixth convict was handed 10 years of rigorous imprisonment.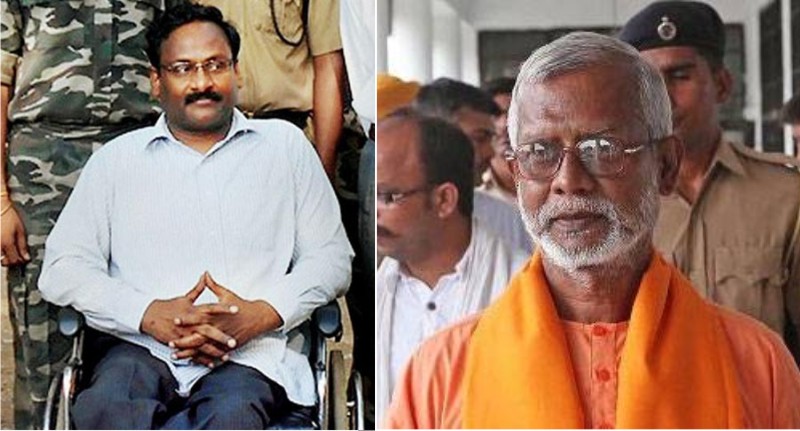 The second decision came the very next day from a National Investigation Agency (NIA) Special Court Jaipur acquitting a self-proclaimed monk and former RashtriyaSwayamsevakSangh(RSS) activist, Swami Aseemanand, accused in the 2007 Samjhauta Express (68 dead and dozens injured), Hyderabad Mecca Masjid (16 dead, hundreds injured) and Ajmer Dargah blasts (three dead, 17 injured) and six others, while convicting three persons in the sensational Ajmer dargah blast case.
On the face of it, there was no semblance of a 'crime'cited by the court in Saibaba's case except for false notion constructed within the draconian UAPA. Yet the accused were awarded an extreme sentence.
In the second verdict,where people were actually killed when the culprits exploded bombs at the 13th century holy shrine during the congregation of 5000 devotees, key accused were let off. In other times, these judgements would have been commented upon, even described unfortunate coincidence in contrast. With the supremacist BJP in power, however, these two judicial verdicts just reinforce a sinister pattern: of protecting the criminals owing allegiance to the ideology of Hindutva and crushing its opponents at the cost of the institutional reputation of the judiciary that is behaving like the handmaiden of the powerful.
Innocence of Aseemanand
When the Muslims were demonized as terrorists after 9/11 attack by the US, the biggest beneficiary group after the Zionists was the Hindutvawadis in India. The US's War on Terror came as endorsement of the historical vendetta of Hindutva forces against the Muslims. Although, the very first act of terror in post-independence India was committed by them when they assassinated Mahatma Gandhi, the terrorist label was paradoxically stuck to the latter. For the first time, Aseemanand's confessions exposed Hindutvawadis as a terrorist group. Although he stated that its terror was in response to Muslim terror, much of what passed off as the latter may also be its own design.
P Chidambaram, the then home ministerhad first alerted state police chiefs about the danger of "saffron terrorism" in August 2010.Narendra Modi, the Chief Minister of Gujarat at that time, had responded with a Bhagwa Gaurav Andolan (saffron pride campaign) in his state.It wasall due to Assemanand's confession, which was not obtained by the police through its normal practice of custodial torture.
This was a statement by Aseemanand, aka Jatin Chatterjee, a Post-graduate in Botany, and a hardened RSS functionary who masterminded several terror plots.It was recorded under Section 164 of the Criminal Procedure Code before the Metropolitan Magistrate Deepak Dabas at the Tis Hazari courts on December 18 , 2010 to be regarded as evidence under the Indian Evidence Act, 1872.
He had confessed that he and other Hindu activists were involved in bombings at Muslim religious places because they wanted to answer every Islamist terror act with "a bomb for bomb'' policy. In addition, in a taped interview to the Caravan magazine, this Swami had revealed that a series of deadly blasts between 2006 and 2008 were sanctioned by Mohan Bhagwat who was then RSS general secretary but who cautioned, ".. you should not link it to the Sangh". Both these irrevocable statements were conveniently retracted by Aseemanand later.
Aseemanand's confession corroborated investigations in various cases. The audio tapes seized from a laptop of Dayanand Pande, accused in Samjhauta Express blast (2007), confirmed that Hindutva groups had been plotting and executing a series of bomb blasts across the country including Malegaon (2006 and 08), Ajmer Sharif (2007) and Mecca Masjid (2007).
The police picked up, detained, and tortured dozens of Muslim youth in each of these cases and made out usual stories of Islamic modules being involved. It goes to the credit of Hemant Karkare, the then chief of Maharashtra ATS, who was killed in the 26/11 attack;that the responsibility and culpability of the Hindutva gang was exposed.
But even after this happened, Muslim boys were incarcerated for 10 long years before the courts finally acquitted them. This exposure took the toll of at least two lives: Karkare's death remains shrouded in mystery and Shahid Azmi's is disposed as an outrage of a patriotic goon.
The cases dragged on in the absence of any political will and after the BJP came to power in 2014, the NIAactually began plotting to get the key accused released. In May 2016, ithe NIA dropped all charges against Sadhvi Pragya Thakur, Shivnarayan Kalsangra, Shyam Sahu, Praveen Takkalki, Lokesh Sharma and Dhan Singh and five others in the 2008 Malegaon blast case, while charges under the stringent MCOCA law have been given up against all the other 10 accused, including Lt. Col. Prasad Shrikant Purohit, calling Karkare's investigation as "questionable" and "dubious".
Saibaba's Crime
The vehemence with which the state opposed and courts obliged in denying bail to Saibaba despite his 90 percent disability and failing health, made it lear that it wanted to dish out a harsh lesson to the m 'urban network' of the Maoists.

This case, and the judgement has a striking similarity with the case of Dr Binayak Sen, who despite having high professional reputation, impeccable record of public service and vocal sympathy of the entire progressive world was sentenced to life imprisonment by the Raipur Sessions Court and was repeatedly denied bail just to set an example to all those who dared to have soft corner for the Maoists.

Sen's innocence itself became the biggest crime in this state schema. In Saibaba's case, the Maharashtra government has overtaken even Chhattisgarh in identifying its prey in a 90 per cent disabled professor working in a prestigious university in the capital.

Saibaba has been a radical activist and has never hidden his sympathies for the struggling masses, who are all 'Maoists' for the government and the establishment. But can a wheelchair-bound person who could not even move without help do anything beyond thinking and writing? That, however, is precisely what the state wants to demonstrate. If it could do this to Saibaba, it can do it to anyone. His co-accused in the case, viz., Hem Mishra and Prashant Rahi, JNU student and a freelance Journalist cum activist, respectively also supplemented itsterrorising schema. The other three convicted accused were the Adivasis just to project the unlikely nexus.

The Gadchiroli sessions court held them all guilty under Sections 13, 18, 20, 38 & 39 of the draconian Unlawful Activities Prevention Act (UAPA) read with 120-B of the IPC. The punishment was awarded for having connections with the banned Communist Party of India (Maoist) and its "front" Revolutionary Democratic Front (RDF).

In the Binayak Sen case itself, a Bench of Justices Markandeya Katju and Gyan Sudha Mishra had categorically said that mere membership of a banned organisation did not make a person criminal unless he or she resorted or incited people to violence. In May 2015, the Kerala High Court freed one Shyam Balakrishnan, who had been picked up in 2014 on suspicion of being a Maoist, saying "being a Maoist is not a crime". The HC cryptically observed that it was "a basic human right for people to have aspirations", and reproached the state for "disguised aberration of law in the cloth of uniform" where "protectors become aggressors." Still the case hankered on the Maoist connection of the accused.
This is not the place to dissect the 827 odd page judgement, but as has been pointed out by the lawyers, the judgement is fraught with apparent neglect of law and wilful ignorance of facts. It is obviously coloured with pulls and pressures of police as well as politicians as most lower court judgements are.
Roguery of the State
These two cases expose the roguery of the Indian state. In the neoliberal era, states have intrinsic tendency towards fascization to ensure marketocracy. While, this trend is visible across the globe, in India it creates resonance with its hegemonic ideology of Brahmanism, which has been the ideology of the ruling classes. The state, irrespective of which party is in power, has always been the same–pro-capital, pro-Hindu, pro-upper caste, and plutocratic.
The BJP unashamedly owning it up makes it just more aggressive and masculine, aptly reflected in Modi's bravados. To achieve its goal of Hindu Rashtra, which it finds so close now, it could go to any extent in decimating resistance. The institutional barriers having largelybeen overcome by its saffronization drive, it is out to crushresidual dissent. As a matter of fact, from 2014, the trend is so visible that such verdicts have become predictable. All the executioners of the 2002 carnage in Gujarat are out of the net of law and rather stand handsomely rewarded. And those who tried to resist, as Teesta Setalwad,are variously harassed and terrorised.
Contrary to their self-proclamation, the Hindutva forces have always been ruthless executioners; their foundational inspiration being in Hitlers and Mussolinis of this world and the prophets of peace like Buddha,being the object of abhorrence.
Savarkar the progenitor of Hindutva wanted "Hinduization of politics, and militarization of Hindus." Burning of Graham Stains with his two sons in 1991, lynching of five Dalits in Dulina in 2002 and Mohammad Akhlaq in Dadriin 2015; flogging of four Dalit youth in Mota Samdhiyala near Una last yearor murders of Narendra Dabholkar, Govind Pansare and Kalburgi provide just glimpses to their brutal persona.
After all, when they are drawn to their cultural roots, violence becomes their hallmark, their religion being the only one whose gods wield weapons. But it does not behove the state to become unjust, violent and amoral.
It is a folly to imagine that brutalizing Saibaba and his co-accused in such unjust and amoral manner in the name of justice would be a lesson to others of his ilk. There is no evidence that such 'lessons' have ever served their purpose. On the contrary, this intimidatory police mentality has accelerated more resistance, steeling peoples' resolve to fight such terrorist acts of the rogue state.