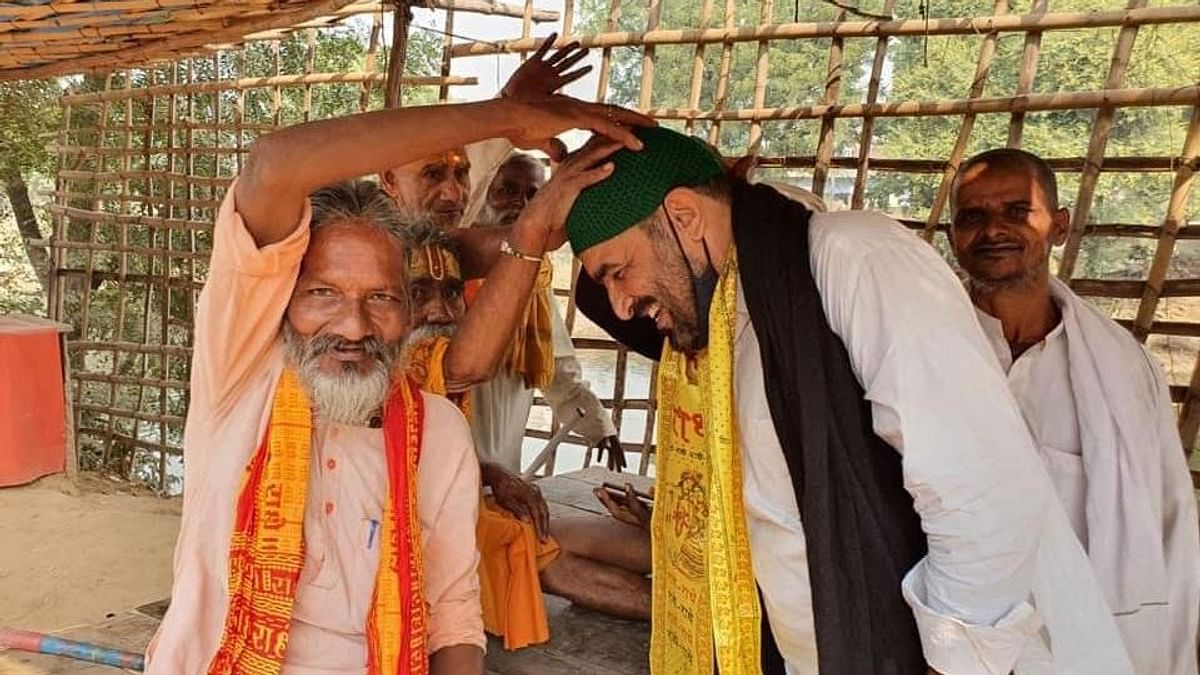 Image Courtesy: Facebook/Khudai Khidmatgar
On December 10, observed as International Human Rights Day, international organisations including Hindus for Human Rights (HfHR), Indian American Muslim Council (IAMC), and Amnesty International USA (AIUSA) in a webinar called on the Indian government to "immediately and unconditionally release Gandhian peacemaker Faisal Khan from prison in Mathura, Uttar Pradesh, India."
The organisations reminded the authorities that Faisal Khan is the National Convener of Khudai Kidmatgar (Servants of God), an organization and movement devoted to interfaith harmony and peace. This movement was launched by freedom fighter Khan Abdul Ghaffar Khan (also known as Frontier Gandhi and Badshah Khan) in 1929, and revived by Faisal Khan in 2011.
According to Sunita Viswanath of Hindus for Human Rights the facts remains that, "Faisal Khan is a Muslim Gandhian peace activist. He was arrested because he did namaz, which means Muslim prayer, in the courtyard of a Hindu temple. The truth is that the priest invited him to pray there, but four days later the same priest filed a police complaint against Faisal Khan and he was arrested."
World renowned scholar and author Rajmohan Gandhi, who is also the grandson of Mahatma Gandhi, appealed for the release of Faisal Khan, and also recalled the secular heritage of Khudai Kidmatgar and how Faisal Khan revived the movement for interfaith peace and harmony.
Gandhi's statement may be viewed here
Gandhi also called for a unified voice, to seek justice for Indian Muslims, who continue to face greater alienation and said, "There are around 200 million Muslims living in India. Making 200 million Indians feel uncertain about safety or equal rights in their country is not the recipe for a harmonious future. Most Hindus would like their Muslim brothers and sisters to enjoy dignity and equality. I urge them to speak out and demand justice for Faisal Khan, and for all who are being denied their rights."
It has been well over a month since Faizal Khan was arrested for allegedly offering namaz "without permission" in the compound of Nand Baba temple in Barsana on October 29. An FIR was registered on November 1 with the Barsana police station in Mathura, against Faisal Khan, Chand Mohammad, Aalok Ratan and Nilesh Gupta. The next day, Uttar Pradesh police arrested Khan from his residence in Delhi, and charged him under section 153A (promoting enmity between different groups on grounds of religion), 295 (defiling place of worship with intent to insult the religion of any class) and 505 (public mischief) of the Indian Penal Code. Khan was then sent to 14-day judicial custody by a Mathura court. Khan had tested positive for Covid-19 and was sent to institutional quarantine. He remains behind bars.
Senior Advocate of the Supreme Court of India, Founder of Human Rights Law Network, Colin Gonsalves, who is Faisal Khan's lawyer, said, "Even though evidence in the form of videos, and photographs were made available to the court proving that Faisal Khan asked to go outside to offer namaz, and that it was the temple priest who instead asked him to pray on the temple premises, the judge refused to view the video and later wrote in his ruling that no evidence was offered by defense."
Advocate Gonsalves said that Khan's background "inspiring work, and the awards he has won, establish his credibility and the improbability that he would do anything to encourage a division between communities." He added that Khan visited "mandir after mandir speaking beautifully to the Pujaries, who received him warmly…The Court says that there was no video or photographs showing him reciting couplets [from Ram Charita Manas]…but the court did not bother to look at all the links we had provided. The video recording provided by Anand Patwardhan is so spectacular that it is clear that there was no crime."
On the Namaz issue Gonsalves shared that the pleading is that "Khan told the temple pujari – 'It is Namaz time and I want to go outside the Mandir and we will do our Namaz and come back for lunch.' And the Pujari says, 'Not necessary. We have a place at the back of the Mandir please do it there. It will save you some time'… The delay in the filing of the FIR (First Information Report) for three days shows that certain developments took place, conversations took place, certain people intervened. As a result of which a complaint which would normally be filled within 1 hour of the incident is filled 3 days later."
According to Gonsalves, the way Faisal Khan was arrested "shows the weakness of our legal system in Uttar Pradesh and the ability of political people linked to CM Yogi of course. Naturally, to influence or pressure the complainant – the Pujari, but also to bring pressure on the Judges…The photos are very clear, the recordings are very clear, the couplets are crystal clear," he said while he did think there was a "pretty good chance of getting Faisal out," there was need for caution, "keep your fingers crossed. You never know, nowadays with the judiciary; but the people who've got all the information together have done a spectacular job in giving us information for the Court case."
Documentary filmmaker and human rights defender Anand Patwardhan emphasised the critical importance of global attention on human rights in India. He said India was "in a very peculiar situation, an unprecedented one," and even in cases like Faisal Khan one could not be "completely sure that having a strong case means that we will win". He added that international focus on such situations was important, "the world is watching, and this is something that will make the Indians stay in some check."
He also raised the issue of the many others jailed for their activism, saying he was "worried about the others who are in jail, like Umar Khalid for example. On the 23rd of this month, it will be his 100th day in prison." Patwardhan stated that "Umar has not received the public attention that he needs to get his release. He has been victimised because he is a Muslim just as Faisal has been victimised because he is a Muslim. Umar Khalid never talked about violence. He spoke about using nonviolence to fight against the Citizenship Amendment Act."
He explained the ongoing "formula" that is bein used to target dissenters, "If you are a Muslim, you are a Muslim terrorist. If you are a Hindu, you are an urban naxalite. And if you are a Dalit, you are a pure naxalite, neither urban nor rural." Patwardhan stated that these terms are being popularised through "fake news agencies which are running the show today. It is very hard for us to counter this media assault. We do our little bit. A 5 minute film that gets seen by a few hundred or a few thousand people on the internet. But they have all the media in their hands. They control the media because they control the people who own the media."
Veteran social activist, Medha Patkar, spoke at the webinar while she was at the farmer protests on the Delhi border, "It is unfortunate that today we should be talking about 'Hindus' for human rights and 'Muslims' for human rights, etc. Such is the scale of human rights violations by the Indian government in every facet of our society and in every aspect of our lives." She appealed to include all human rights defenders who are in jail for the crime of defending Indian democracy, in the call for justice.
According to the statement issued after the conference Minhaj Khan, Indian American Muslim Council, spoke of Faisal Khan's arrest in the context of the targeting and arrests of Muslims across India, especially in Uttar Pradesh. He said, "The arrest of Faisal Khan by the Uttar Pradesh Government is a vindictive act of Chief Minister Yogi Adityanath, whose hatred for Muslims has long been well known. Even among the Hindu rightwing fascists belonging to the RSS parivar, Adityanath is the most vile example…Justice also demands that he spend not another night in a prison cell on these bogus charges against him. Equally important to point out now is that the blasphemy laws under which he has been accused are the laws that India should outlaw…"
Adding an international perspective Sunita Viswanath, of Hindus for Human Rights, spoke of the importance of Hindus voices of resistance against Hindutva, "Hindus for Human Rights has a special voice in calling for his release as progressive and inclusive Hindus who live by the spirit of 'vasudhaiva kutumbakam' which means that all the universe is one family, and that we are one."
Shaffaq Mohammed, Member of the European Parliament since 2019, spoke from the United Kingdom, and stressed that there was need in the world today for interfaith unity in the face of right-wing intolerance not just in India, but in Europe and the world. He said, " Its obvious who I am from my surname that I'm a Muslim. But I want to work with Hindus for Human Rights and I want to reach across the divide."
Amnesty International-USA's Govind Acharya, said Khan's arrest was a part of a pattern. He linked it to "the spate of other arrests" in India and to "the shutdown of Amnesty International-India. We in Amnesty International got a taste of this as well. On September 30, we officially heard that Amnesty International India was forced to close because of a series of actions aimed at hindering our work. We got a lot of media attention worldwide. Our organisation being forced to close is part of a pattern and we have to ask what does the Indian government have to fear? But our work will not stop." He said action and solidarity from "organisations like the Indian American Muslim Council and Hindus for Human Rights are critical to seek justice in India."
Rev. Dr. Chloe Breyer, Executive Director, Interfaith Center of New York; Associate Minister, St. Mary's Episcopal Church referred to Article 25 in the Indian Constitution, which proclaims equality of all religions, saying, "The concept of the state practicing equal distance from all religions was a model for the rest of the world. It is a pity that we should be gathered here to ask India to follow its own Constitution."
Jewish Voice for Peace and JVP-Action, Deputy Director, Rabbi Alissa Wise, stated, "It is no secret that the greatest threat to the forces of domination and control is the threat posed by stretching arms of solidarity across faith, religion, race, gender, ethnicity…There is great power in interfaith solidarity. One of the tools [governments] wield so readily in response is to divide our solidarity by propagating the idea that we must fear each other. What they cannot do is to bend our will, so they…jail and incarcerate powerful cries for political freedom." Ani Zonneveld, Founder and President of Muslims for Progressive Values (MPV), said, "For all those out there, regardless of race, religion or what your political affiliation is, your rights don't matter if you don't speak up for the rights of others. Please stand in solidarity with Faisal Khan."
Vedantic Scholar and Professor of Religion, Dr. Anantanand Rambachan in his concluding remarks at the international conference stated, "Today, this vision of inclusivism and hospitality, grounded in divine and human unity, is threatened by the rise of a version of Hindu nationalism which marginalises minority religious traditions, and brands their followers as alien and anti-national. It is a nationalism that sees diverse religions as fortresses to be defended and not as inviting well-springs where human beings can meet in friendship to share and to learn from each other. Blinded by ignorance, mistrust and hate, it cannot celebrate in joy the bonds of interreligious friendship. It is nationalism that is threatened by human beings offering prayer in each other's sacred space. It is nationalism that imprisons a Faisal Khan."
Parwardhan put it all in perspective with a stark reminder that the times we live in are "much worse than 1975 when it was a declared Emergency and we knew what we were up against. Today this is an undeclared Emergency: The people who run the country are not only the people in Parliament. They are the people who have the big money in our country, They control every institution."


Related:
Online petition launched demanding activist Faisal Khan's release
Two different prayers, two different responses from UP Police!
Khudai Khidmatgar convener Faisal Khan sent to 14-day judicial custody