The present Modi regime's record of inciteful speech, made by ministers and MPs has been shocking
For the overzealous Indian intelligence and police networks, now with their cyber cells in place, it is not difficult to monitor these and even identify whether or not they are linked to outfits contesting forthcoming polls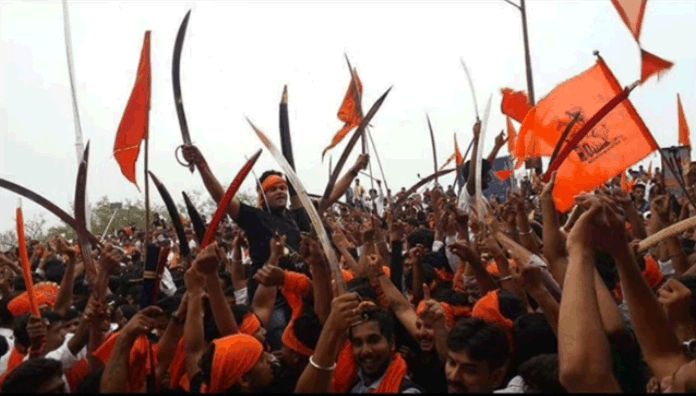 Image: Youtube
There has been much hue and cry over the misuse of religion in politics. Being a secular state, Indian law prohibits the misuse of religion in politics. Understood carefully this means that under Sections 153a and 153 b of the Indian Penal Code and 123a and 123b of the Representation of People's Act, the invocation of faith in a adversarial manner, pitted against 'other faiths', claiming superiority' or being even threatening is clearly taboo.

Within days of the recent Supreme Court verdict on the issue, that reiterates broad principles without laying down any guidelines, Member of Parliament(MP) belonging to the Bharatiya Janata Party (BJP, Sakshi Maharaj has made offensive and provocative speeches against one particular community. Complaints have been filed with the election commission.

Meanwhile, the increasingly omnipresent What's APP and internet is replete with music, songs and visuals that are not just incendiary but threatening. The lyrics of this particular song, professionally recorded, "Suno papiyo tumhare Chatti pe ab Shiv tandav hoga…….ram mandir song (https://mp3tunes.ws/suno-papiyo-tumhari-chati-pe-d645232) is a case in point. This tune is being happily spread by these insidious means.
The words of the song are telling:
जो राम का नहीं मेरे काम का नहीं
बोलो राम मंदिर कब बनेगा?
पूछे राम भक्तों से अयोध्या
जा रही है आबरू महा-संग्राम चाहिए
आज कलयुग में राम भक्तों को अपना राम चाहिए
अब अयोध्या में राम मंदिर का निर्माण चाहिए
कार सेवकों की बलिदान को कैसे हम भुलायेंगे
पहले गोली खाई है अब फिर लहू बहायेंगे
जागो जागो अब शहीदों का सम्मान चाहिए
राम भक्तों अब शहीदों का सम्मान चाहिए
आज कलयुग में राम भक्तों को अपना राम चाहिए
अब अयोध्या में राम मंदिर का निर्माण चाहिए
सुनो पापियों तुम्हारी छाती पे अब शिव-ताण्डव होगा
गर मंदिर नहीं बना तो सरयू तट पे तुम्हारा शव होगा
राम के नाम पे हो कुर्बान वो हिन्दुस्तान चाहिए
आज कलयुग में राम-भक्तों को अपना राम चाहिए
अब अयोध्या में राम मंदिर का निर्माण चाहिए
आज कलयुग में राम-भक्तों को अपना राम चाहिए
राम मेरे राम, सीता सीता राम
पतित पवन सीताराम, रघुपति राघव राजा राम, राम मेरे राम
महंत बृजमोहन बाबा का भक्तों यही नारा है
अनुपम देवेन्द्र करो या मरो डरो न वक़्त तुम्हारा है
मोदीजी संसद में सच्चा प्रमाण चाहिए
छप्पन इंच सीने वालों का संविधान चाहिए
आज कलयुग में राम-भक्तों को अपना राम चाहिए
अब अयोध्या में राम मंदिर का निर्माण चाहिए
The chorus even more so:
सुनो पापियों तुम्हारी छाती पे अब शिव-ताण्डव होगा
गर मंदिर नहीं बना तो तुम्हारा सरयू तट पे सर होगा
राम के नाम पे हो कुर्बान वो हिन्दुस्तान चाहिए
आज कलयुग में राम-भक्तों को अपना राम चाहिए
अब अयोध्या में राम मंदिर का निर्माण चाहिए
आज कलयुग में राम-भक्तों को अपना राम चाहिए
edited by : Arya Raghavendra राम मंदिर का निर्माण चाहिए Bolo Ram Mandir Kab Banega Song by Devendra Pathak


Other videos with the same sound track can also be seen on You-Tube. Organisations allegedly affiliated to the RSS, especially the Viswa Hindu Parishad have been reportedly actively using these, with the forthcoming elections in mind, and have been recently blocked from facebook.


The present Modi regime's record of inciteful speech, made by ministers and MPs has been shocking.
For the overzealous Indian intelligence and police networks, now with their cyber cells in place, it is not difficult to monitor these and even identify whether or not they are linked to outfits contesting the polls.
Here is a Video on You-Tube by a Yogi Adityanath Supporter that has 3,00,000 likes


The question is, whether this is a priority at all for the agencies, given the majoritarian thrust of the Modi regime.