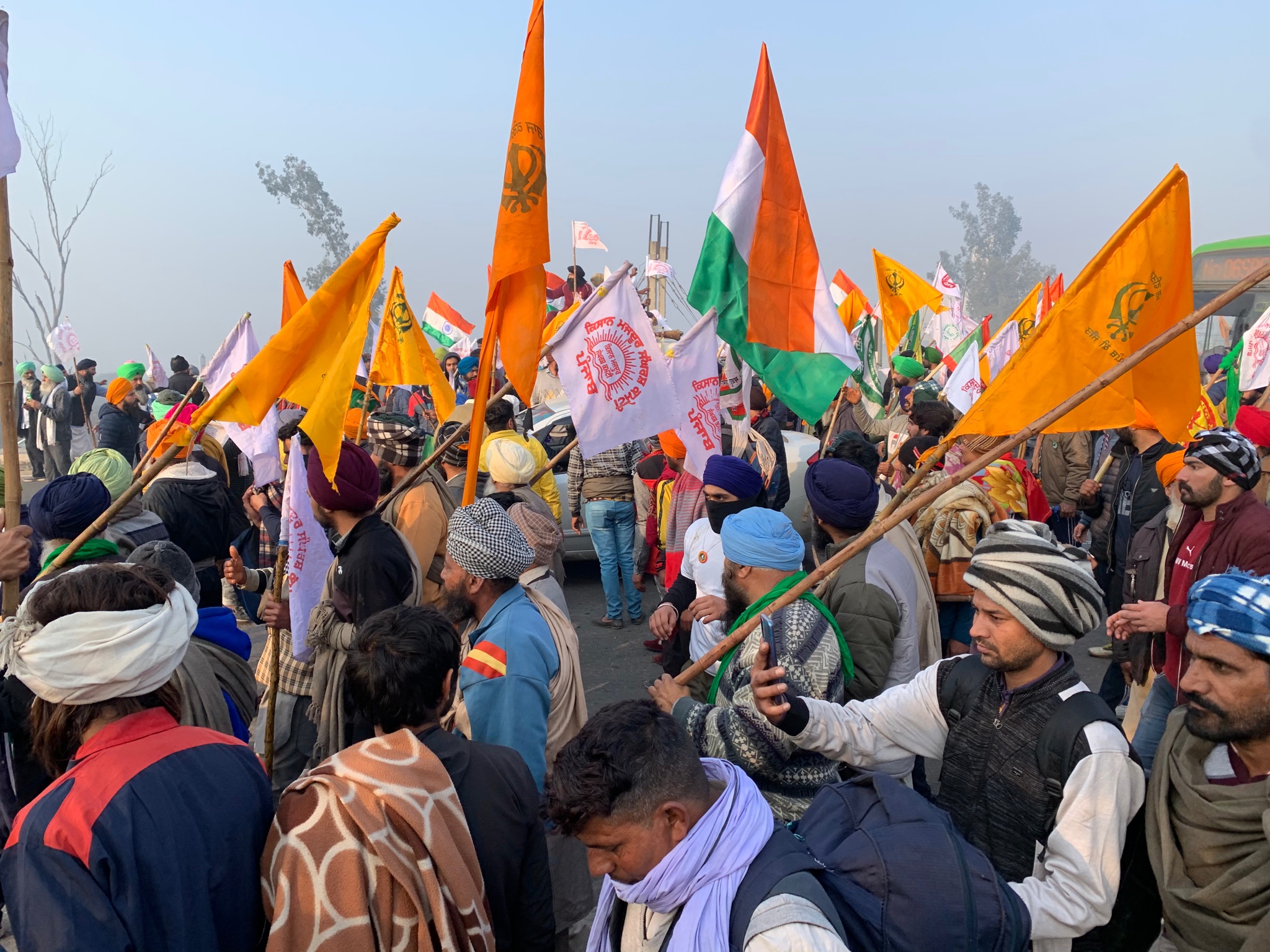 Hundreds of farmers reached the Red Fort, the tricolour atop the fort continued to fly high as always. Some hoisted a 'kesari' Sikh flag on another pole at the Fort's rampart where the flag is hoisted on August 15, Independence Day.
Delhi Police reportedly tried to convince the farmers to turn back. The flag, well known as the "Nishan Saheb" – a flag representing Sikh faith was maliciously interpreted as a 'Khalistani flag.' Farmers were also seen unfurling the Indian national tricolour flag along with Kisan Ekta and Nishan Sahebs.
Farmers hoist "Nishan Saheb" – a flag representing Sikh faith.

Farmers are also flurrying Tricolor along with Kisan Ekta and Nishan Sahebs. #GodiMedia is spreading false news that this is a "Khalistani" flag. It is NOT.#HistoricTractorMarch #Tractor2Twitter pic.twitter.com/OdqrShfcQ9

— Tractor2ਟਵਿੱਟਰ (@Tractor2twitr) January 26, 2021
"We did not allow anyone, there was a gate crashing, we are handling it professionally. I am here to talk to the farmer leaders, they agree that they should proceed on the assigned route. There are some elements who are trying to break the route," Delhi Police's Special Commissioner Dependra Pathak told NewsLaundry that he has arrived at Nangloi bridge area to try and negotiate with farm leaders. "I want to request them to take the designated route," he said.
Special Commissioner Dependra Pathak says he has arrived at Nangli bridge area to try and negotiate with farm leaders.

"I want to request them to take the designated route," he tells our correspondent @NidhiSuresh_. #TractorRally pic.twitter.com/5uvs2rZd2B

— newslaundry (@newslaundry) January 26, 2021
Farmer leader Yogendra Yadav who was leading the tractor parade from Shahjahanpur border sent out a video appeal to protesters in Delhi to maintain the peaceful stance that farmers had maintained so far. From his side, he assured that the Shahjahanpur parade had concluded peacefully in a disciplined manner.
Similarly, Kisan Mazdoor Sangharsh Committee General Secretary Sarwan Singh Pandher appealed to the people who broke away from the designated route to return to the Kundli border.
"We do not have any event planned at Red Fort. Please return to the Kundli border. Please return to the Kundli border! We do not want to engage in any violence at Red Fort," he said.
Meanwhile, late into the afternoon an order by the Ministry of Home Affairs (MHA) 'ordered' the suspension of internet services in the Singhu, Tikri, Ghazipur and Nangloi and surrounding areas announcing 'a state of emergency.' The Order may be read here: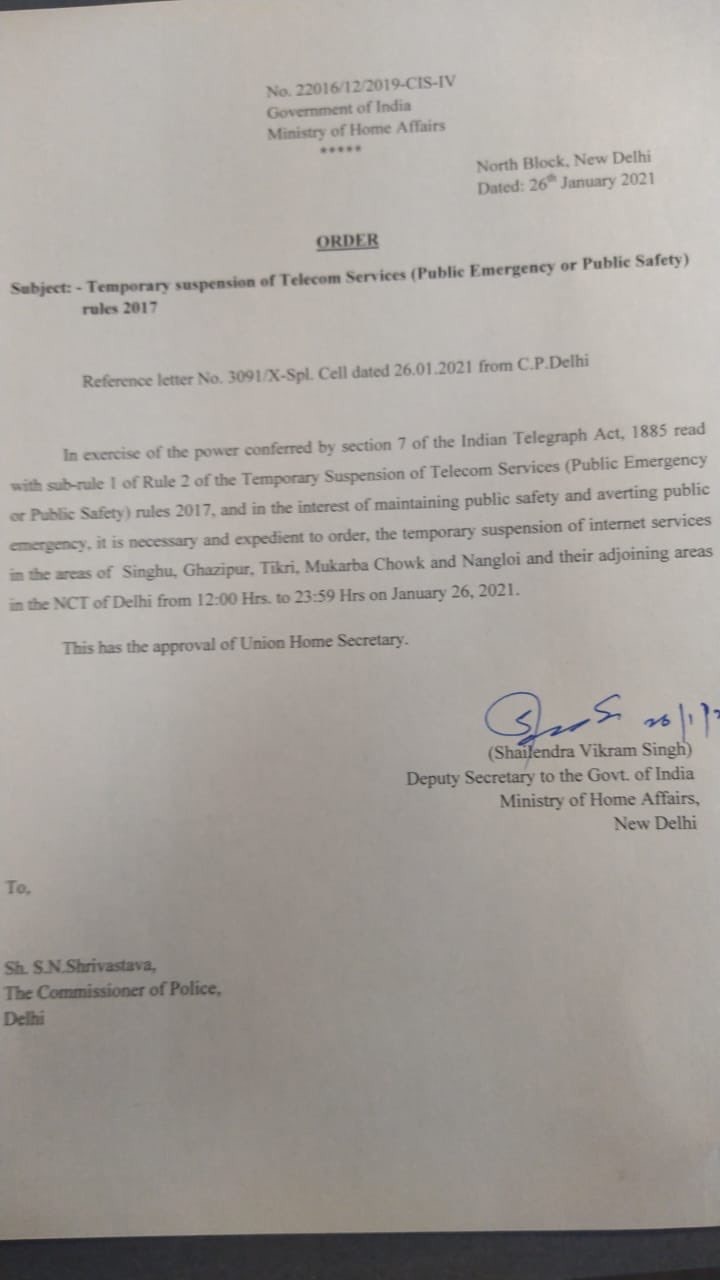 Around the same time as this order became public knowledge, the situation at Nangloi t-point deteriorated and is still reportedly tense. There are reports of clashes between farmers groups and Delhi Police. Lathi-charge was also reported from ITO and Red Fort where many protesting farmers reached by Tuesday noon, after breaching police barricades. Some police personnel have also been injured, say news reports, and some vehicles are also said to have been damaged in those areas. According to a report in the Indian Express, a protester has reportedly died near ITO after he was allegedly shot at, and the tractor he was driving turned turtle. Sounds of shots could be heard during some of the coverage by the channels.
The chaos continues to unfold on the streets of Delhi, even as the farmer union leaders continue to appeal for peace and have asked the farmers to stick to the pre-decided routes along three Delhi borders — Singhu, Tikri, and Ghazipur. Many farmers have in fact stuck to the routes and conducted the tractor rally, as they were permitted to, however, most media and police attention is now at the trouble spots in East and Central Delhi, as well as Nangloi in North-west. In all these areas, police resorted to lathi-charge and tear gas to control the surging crowds.
Farmer leaders also announced a plan to lead a march to Parliament on February 1, when the Union Budget will be presented. According to news reports, farmer leader Balbir Singh Rajewal said farmers were following the pre-decided route. No one from the Sankyukt Kisan Morcha went to the Outer Ring Road he said adding, "We condemn violence against farmers, appeal to all to maintain peace."
There are reports of the home minister, Amit Shah having called an emergency meeting late afternoon today.
Now a tri colour has also been hoisted on one of the domes of Red Fort. Police is appealing to the farmers to leave the fort. There are a couple of things here

1. Farmers here are not sure about their next action due to absence of leader.

2. Police wants to maintain restraint

— Amaan (@amaanbali) January 26, 2021
Related:
Kisan Tractor Rally underway, moves into national capital Delhi area
Government remains singularly devoted to farmers welfare: President Ram Nath Kovind
Come, stand with India's annadaatas!
Farmers tear memorandum in face of Maha govt's insensitivity