When they started to hit me, I fell down. They were standing in three rows. The women police officers were at the front. The male police officers were standing behind. While some of them held my legs, others were ready to hit on private parts. I told them, " Madam, what are you doing? I know your strategies very well"
They also had a few steel lathis. And the regular ones. They started hitting me.
They hit me from both sides and handed me over to the goondas of DDA. I lost consciousness as I was dragged through mud. I took some time to gain consciousness.
— Annie Raja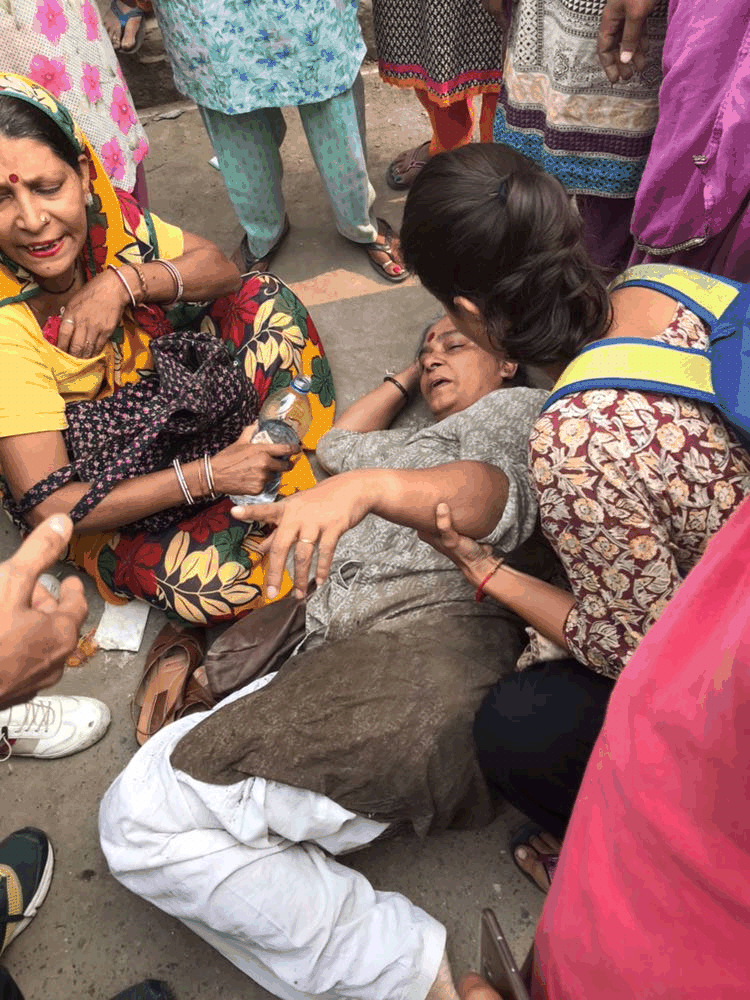 These words are from the senior activist and activist Annie Raja from the site of slum demolition at Kathputli colony.
On October 28, 2017 in a spectacular, display of force and violence, the Delhi Development Authority( DDA ) started a brutal and questionably legal, demolition drive destroying buildings standing for 40 years now. Activists and students defending them were brutally hurt. We spoke to Annie Raja, leading political activist and general secretary of the NFIW (National Federation of Indian Women) on the events around the demolition,especially as she was a target of the police's brutality the day before yesterday.

Can you briefly describe the events of the day of demolition ?
I received a call from the people of Kathputli colony in the morning of October 28 that an insider form DDA had informed them that they were coming for a demolition drive. When I reached the site, the demolition drive was already in progress. The DDA was fully prepared with bulldozers, police vehicles and even ambulances. The area was closed from all sides for outsiders to enter. I think I must have been the last person to have been able to enter the site.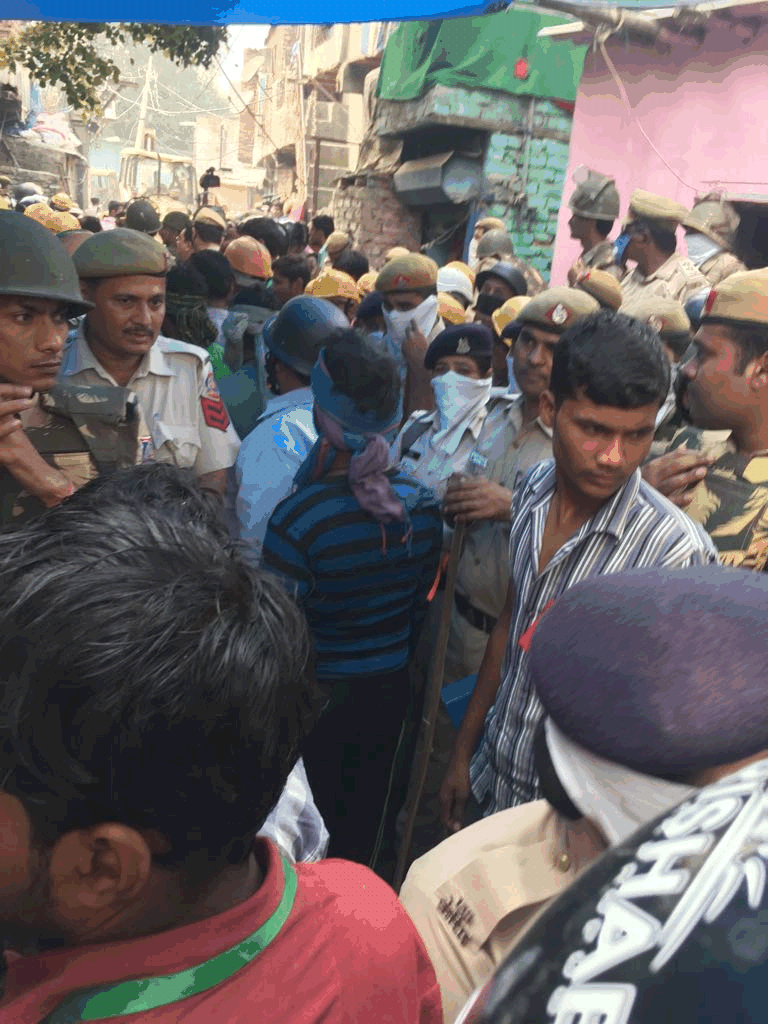 What were the events leading upto the demolition ?
Such a drive is not new for the people of Kathputli colony. They meet every evening and discuss things. On the discussions about a probable demolition, the people had said that, " We will not raise our hands. We wont throw rocks. We will just stand peacefully" Even though the people were just standing peacefully, the DDA went on with its rampage with supreme and shameful impunity. It did not see if people were getting hurt, or if there were women and children on the way. When I had just entered the site I received calls from the Gujarati and Bihari sides of the colony and women were saying, " Meri do betiyan udhar hain, unko bacha lo " There was absolute fear, panic and chaos. Children went missing while so many got hurt.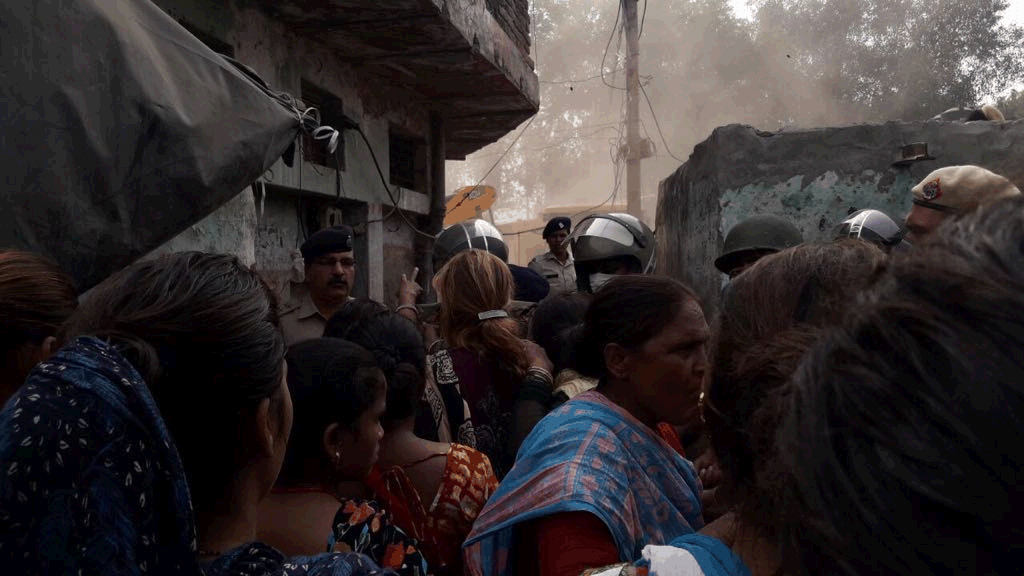 How were you treated ?
They kicked in my lower abdomen. Look I know Delhi police for last 40 years, they use that typical lathi but this time they had a newer version. They had steel lathis with them this time.
The policemen and women kept hitting me and then turned me over to the Goondas of the DDA. They were instructed to throw me in a garbage heap saying, " Isko maaro yehi sabko bhadka rahi hai ". I could not get up, I was feeling nauseous. They were also saying, " isko maaro yeh Ac mein rehti hai aur humko DDA se ghar nahi lene de rahi hai ". It was a brute assault. After a while, they left me there and went away. I was lying in that sense for an hour and shivering. Meanwhile, tear gas shells were being fired from all sides and people were in extreme distress. I was taken to the hospital after that.

Almost 4000 families have been staying in the Kathputli colony for about 40 years now. The Kathputli colony site has been categorised in the In-Situ category. Almost all the residents barring few have provided proof of their residence to the DDA. Despite this, DDA, has marked about 60% of them as " Not submitted proper documentation "

Can you please give a background of this issue ?
Almost 4000 families have been staying in the Kathputli colony for about 40 years now. The Kathputli colony site has been categorised in the In-Situ category. Almost all the residents barring few have provided proof of their residence to the DDA. Despite this, DDA, has marked about 60% of them as " Not submitted proper documentation " . All the people have submitted minimum three ID proofs and proof of residence through a massive campaign in which a lot of students from JNU, DU etc. and activists from various backgrounds were involved. Most of thses people also have a receipt from DDA. In spite of that, the DDA is saying that they do not have any documentation.
According to law, because this colony is part of an In-Situ project, every family needs to be rehabilitated on that particular site itself. People had proposed to do the redevelopment in phases. Most of the people have livelihood sources in surrounding localities itself. So they cannot simply move without prior information and notice. However the DDA wants all the people to shift to transit camps. Though it was proposed that initially only 10% of the land will go the Raheja builders and 90% for people, now they want to give 40% land to the builders. This decision has been taken in a bipartite ( DDA and the builders) manner and residents have not been consulted or engaged.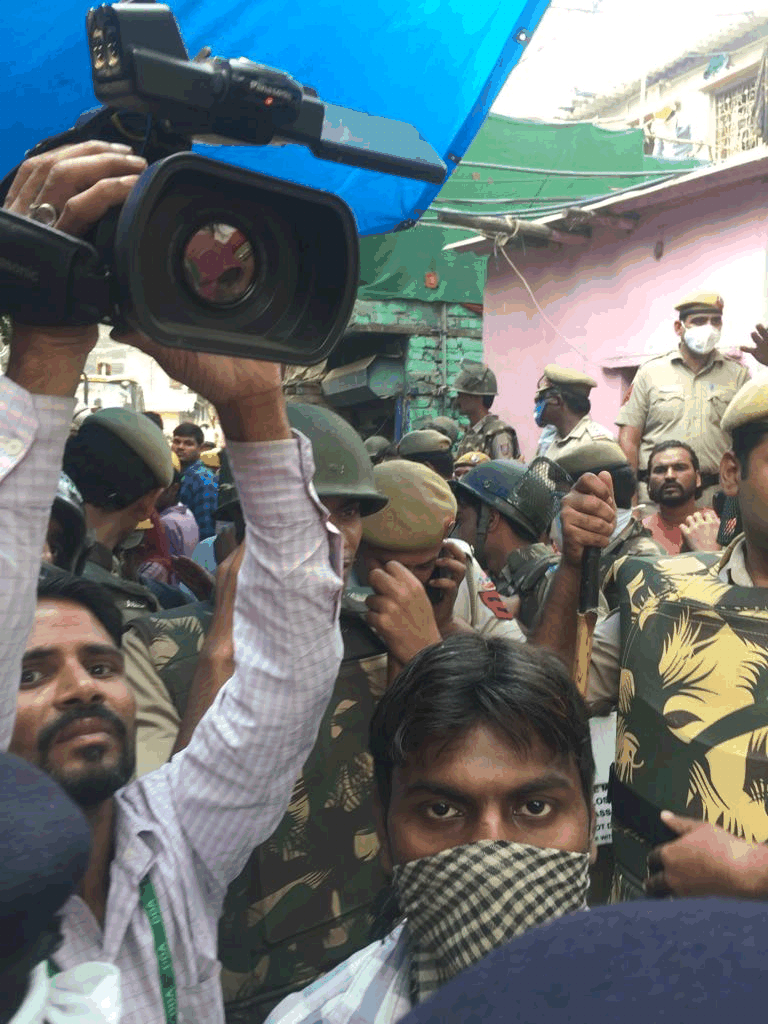 In a similar attempt in May-June (2017), the DDA had given 7 days notice to the people. That time we had met Venkaih Naidu, then central urban development minister who had assured us that there will at least be a month's notice given before any steps towards evacuation. Despite that the DDA has been issuing notices with just 6-7 days warning. These are not even circulated properly and people are caught off guard most of the times. This is just so that the notices provoke local residents and then the authorities have an excuse to unleash brutality and force.
What is the larger motive behind these demolitions ?
You know, this area is in the heart of the city. The metro is so close. They want to construct malls and skyscrapers. You can imagine what their plan must be since they have brought the notorious Shabnam Kundra from Mumbai as the nodal officer here. She has been brought for her 'efficiency' in clearing out slums in Bombay.
What has been the response of the government ?
Last week we met Urban development MinisterHardeep Singh Puri and he assured us that he will look into the matter. We were still waiting for him to get back when this demolition took place. Comrade Raja had himself met him. He even asked Com. Raja, " Do you trust me or not ?"In between Diwali came. I think because we were approaching different government officers, that the DDA authorities panicked and resorted to this.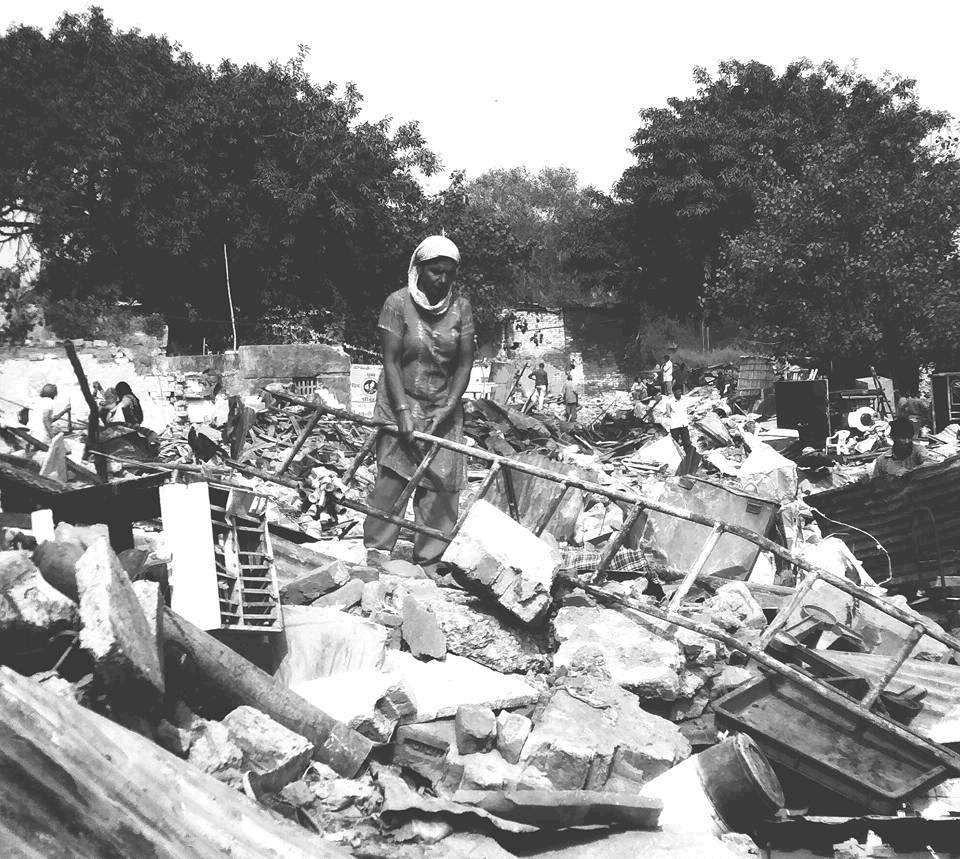 What do you think is the way ahead ?
We think that all those who have submitted the proof of residence should definitely get a place in the colony itself as their livelihood options are located around this area. 2015 has been the cut off. So everyone who has documents till 2015 should be allowed to stay in the colony itself.
What do you think is the politics behind it ?
You see, the residents of Kathputli colony have been residents here for a long time. Most of them know a traditional art form. Some sing Qawaali very well, some are puppeteers, so know how to sing. So all of them are very talented and pursue their traditional art forms.You can imagine, they have performed both at national and international functions. Many have passports from the time that the first passports had just started getting issued. So you can imagine their history. Many of them are also invited to perform at government functions, in hotels etc.They have an organic relationship with a lot of students and professors who come to study their art too. However, when we first met Hardeep Singh Puri, the present Urban Development Minister, he was not aware of any of this. He informed us that the DDA authorities had just told him that the people helping them ( The kathputli colony people ) are opposed to 'our' ideology. This is at the core of everything. So you can understand whose interests lay where.
It is hard to imagine the kind of brutality that the people of Kathputli colony are facing at the hands of Delhi police and DDA authorities when senior activists like Annie Raja are treated in the most violent manner possible.The brutal eviction only indicates the eagerness of the DDA to facilitate the plans of Raheja builders.


Related Articles :
–.Lives in the Rubble at Kathputli Colony: Demolition Drive
— The Right to Home and Hearth
— Stop Forced Evictions & Rights Violations in Chennai: CM Petitioned
— NOIDA Shanties where Zohrabi Lived Pulled Down, Amidst Heavy Rain
— How Progressive Cities Can Reshape the World — And Democracy
— Residents of Mumbai's poorest slums know polls won't change a thing for them – but they vote in hope