Sabrang India spoke to justice Hosbet Suresh (retired) about the threats to arrest him made by ACP, Shivaji Pawar, the current attacks on lawyers, the political and legal climate of the country and the fascist ideology of the current government.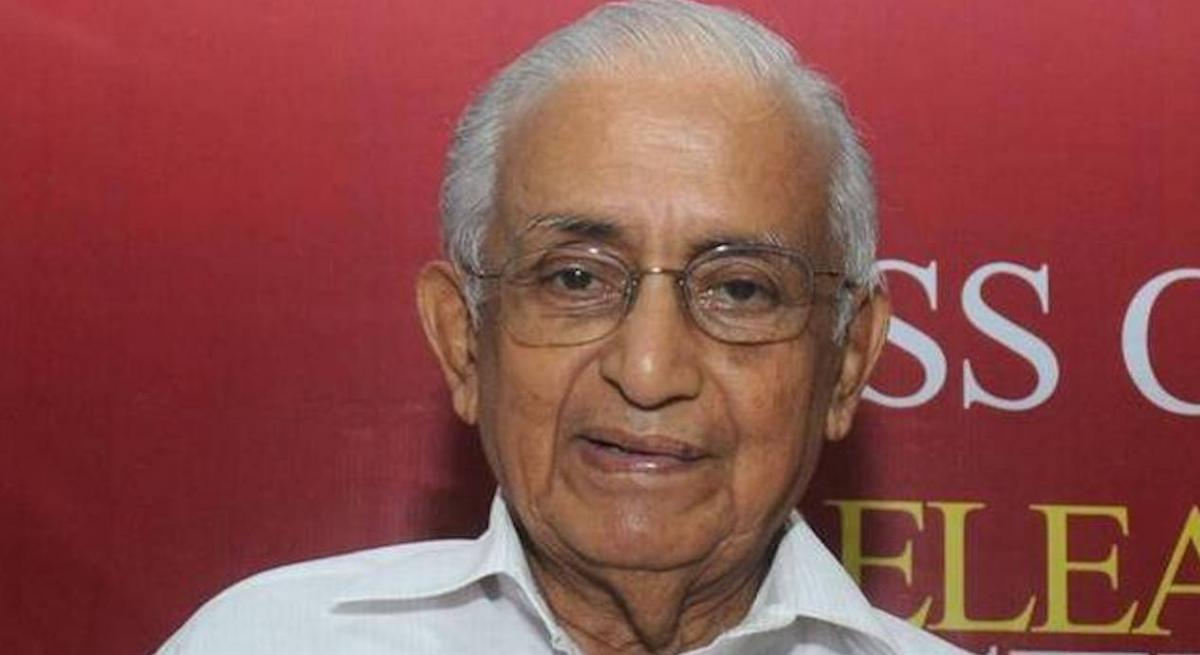 Preksha Malu

Mumbai: Justice Suresh Hosbet is a retired Bombay High Court Judge and has been an active in the human rights movement, spearheading campaigns of people's movements since his retirement 27 years ago. He is also the president of Indian Association of People's Lawyers (IAPL) which has Sudha Bharadwaj of Chattisgarsh as Vice-President, Surendra Gadling as General Secretary and Arun Ferreira as a treasurer. They are human rights defenders have been arrested recently. A move which been condemned all over the country. Currently, a lower court had remanded Sudha Bharadwaj, Arun Ferriera and Vernon Gonsalves to a ten day remand until November 6.

Shivaji Pawar, ACP, Maharashtra Police, made this outrageous statement that he would arrest justice Suresh too, if any material was found against him. He said this while in the court, in the witness box, while bail applications of the three persons were being heard. These bail applications were dismissed by the court on October 26.

89-year-old justice Suresh is un-fazed by these statements.

Sabrang India spoke to him about what he makes of the threat, the attacks on lawyers and activists in the country, the current political and legal climate in the country and the rising hostility, authoritarianism and fascist tendencies of the present government.

Q. How did your association with IAPL begin?
A. PA Sebastian, an advocate, civil liberties champion and human rights activist, launched IAPL some seven-eight years ago. It was a part of an International group and began with the support of the United Nations. After he passed away, other members and lawyers approached me to become its president. They said that there is no activity –within the legal fraternity –in Mumbai of the kind that IAPL mandates and they would like me to take up the role. There was a desire to form an association. Last year, a conference of lawyers, all fighting people's cause in courts took place in Hyderabad. That was the only meeting of IAPL that I have attended. After that, I haven't been able to meet anyone as everybody is placed in different regions. All of them are doing good work for the large numbers of Indians.

Arun Ferreira among others had requested it. I know Arun since he was a child and we were neighbours and he and my children played together. He was arrested and many others associated with IAPL were also jailed. ACP Shivaji Pawar was asked a question: that since I am also a part of IAPL, will he arrest me? Pawar said that if they find material against me, they will arrest me. Although, I must say nothing has happened so far.

IAPL has exemplary lawyers and activists like Sudha Bhardwaj who are fighting for labourers in Chhattisgarh and Surendra Gadling. Their arrests are wrong. I strongly condemn them.

Q. What do you make of the statements on your arrest? Lawyers and activists are being arrested in large numbers ever since the ruling government came to power. What do you make of this?
Lawyers have never been arrested like this in the past. Even lawyers in Kashmir have never been arrested before. They are being targeted to divert the attention from real problems. Those who speak against the atrocities of the government are silenced. Many people today are criticising the government in large numbers, so how do you silence them? This is how. They are misusing wrong laws to arrest and confine them. You cannot imagine how low we have fallen.

These are lawyers who fight against injustice. I met Sudha many years ago before IAPL came into the picture when she was working for the rights of people in Chattisgarh. We found out that the Public safety law was being misused by the police to arrest innocent villagers. One day, in a village, people were going about their day when suddenly a police van came, rounded up 6-7 boys from the village on a random basis and branded them Naxalists and Maoists. They arrested them under the Public Safety Act which means they cannot claim bail. The judge won't give them bail. Innocent people were just arrested like that. Back then, Naxalites, Maoists had captured certain villages in Chhattisgarh and didn't allow any government service to enter. It is not the case now. I don't think they have much control or hold over the state anymore.

In Andhra Pradesh, Naxalites did exist 15-20 years ago. Many people were arrested out of which may be two or three were actually Naxalites. Today, there is not a single Naxalite in AP. All areas we had covered back then are now free. Varavara Rao, a poet and revolutionary helped to achieve that. (Rao is communist, activist, renowned poet, journalist, literary critic, and public speaker from Telangana.) He was also considered a Naxalite back then and was embroiled in many cases against him. In the course of time, the number of Naxalite activities came down. Rao was instrumental in rehabilitating them. He found out the affected areas and people and helped the government in identifying people and changing the attitudes in the region. He is now being seen as the main instigator of Naxals. It is utter nonsense and the whole case is bogus.

A great lawyer, like KG Kannabiran from Hyderabad, who was a bold man and has defended so many people, was also the chairman of PUCL, and is now also being called a Maoist. This is nonsense.

The judiciary is not helping either. The laws are working against innocent people. Under the criminal procedure court, if anybody is arrested, within 30 days of the arrest if the charge sheet has not been not filed, the accused can claim bail. He can't be kept in custody. Once 90 days are over, the courts automatically should grant bail to the accused and no further extension for investigation should be given. Now, under UAPA, the Pune court has given more 90 days extension on the request by the government in the Bhima Koregaon case. This is wrong. This is against the fundamental rights given to us by the Constitution.

Justice Mridula Bhatkar of Bombay HC put that order aside and said there is no evidence and no justification to keep lawyers like Surendra Gadling inside. These people have done nothing wrong. And now, the government has gone to the Supreme Court challenging this.

Q. What do you feel about the number of cases that are now going to the SC?
A. Taking every case to the Supreme Court suggests processes gone wrong. There is no proper administration of justice, so either people go to the highest court, or the government does. Assuming they are Naxalites, what have they actually done? Have they committed any crime? There is no evidence to support any such claim. Any and all cases are being taken to the Supreme Court. Freedom of thought is a fundamental right. There was an excellent judgment by Chandrachud for the right of privacy. Under that, if you apply that judgement, all these people are innocent and their arrest is wrong.

The government has failed in 'good governance' and are too proud to admit that they have failed. They are creating a rhetoric about 'danger' from Maoists. These laws should've been struck down. We argued against many of these earlier. For example when TADA was brought in, we protested and asked for it to be struck down because it violated Article 21. They didn't strike it down, only said that they would introduce safeguards against it. Then POTA was brought in and now we have the UAPA and the Public Safety Act. Different sections of the powerful, state and central governments are misusing these laws and people are getting arrested without the right to get bail.

Q. You have said that the present government wants to scrap the current Constitution, why so?
A. The present rulers have their own ideas. They are more interested in pursuing their own ideology. When they came to power, the first law they brought was the NJAC. They wanted a National Judicial Appointments Commission. Why is that? Modi never spoke it about it anywhere. Why was that being brought?

There is a case called the Kesavananda Bharti case, which is the judgement of 11 to 13 judges and they held that you cannot change the basic features of the constitution. One of these basic features is secularism which is mentioned in the preamble. You cannot change these fundamentals. This government wants to change it. One way is to impose their will straightaway, impose their will, call it a dictatorship but they cannot do that. They want to show that they have done it legally and rightfully. They want to do it through votes. They want to through the electoral process, get a majority and then bring in a law to amend the Constitution as they want.

Since they cannot amend basic features what they're trying to do is to overrule the law. They want to do that by appointing like-minded judges in the Supreme Court. They are still trying to do that. There is a delay in appointing judges to the high courts, even the Supreme Court by this government. This is because they want people like them in the positions of power. Once they get a large number of such people supporting them, once they have judges on the bench who ascribe to their way of thinking, then they can overrule the Bharti case.

They want to overthrow the Constitution by appointing 13 judges and they want to do that by appointing their own judges. When they achieve that, they will say that certain things are not a part of the Constitution. Secularism is not a basic part of the constitution. They are not democratic at all and want Hindutva to be established in this country. They want this to be a Hindu theocracy. The Rashtriya Swayamsevak Sangh (RSS) RSS has already drafted a Constitution for India. They have drafted it some 20 years ago. They want that installed. The Supreme Court has, in the past, thankfully scrapped that application.

I hope they do not get a majority and I am sure they won't because they have misruled the country badly. People are not foolish to vote them in power again. They will come back with a lesser majority and it will be hard for them to achieve their aims.

Q. You have been a part of many people's commission reports and have done important work when it came to communal riots. What role do judges have to play outside the courts?
I retired 27 years ago and have been responsible for, I think, around 40 people's commission reports. It was Justice Krishna Iyer who inspired us retired judges to take an active part in social life. You see judges know more about the law than the masses. I could have have gone to the SC and set up a (lucrative) practice there but decided against it. Krishna Iyer made a collective of 14-15 judges like us and would regularly ask us to inquire into matters in our region. He had asked to inquire into the Bombay riots case in 1992 after I had retired in 1991. Justice Daud and I came out with People's Verdict, a report that was out in six months, when the official commission judge took five years. We observed that the riot was orchestrated by Bal Thackeray and his people but no action was taken against them. Nothing has happened even today and nobody has been punished. During the Gujarat riots in 2002, I was part of the Concerned Citizens Tribunal report (Crimes Against Humanity) that was published in ten months. The report of the entire official commission report is not yet out!

My report on the prawn industry coming on the east coast of Tamil Nadu was quoted in full in a judgement against the practice by Justice Kuldeep Singh. I even wrote reports on the Cauvery water issue and the riots that claimed many Tamil lives.

I am a part of the Delhi human rights commission, Indira Jaisingh's collective of lawyers and more. Wherever human rights are being violated, I am ready to act against it. I go wherever I am called.

Justice takes long in this country and it is unfortunate. The Chief Justice asked all the states to fill the positions of 6300 vacant posts for lower grade judges. It is being delayed at every level. We are short of judges. All kinds of crooks and even the current government is taking advantage of this shortage.

When I was a judge, my principle was that whenever someone visits the court, he should come a maximum of three times. I kept the matter on the board. I gave one week or ten days. Nobody should be made to come to the court more than three times. When I was a judge in sessions court, if a murder case starts today, I finish hearing it that day itself and ask both parties to be ready with their witnesses and material. I won't give any adjournment. We start straightaway. We have finished cases in 15-30 days. When the arguments are over, I would call the stenographer and start dictating the judgement in the open court.

Now due to inefficiency and other factors, cases are prolonged for years on end. This is wrong. We need a radical change.

Q. What is the biggest challenge for our country today?
A. The biggest problem in our country is that we have adopted the British parliamentary structure which is unsuitable for a country like ours. There is no true leader of the people. In the British parliament, a minister represents maybe a region of 6000 people. Here one person is representing 15 lakhs and so. It is wrong. The government today has the approval of 31% of the Indian people. The BJP is not the true representative of the people. The only time a prime minister had the widespread support of the country was Rajiv Gandhi with 50% approval, which means half the country supported and believed in his leadership. This is not the case today. We need to find a better way to function in which all of the Indian diversity is represented otherwise we will remain polarised and dangerous forces will use it for their own gains. We need to radically change our system.

Full Text of IAPL's response to ACP Pawars' statement:

IAPL condemns the threat issued by Shivaji Pawar, ACP, Maharashtra Police to arrest IAPL's President Justice Hosbet Suresh (Retd.) and the most alarming portrayal by him of IAPL as a frontal organization of CPI (Maoist). IAPL believes that such attacks on Judges and Human Right defenders which includes lawyers and organizations, require to be understood in the in the light of rising authoritarianism and fascist attacks in the country. It is the need of the hour for all organisations and individuals to come together and resist this onslaught collectively and to strongly condemn and resist this brazen attempt to intimidate Justice H. Suresh (Retd) and members of IAPL.

Justice H. Suresh, now in his late 80s, is a former judge of the Hon'ble Bombay High Court and is leading figure in Human Rights activism in India. After his brief but glorious judicial service, he led a number of Commissions of Inquiry that investigated violations of human rights. Justice Suresh investigated the Kaveri Riots (1991) in Bangalore, post-Babri Bombay riots (1992/1993) publishing their findings in a 1993 report titled 'The People's Verdict'. In August 1995, Justice Suresh issued "Forced Evictions – An Indian People's Tribunal Enquiry into the Brutal Demolitions of Pavement and Slum Dwellers' Homes", a report documenting the use of brutal and indiscriminate force against slum dwellers in Mumbai. In 2000, joined by former Supreme Court judge Justice V. R. Krishna Iyer, Justice Suresh held a two-day hearing into the slum clearances in which about 60,000 people had been evicted. The Inquiry covered both legal aspects of the clearances and the human impact.

Justice Suresh along with Justice P.B. Sawant, were members of Indian People's Tribunal (IPT) fact-finding team headed by Justice V. R. Krishna Iyer that went to in March/ April 2002 following the communal riots triggered by the Godhra train attack. The tribunal gathered 2,094 oral and written testimonies and met with many senior police officers and government officials. Findings were documented in their report "Crime Against Humanity". The fact finding team visited the former state Home Minister Haren Pandya who informed the fact finding team on recorded audio tape, with request of anonymity, that then Chief Minister Narendra Modi had told the police not to restrain the rioting Hindus. Pandya was thereafter murdered in 2003. In reaction to the mass killings in Gujarat, Justice Suresh was one of the drafters of a proposed law "The Prevention of Genocide and Crimes against Humanity Act 2004", in light of Convention on the Prevention and Punishment of the Crime of Genocide, 1948 to which India is signatory. This would make Ministers and officials criminally responsible if they failed to exercise control in cases of mass violence against a group of citizens. In his 60 years of public life, Justice Suresh has always been vocal against draconian laws, state repression and judicial corruption.

IAPL strongly condemns this brazen attack on Justice H. Suresh which is not just an attack on an individual or an organisation but is a conspiracy to silence every Judicial officer who hold the Constitution and the obligations that fall on such obligations therein as paramount to their lives. Furthermore, this is a direct attack on the entire paradigm of the separation of the judiciary, a basic structure of the Constitution and our democracy. This attack on Justice H. Suresh is not an isolated incident of persecution and attack on judges who refuse to become executive puppets. The mysterious events leading to the death of Justice Loya gives us all sufficient cause to apprehend a further persecution of Justice H. Suresh. Furthermore, such statements are not only in a continuum of a conspiracy of vilification and intimidation but are deeply defamatory and serve to de-legitimize the invaluable legacy of Justice H. Suresh.

It has also come to our attention through various media reports (Times of India, Pune Mirror, Business Standard among others) that the State of Maharashtra while opposing the bail applications of IAPL's Office Bearers Advocate Surendra Gadling (General Secretary), Advocate Sudha Bharadwaj (Vice -President) and Advocate Arun Ferreira (Treasurer), argued that IAPL is a frontal organization of the banned CPI (Maoist) Party. Senior Advocates Sudeep Pasbola and Yug Mohit Chaudhry representing Arun Ferreira and Sudha Bharadwaj respectively argued that IAPL's lawyer-members are carrying out the constitutional obligation of legally holding the State accountable for excesses amounting to violations of human rights of the citizens of this country. It is pertinent to note that such allegations on IAPL have not been made by the State prior to this hearing, either in the Romila Thapar's et al petition before the Supreme Court or anywhere else.

IAPL outrightly rejects and strongly objects to such allegations levelled by the State of Maharashtra and supports the Office Bearers of IAPL. Further, IAPL condemns the attack on people's lawyer organisation and such brazen efforts to portray it as a frontal organization of CPI (Maoist). At the outset, it is explicitly clarified that IAPL is an independent organization and is the Indian Chapter of the International Association of People's Lawyer and has no direct or indirect affiliation to any political party. If IAPL has been at the front of anything it is in representing all democratic struggles in and outside the courts, providing defence to the marginalised, and speaking up against persecution of lawyers in India or elsewhere. These claims made by the State of Maharashtra are an attempt to silence rights lawyers, activists and organisations involved in human rights work and to create a hostile working environment for all such lawyers directly infringing on their fundamental rights to practice their profession.

IAPL takes this opportunity to clarify that it is a member an international organisation called International Association of People's Lawyer founded in 2004 to bring together lawyers involved in the legal support of collective struggles for peoples' rights and in situations of gross rights violations on a collective platform. The international organisation has recently released a report which brings to light that globally we are living in a scenario where in many countries of the world, it is dangerous to be a lawyer. This is especially true if the lawyer is attempting to protect the rights of the people against corporate or government interests or is exposing corruption. In a similar vein, IAPL and its members are presently being targeted and arrested for working towards the protection and furtherance of the constitutional and human rights of the people. It is a lawyers organisation and all members are human rights workers and rights advocate working for the preserving of the rights of the marginalised. IAPL's work is within and in furtherance to the four corners of the Constitution of India and is built towards ensuring the protection of fundamental human rights of all citizens of this country. Given the current political ecology of the country which is structured on the fascist ideology of silencing dissent and perpetrating violence rather than protecting the most marginalised and vulnerable the rights advocacy work of IAPL and the human rights work of all its members has most unjustly resulted in IAPL being categorised as the frontal organisation of the CPI (Maoist). It is ironic that the lawyer-members of IAPL and the organisation in itself are both being wrongfully imprisoned and persecuted for the very same crimes that they have in the recent few years exposed and brought to light.

The issues and agendas taken up by IAPL are sure to rattle the higher ups, especially those state forces against whom IAPL is constantly speaking up against and demanding accountability from by exposing their actions. It is under these circumstances and the existing political scenario that IAPL is being labelled as the frontal organisation of the CPI (Maoist). Therefore, we appeal to all democratic rights organisations, lawyers' organisations and associations, bar associations, lawyers, activists, writers, and members of the public to come forward at this time to protest and defend this injustice.

The statement was issued by Justice H Suresh (president), M Venkanna (vice president), D Suresh Kumar (vice president) and Ankit Grewal.

[On Monday, the SC stayed the Bombay HC order in the Bhima Koregaon case until Friday, November 2. The matter will be heard then. Bombay HC had refused extension of more than the 90-day period applied for by the Investigating agency on grounds that it was not the prosecution but the IO that had made arguments in the court. This order was passed on October 25. The lower court had granted extension of 90 days more to file the charge sheet against the first lot of activists arrested in June 2018. The Maharashtra government, which had challenged this Bombay high court order, told the top court bench that the police is likely to file the chargesheet against the activists in another 10 days. The bench headed by Chief Justice of India Ranjan Gogoi also issued a notice to the activists.]