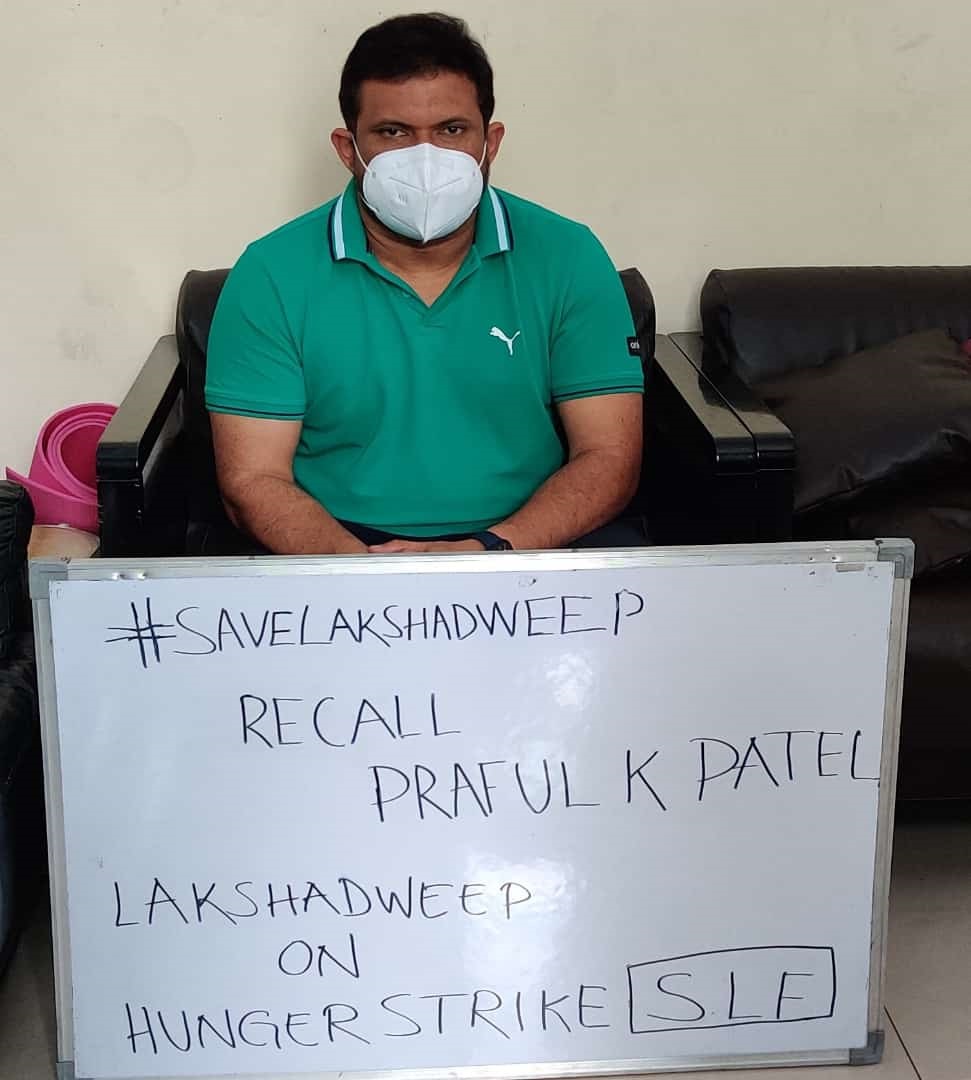 Mohammed Faizal Padippura, who has been Member of Parliament representing Union Territory of Lakshadweep in the Lok Sabha since 2014, has been raising concerns of his fellow islanders for a long time now. However, it is for the first time in recent history that all the residents of the archipelago have risen and are participating in a hunger strike today, Monday, June 7, to bring the nation's attention to their demands. They are protesting three proposed rules that will alter their life bringing in sweeping changes to tourism, fishing, cattle rearing, and panchayat elections.
Padippura spoke to SabrangIndia as he waited for Home Minister Amit Shah to take a decision and assure the residents of the archipelago that the unilateral decision taken by administrator Praful Khoda Patel will not be cleared if they are found to be 'anti-people'.
What is the update on the developments at Lakshadweep after your meeting with Home Minister Amit Shah?
Mohammed Faizal Padippura: Lakshadweep developments are at two stages. One is about the draft notifications which Mr Praful Khodabhai Patel tried to promulgate which are now under the consideration of the Home Ministry. I met the Home Minister, he has assured me that he will not go in a hasty way on this, and will definitely consider the pulse and sense of the people, panchayat members of parliament. And the drafts which are not needed will not be taken forward, there may be drafts which need modifications for Lakshadweep's development will be consulted only then will they go ahead. That is the assurance given by the Home Minister.
The second part is that Praful Khodabhai Patel as administrator, has unilaterally taken some anti people orders and given directions. For example the closure of the Lakshadweep building development board. This was constituted to deal with the environment, because our forefathers were using beach sand for construction purposes. However as population grew the construction grew and exploitation of beach sand could affect the strength of the island, so taking those into consideration the Lakshadweep administration in the mid 1990s brought in a regulation that beach sand will not be permitted for construction purposes. This was for the safety, security and existence of the islands. At the same time the Lakshadweep administration had also brought a substitute for the needs of the people. The basic concept was to bring in building materials like metal and sand from the mainland like Calicut and Mangalore and distribute it to the people at a cheaper rate, because we are protecting the natural resources. It was an established department and ran successfully till this gentleman [Prafull Khoda Patel] came, did not discuss with anybody and directed the department to stop functioning.
That is the main problem: he takes decisions unilaterally, and does not discuss with anybody. None of the draft notifications have not been discussed at all. There have been no directions given to the people. The Environment department had 200 marine watchers' deployed, but their contracts were terminated, so who will do the survelinance. People may resort to using the natural resources again because they have no options. This decision has been taken without the Home Minister's consent I would say.
That is a big allegation!
MFP: I think it is so because the Lakshadweep panchayat is not consulted, the MP is not consulted. He unilaterally decided 'nahi chahiye, band karo (don't want, shut it down)'. The lease rent rate of Rs 36 per square meters, for any of our land given to the government or private, this was a uniform rate given by the administration. When this gentleman reached he reduced it to 16 rupees! Can you imagine that in this inflation? Anywhere in the world, land value never goes down, it always goes up. There are high court orders that a 15% hike must be given every year. The land mass is very less there. He reduced that [the lease rate] with his own powers, like closure of dairy farms. Retrenchment of contract employees unnecessary in this Pandemic situation. Demolition of fishermen's shelters. All of these things are anti-people acts.
Is there communal targeting as well?
MFP: That is another part. All the drafts are with the central government now and they have not gone ahead with it so far. For the past five years the central government has supported us. The central government is the final authority, the home minister said he will discuss with the government and consider [our requests], however, he has not given a time frame. I have clearly said that Lakshadweep cannot cooperate with this administrator and we will not. The hunger strike is the one big step taken, we are fighting as one, there is no political party [taking the lead]. We have formed an organisation called: Save Lakshadweep Forum. It is for the first time that the entire population of Lakshadweep is going for a hunger strike. We hope the central government is taking a view of the message.
But you have been raising this issue for a while now, yet…
MFP: Yes, the funny part is I don't know what intelligence they have, what are the officers thinking. Day before yesterday I saw an order, which was not discussed with me, that every fishing boat must now carry a government employee for surveillance! How will a government employee go on a fishing boat, out at sea for long hours, and do surveillance? I suspect two things: they drafted and tried to implement the Goonda Act. In a way they are trying to establish in the people's mind that something is happening around Lakshadweep and surveillance is being done. The Navy and Coast Guard are well established there. Coast Guard radars at Kavaratti can cover 40 nautical miles, they are already there, every hour, all vessels and ships are reported. What made the administration release such an order? They don't believe the navy and coast guard surveillance? They have done it on orders of Praful Khodabhai Patel and have widely given a wrong message to the world that something is happening.
That Lakshadweep is more vulnerable now?
MFP: Yes! That it is strategically important etc etc. what else can we understand from this. How can a government employee who does not have training now do [additional] surveillance [on top of Navy and Coast Guard]? This is to just substantiate the Goonda Act.
Is it an attempt to create ill will or unrest on the islands?
MFP: We have to believe that… There is no other reason, is there anything given to understand? Tamil Nadu, Kerala, Maharashtra [Gujarat] are not [vulnerable]? I have not seen any state government ordering a government employee going for surveillance.
Kashmir and Lakshadweep are now being compared…
MFP: One similarity is the land grabbing, greed.
Related:
First coconut trees painted saffron, now livelihood, culture threatened: Pinarayi Vijayan on Lakshadweep Admin
Lakshadweep: Praful Khoda Patel's proposals will destroy life of the people
Kerala HC refuses to stay Draft Lakshadweep Development Authority
Lakshadweep: Is Praful Khoda Patel fishing in troubled waters now?