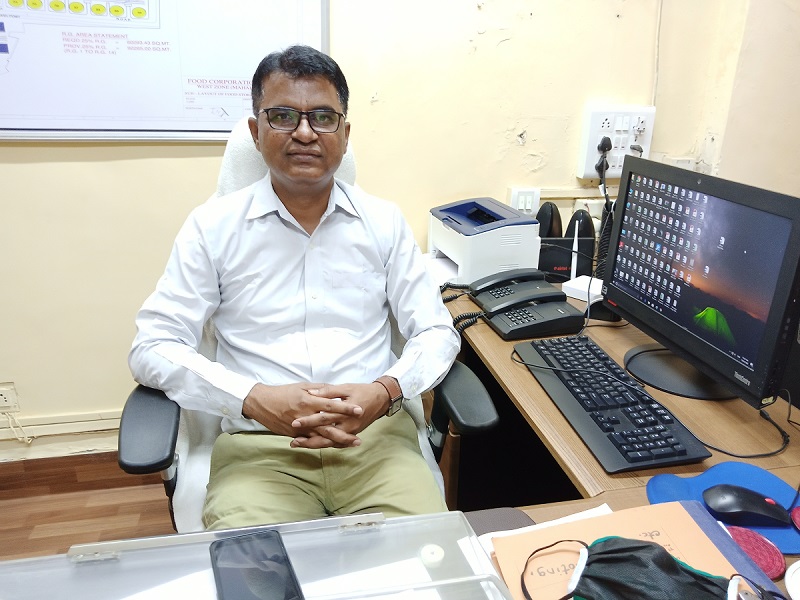 Mr. Avinash Dhabade, Division Manager – Borivali

Ever since the lockdown began, the Food Corporation of India (FCI) has been at work, making sure that all the government schemes are executed properly. It has been providing a record amount of pulses, rice and wheat to the beneficiaries under the National Food Security Act (NFSA) and Pradhan Mantri Garib Kalyan Ann Yojana (PMGKAY). According to news reports, the FCI set a new benchmark on April 22, when it moved 102 train loads carrying about 2.8 lakh metric tonnes of food grains.
However, the FCI too has had its share of problems during the lockdown. Right from transport to ensuring the safety of personnel, the organization has been on its toes to fulfill its duties.
Sabrang India spoke to Mr. Avinash Dhabade, Division Manager – Borivali and Panvel, FCI to understand what goes on behind the scenes of what seems to a seamless process.

Sabrang India: What is the grain output from FCI to Mumbai currently and how are the operations being handled?
Avinash Dhabade: We have a 3 lakh metric tonnes storage capacity in Mumbai. Currently, the storage capacity is full. It's a continuous process. As we keep evacuating stock, we keep inducting new stock in. The requirement for the city is around 70,000 – 80,000 metric tonnes and we always have extra stock, for at least four months, always at hand. However, now the stock to be allocated has increased under the schemes for the lockdown and we're fulfilling it too. We have allocated rice and wheat to NGOs at subsidized rate too. While the MSP that includes transportation charges, handling costs, etc comes to Rs. 28 – Rs. 29 for wheat and Rs. 35 – Rs. 40 for rice. The same for NGOs is given at Rs. 21 for wheat and Rs. 22 for rice. Around 60 – 65 organizations have already lifted stock from us. This allocation to NGOs is a one-time measure taken by the government keeping the lockdown in mind.

Sabrang India: How is FCI ensuring the safety of its personnel at this time?
Avinash Dhabade: Currently at our Borivali Depot, we have a storage capacity of 1 lakh 17 thousand metric tonnes. We have 200 labourers working daily and there are 60 – 70 office staffers who come to work daily. We have made masks and gloves compulsory for everyone. There are hand sanitizers provided to everyone and available at the premises. Every morning before entering the office / depot premises, every employee is thermally screened for their temperature. Whoever shows the slightest symptoms of Covid-19 is asked to be under home quarantine. Our workplace too is completely sanitized every alternate day. We also make sure to practice social distancing at our work site. At the Panvel depot, we had recently arranged a medical camp as a precautionary measure since there are some areas there which are containment zones.

Sabrang India: How does the supply chain work and is the procurement and distribution hit due to the lockdown?
Avinash Dhabade: Our regular supply chain works like this. Most of the rice and wheat is procured from Punjab, Haryana, Chhattisgarh and Madhya Pradesh. We don't have circular stock in Maharashtra which is available in northern states. This stock is sent to us according to our storage capacity and a movement plan is made by the Delhi headquarters. This stock is sent through railway rakes. Then, for example, the state government's requirement for the Public Distribution System (PDS) for the month of May, is allotted to them in April and they lift the required grains in the month of April so that they can distribute it to the beneficiaries from May 1 itself. This always works one month in advance for which the state government arranges for transport. The foodgrains are sent to individual storage points. For example, from the Panvel division which houses two godowns – one in Taloja and the other in Kalamboli, sends out grains to Raigad and Navi Mumbai. The Borivali division houses three godowns – one in Borivali, the second in Vashi and the third in Bhiwandi. From these three godowns, grains go to the Mumbai Suburban, Thane and Palghar districts.
Due to the lockdown, our labour strength has reduced to almost 50 percent. Even the office staff, especially in Mumbai has also reduced because many of them used to come from far away areas by local trains which are shut for service now. Now to compensate, we have to work double the capacity, with half the staff as we have to execute the work of two months in one. We have changed our timings for this. Normally, we work from 10 AM to 6 PM, but during the lockdown we're almost working for 12 hours, from 8 AM to 8 PM and sometimes even 9 PM. To ensure quicker supply, we're directly delivering supply from the rakes itself as per the new guidelines, unlike before where the grains were gotten to the godown and packed.
While Mr. Dhabade explained everything operational to us, he ensured to put in a good word about the staff that works with him at FCI. Lauding their efforts he said, "Our workers are doing an extraordinary job. We have to keep motivating them as some of them have to travel from containment zones and get discouraged seeing the increasing cases around them. We cooperate with the police and ensure that all passes needed for employees to travel are in place. We have arranged a pick up and drop facility for them to help the team out. They also feel they're doing something for their fellow citizens. They feel very happy when they see appreciatory and encouraging messages about them on social media. We have received letters of appreciation from many NGOs too, which is like a pat on everyone's back and something that encourages keeps us going to fulfil our duty."

Related:
BREAKING: Stranded people including migrant workers permitted inter-state travel amidst Covid-19 lockdown
MNREGS numbers double in states after migrant labourers return home