Hate Speech and a Complicit Police Force Allow Attacks against Both Hindus and Christians in Pakistan
Part 2 of the Interview

Rabia Mahmood, Pakistani Journalist and Human Rights Defender speaks to Teesta Setalvad in Part 2 of Communalism Combat-Hillele TV's exclusive interview:
---
"Hindu Girls in Pakistan, mainly living in Sindh are the victim of abductions and forced conversions through marriages," Rabia Mahmood

The first part of the interview can be watched here

Question (Teesta Setalvad): What are the specific problems that the Hindu and Christian Minorities face in Pakistan ?"

Answer: Most of the Hindus in Pakistan live in Sindh, they are at the lowest rung of the economic scale, not just the 'lower castes' but also agricultural labourers. Now Sindh has been traditionally the more tolerant part of Pakistan unlike Punjab. But over the past years we are seeing things changing, there is fear and intimidation; Hindus now do not go into the Bazar to celebrate Holi…

Many Sindhis I spoke to, in the course of my work have reported that more and more Mosques are being built up in neighbourhoods where largely Hindus live. Why? The one or two influential Muslims live set up this Mosque and then the problems begin…

We have had instances of attacks on Temples in Pakistan recently. In 2013, in Larkana in Sindh –an important constituency for the Pakistan People's Party that rules the Province—a Hindu Dharamshala was burned and looted after a 'blasphemy' case was slapped on a Hindu man.

Often the blasphemy laws are orchestrated to actually grab land that belongs to the Hindus who are very poor, just agricultural labourers.

There are also increased cases of 'forced conversions' and 'forced marriages' as well.
Hindu Girls from the poorest sections are abducted and married off: Then the Hindu family has no legal recourse. In the rarest cases, these are relationships of choice. But then the tricky question is, why the conversion?
The Hindu community in Sindh has demanded that they will accept a Certificate of Conversion if it comes from a Judge –a judicial authority –but they will not accept it otherwise. They are asking for established procedures.
Then there are also problems with the Hindu Marriage Laws….
[ [Hindus constitute about 2.5 per cent, or 26 lakh, of Pakistan's population.
Though sprinkled all over Pakistan, 95 per cent of Hindus are in Sindh.
Only Tharparkar district in Sindh has Hindus in majority: 51 per cent. Here Hindus own land.
Other districts with sizeable population: Mirpur Khas (41 per cent), Sanghar (35 per cent), Umerkot (43 per cent)
Nearly 82 per cent of Pakistani Hindus are lower caste, most of them farm labourers
Cities with some Hindu population: Karachi, Hyderabad, Jacobabad, Lahore, Peshawar and Quetta.]]

"Key incidents of the past few years reveal how hate speech and a conducive public atmosphere allow attacks against minorities, be it Christians, Ahmadis or Hindus, in Pakistan," Rabia Mahmood

Christian Minority Also Targeted in Pakistan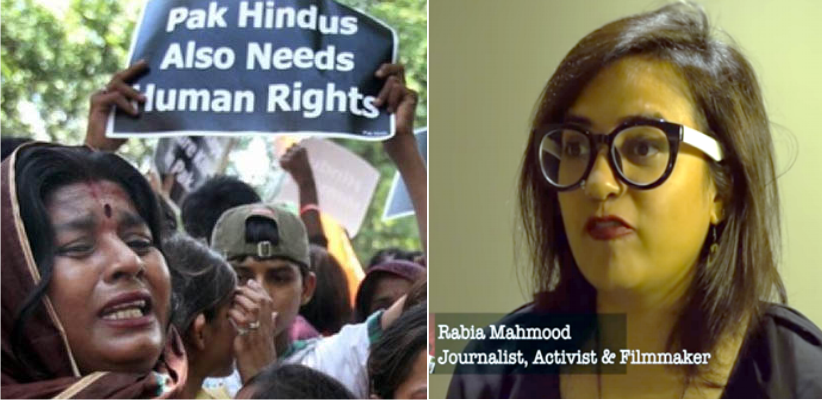 "Two incidents against the Christian Community come to mind.
One was the Joseph Colony Incident in Lahore in 2013. Now this colony is a working class colony. Police simply came and informed the community that the mob is coming and they must leave! They did not do anything to protect them..

Christians again are among the most oppressed and vulnerable: they are the poorest of the poor.
Worse was the 2015 Youhanabad Bombings . These were two awful bombings –terror attacks –that targeted churches. There was understandably huge anger and protesting Christians came out in large numbers. Two men were beaten and allegedly lynched and died. The incidents took place on March 15, 2015 and left 14 dead and 75 Injured

We don't know what actually happened; there was no independent investigation. There is a story behind what the Christians are saying unofficially if not officially but we are not listening.
Now the 'mis-reporting' by the media was huge. No sympathy was expressed for the minority community whose places of worship had been combed.

The mainstream press turned the story around, selectively picked up the lynching –completely ignoring the feelings of the Christian community who had suffered a major blow—and they, the Christians became the VILLAINS. It was unfair, unequal reporting.

The Pakistan Interior Minister went on television and spoke against the Christian community. The chief minister of Punjab, who is the brother of the Prime Minister (Nawaz Sharief) only, went to visit the homes of the Muslim women who were killed.

Many Christian people I spoke to who had survived the blasts –not all, but some of them –have reported how badly even doctors treated them at the hospital; horrible things were said and they were badly treated. Now this is like generating a mass hysteria against the minorities….

Then, the Punjab Police went on this profiling spree in the Youhanabad area; all those poor people who are domestic workers, perform menial jobs in factories, contractual labour – there were night raids and hundreds of men and boys were picked up by the Punjab police.

For weeks, the families had no idea of their whereabouts; they were illegally detained and tortured. Finally after the intervention of the Catholic Board, seniors from the Community and Human Rights Advocates who worked hard for their release some were released. But so many men and boys who were in no way involved with the alleged beating of the two Muslims were illegally detained.

I remember one case where none boys who had been badly tortured, when they stood up before the Court they did not say they were tortured. This was the understanding on which they had been released.
Now the Punjab government has closed down the bus station in the neighbourhood which affects the mobility of this very poor section of the Pakistani population. It is open discrimination. Jobs have been lost by this community after this and there is a long term impact on their dignity and livelihood.
[[Over 100 Christians were arrested in the profiling. Christians make up two percent of Pakistan and are often discriminated against by the Muslim majority. In recent years, sectarian violence against the community has sharply increased with attacks on Christian neighborhoods and churches. Nearly 100 people were killed in an attack on Peshawar's All Saints Church in September 2013. Shama and Shahzad, a Christian couple, was bludgeoned to death over alleged blasphemy in November 2014]]

Ahmadis a Constant Target

In 2014, the Open Use of Hate Speech and Incitement was used to target Ahmadis and four precious lives were lost.

This was in Gujranwala, a city in central Punjab, someone one and a half hours from Lahore where it all began with the manipulation of a Facebook post against an Ahmadi Boy. It was some dispute over Cricket, over something that he had not even said. Now this kind of messaging in Pakistan could mean that you could be beaten up in a market in Pakistan.
The incident imploded, the MOB was incited, the Local Cleric led the charge and entire neighbourhoods were summoned to attack these five Ahmadi homes located in one street in Gujranwala city where they lived. (Remember, it was in 1974 that the then Pakistan Parliament declared Ahmadis to be Non-Muslims!)

The men had evacuated themselves from the homes leaving the women and children who locked themselves in. The mob set the homes on fire. I remember speaking to one woman survivor who had lost her two daughters and her mother-in-law and another woman who lost her unborn child. It was tragic.

The police were standing there, mute spectators and doing nothing.

(The interview was taken some months ago)