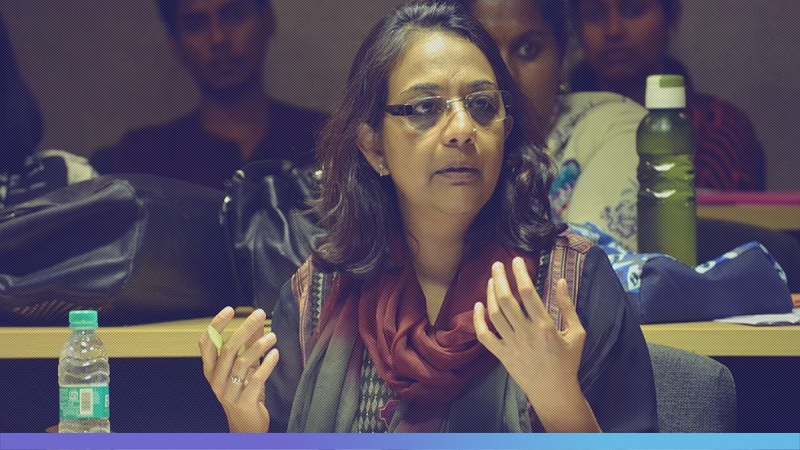 Image Courtesy:thelogicalindian.com
One of the most prominent journalists of Jammu and Kashmir, Anuradha Bhasin, had approached the Supreme Court when after the abrogation of Article 370 and 35A of the Constitution in 2019, had led the now Union Territory to be shrouded under a complete blackout. A year later, Bhasin says that the region's economy is in shambles, there is no trust in the government, and Kashmir's journalists continue to be caught between the guns of the militants on one side, the security forces on the other.
Question: What were the key points of the ruling of the court when it ruled on your petition in January 2020?
I filed my petition on August 10, 2019, the verdict finally came more than five months later in January 2020. There was already a delay over the question of internet access, which is a basic essential, but [when] the verdict came, there was something to look forward to. The court realised that the access to internet falls under Article 19 1 (A) of free speech. The other thing that the court did was to say that restrictions like the internet, or Section 144 — these other petitions had been clubbed with my petition– cannot be imposed for a prolonged period. However, the court did not define what this prolonged period was. The third thing that the court did was that it said any kind of restrictions on internet, or other restrictions had to be brought under judicial scrutiny. And if these restrictions had to be imposed the government needed to place the orders in the public domain, within a week on why it was doing so, and on what grounds.
Q: How much of it has been implemented on ground till now?
A: But immediately there was no relief. Because neither did the court say that internet should be immediately restored, instead it put the ball in the government's court and asked the government to review how the internet restrictions can be removed. Thereafter the government took its own time and started easing the restrictions in a phased manner, which took another two months. But even now, as much of the connectivity is restored, the mobile internet is still working at 2G speed.
Q: The Media has always been facing challenges in J&K, how have things changed since Aug 5 2019? What is a possible 'wishlist' from Kashmir's journalists.
A: Media in Kashmir has always walked the razor's edge. It has been caught between the guns of the militants one side, the security forces on the other. It has been intimidating. Journalists have been killed, they have been kidnapped, they have been threatened, beaten up and the government has also used either its forces to intimidate or browbeat journalists, as well as arm twist media houses by stopping their advertisement flow. After August 5, (2019) it became even more difficult, because not only were restrictions imposed, the communication ban was so severe that not even the landline phones were working.
And [for] journalists … Within the first ten days the government set up a media 'facilitation centre' a small room, starting with three computers which were open for a few hours in the day. That became the newsroom for the entire media industry in Kashmir, also those who had come from outside to file their stories, on government computers which were completely under surveillance. The problem, however, was also of access. There was no access to the public, there was also fear in the minds of the public, wherever they approached they were unwilling to speak. It was very rare for voices to be captured. Even officials were scared to speak. They were arrogant and unwilling to speak. That entire media centre was like a concentration camp. Where journalists had to jostle for space, and every person would get about 15 minutes, to file stories, verify facts, get preliminary information on the internet. It was extremely difficult, and made working servile and humiliating as well. And that has added to the climate of fear for the journalist.
Q: What is the situation now, a year later?
A: Even after the lockdown has eased and internet services are restored, or are partially restored the government has now come up with a media policy which is extremely frightening. It empowers the government to decide what fake news is, what anti-national is, to take action against journalists, to criminalise them, to run background checks of all journalists, all newspaper organisations. And take calls on whether they should be functioning, whether they should be getting government ads. And the entire policy is aimed to bring out the 'positive narrative' of the government. And this is absolutely contradictory to the very purpose of journalism, which is to hold the government accountable. And to show the mirror to the government. Speak truth to power.
Q:How have J&K journalists met the challenges of the year gone by? What are the kind of stories being filed now?
A: My colleagues in Jammu and Kashmir, particularly in Kashmir Valley, from my organisation and other organisations, have been bravely putting up with the challenges. Because it has become extremely difficult, many have virtually become quieter in the way they write, there were columnists whose columns have disappeared from local newspapers, in fact a lot of local newspapers, for quite some time, were not even publishing opinion pages. In fact some were writing about inane subjects and continue to do so without touching politics too much.
But some of the young reporters have done some great work. They have gone into the rural areas, the distressed areas, brought back stories of torture, of how people have suffered, how health and education sector have taken a beating through the lockdown and despite many challenges, despite the hostilities of the government. These stories were important, very few, but important because they punctured the government's claim that everything was normal.
Q: What has been the support, if any, from media organisations such as Editors Guild, Press Council, NWMI etc?
A: The support from journalists outside J&K, I think has been mixed. On one hand you have constantly blaring propaganda which is anti-Kashmir, anti-Muslim, anti-journalism professionals of Kashmir particularly, through the TV news channels continuously. But [on the other hand] we received a lot of support from different media organizations as well. The Editors Guild came out with a couple of statements, there were other media organisations like NWMI, South Asia Women in Media (SAWM), IJU, Delhi Press Club who rallied for the freedom of the press, and spoke about the curbs imposed on the press.
Q: What are the extra challenges faced by women journalists of the region?
A: The challenges for the women have been immense, much more than their male counterparts. Because when you have a situation where there is a complete shutdown, extreme surveillance it becomes even more intimidating and challenging for the women. Women journalists despite that continued to do their jobs. There were reporters, photo journalists going out in the field trying to get their stories and images. Some of them were checked, and beaten up. Recently we also had a case against Masrat Zhara for her Facebook post, even though she was only sharing her earlier published work. And to add to that two other journalists are also facing criminal charges. One is Gowhar Geelani, like Masrat Zhara, he has been booked under anti terror laws, Ashiq Peerzada has been accused of fake news. These cases preceded that media policy. But these cases were showcased to create a sense of fear before rolling out the policy itself. And before that, last year another local journalist, editor of a local newspaper Kashmiriyat, Quazi Shibli, was arrested, and released nine months later, and he was again detained two days ago. So with this uncertainty, the vulnerability of media people is increasing. Particularly in the case of women this becomes even more. Masrat Zahra's case will have a discouraging impact on young women who want to take up this profession.
Q: As a resident of J&K, how have you seen daily life being affected since the removal of 370, and the bifurcation.
A: Daily lives are linked to our politics, our social structure and our economy. And when politics, social fabric, and economy is completely battered, silenced, imprisoned after August 5, 2019, obviously day to day lives are impacted. Education has suffered, particularly in the Valley. Health infrastructure has suffered. People were unable to get access to healthcare facilities in Kashmir, in the hilly rural areas of Jammu region because of the lockdown. A lot of the weaker, poorer sections were unable to access health welfare schemes because even the hospitals did not have internet access.
Q: What has it meant for citizens of the UT?
The economy, both in Jammu and Kashmir regions, is in shambles, it has impacted day to day lives in many ways. Now after new laws have come up there is growing anxiety, growing distress. Particularly among the youth that their share of jobs will go away with the domicile rules being very lax and encouraging lots of people from outside the state, the non permanent residents to avail of the benefits that were earlier their privileges.
In Jammu, of course that confidence level, the trust level in the government has not been completely shattered, there are voices for protecting the domicile status for the original, permanent residents, protecting their land rights which are now open to any citizen of India of saving the ecology of the region, of saving the future of their younger people, protecting the local businessmen from being overshadowed by big business, or land-sharks that are likely to come in from outside. However, in Kashmir you find so much of dismay, and disconnect that there is just no level of engagement. There is absolute silence, not even a flicker of trust in the government to even think of some kind of a wishlist.
Q: As a senior media person and observer of politics what is your impression of the months to come?
A: Things in Jammu and Kashmir have been going on unpredictable lines. Who could have thought of what would happen a year ago? Ever since then it has been a downslide. What is clear is that the model that has been set, is one that is aimed at, designed to destroy whatever was existing here, politics, society, economy. In that sense everybody can foresee a very bleak future. Other than that in Kashmir , there are massive anxieties of demographic change, even in Jammu. In this kind of scenario, I don't see either a revival of economy or of politics. Which particularly in the valley is difficult to restart because of the new rules of engagement, where their earlier politics in J&K has been very Kashmir centric. And Kashmir centric politics revolved around the autonomy, and special status of the state. With that gone, I don't think the mainstream politicians know really how to, and where to start from. And whether or not locally they will find any takers if whatever they have to say.
Q: Your thoughts on the political leaders still under arrest? What purpose has it served in the past year?
A: The arrest of political leaders, and many others including civil society activists, young men, many of them without any basis is completely undemocratic, and unethical. But what it has done in terms of politics is that it has completely killed political discourse.
Q: Can elections even be expected in J&K this year?
A: When politics is reduced to a farce it doesn't make any difference if you have elections, or you don't. It turns out to be just as meaningless.
Related:
I got my award for my work, not for sitting at home: Masrat Zahra
No order on 4G restoration in J&K: SC
Right to Internet: Is it a fundamental right in India?
A Pulitzer for Kashmir
UN takes closer look at attacks on women journalists
Jammu and Kashmir: The impact of lockdowns on Human Rights