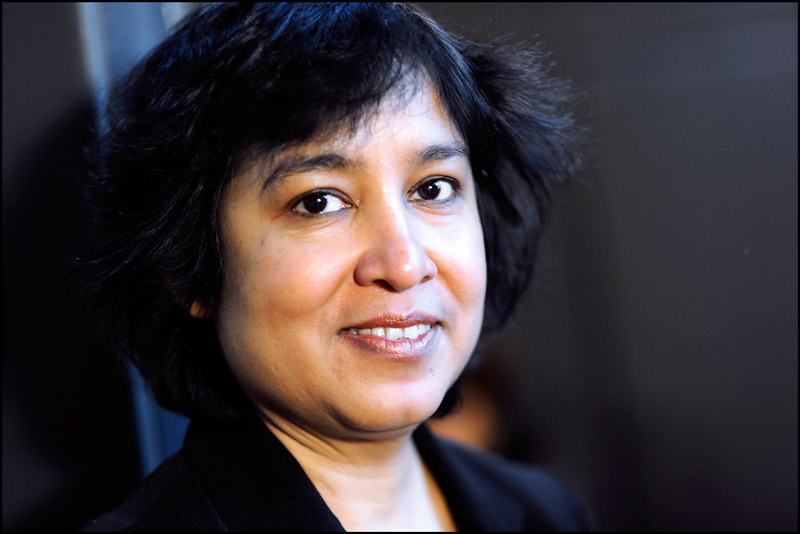 Born in 1962, Bangladeshi writer Taslima Nasreen shot to international fame in 1993 when her novel Lajja – a story on the plight of a persecuted Hindu family in Bangladesh following the demolition of the Babri Masjid in Ayodhya in December 1992 — was banned by the Bangladesh government succumbing to the outcry of fanatics belonging to the Jamaat-e-Islami and other communal organisations.
The first fatwa against Nasreen was announced at a rally in Sylhet in September 1993. At this stage the immediate provocation was the very publication of Lajja. But none of Nasreen's writings could have been palatable to sectarian forces that use violence and threats to get their way. Through her newspaper columns, poems and other writings she questioned the role that religion itself played, in her opinion, of oppressing people, especially women.
A controversial interview given to The Statesman, Calcutta, the following year was the proverbial last straw on the camel's back.
Soon after her return to her country, in June 1994, Nasreen was forced to go into hiding after the Bangladeshi government, instead of taking action against the criminals responsible for provoking violence and threats against her, Nasreen's arrest for alleged blasphemy. Another fatwa of 50,000 takas was put on her head by a local mullah.
After 60 days underground, in an atmosphere of growing countrywide hysteria, Nasreen, who was in real danger of losing her life, was advised by her lawyers to flee her country illegally.
For six years now, Nasreen has lived the life of an exile in Europe. Allowed back on the sub-continent for the first time in November 1999 on a visitor's visa, Nasreen was on her second visit to India last week when she stopped by in Mumbai for a day, during which she addressed a public meeting.
Reproduced below are excerpts from Nasreen's interview to Communalism Combat during her one-day visit to Mumbai:
What exactly was the issue that triggered the onslaught against you seven years ago?
Ever since I started writing, fundamentalist forces were unhappy with me. Because in my writings, I expressed the view — my view — that it is not merely the fundamentalists' interpretation of religion but religion itself that oppresses women. This they could not stand. Until the point when I said that it was the fundamentalists' control and hold over religion that oppresses women, progressive groups, even some sections of religious people supported me.
Around that time, a lot of writings all over the world had been published arguing that it was not religions per se, but the narrow and fundamentalist interpretations of them that were the cause of injustices and oppressions.
But when I told them the truth, as I saw it, it was unacceptable to them. I quoted from the Quran and Hadith to say that it is religion itself that is responsible. That is when the whole country went against me. Still, I did not stop saying it.
They burnt all my books. It was not only Lajja. Lajja was banned by the government so Lajja was picked up by the media. But it began with Nivrachita Kalam (Selected Columns), a collection of my columns written for Bangladeshi newspapers.
In 1993, three fatwas were issued and a price was put on my head several times. Strangely, the Bangladeshi government, instead of taking action against the fundamentalists for their criminal actions, issued an arrest warrant against me. This was really ridiculous.
Lajja was published at the end of January 1993. It told a story that I had seen with my own eyes. The story of how, after the demolition of the Babri Masjid in India, temples were destroyed in Bangladesh and the Hindu minority targeted there. It was sold at the book fair in Dacca in February 1993. Three months later, it was banned.Anyway, at the beginning of 1994 on my return from France, in Calcutta The Statesman published the controversial interview that precipitated matters. The journalist obviously did not know the difference between the Quran and the Shariat. She made a mistake, quoting me as saying that the 'Quran should be revised or rewritten.' Next day I wrote a protest to the paper correcting the mistake. I said, "I don't believe in the Quran. I believe that the religious scriptures are out of place, out of time. So why should I ask for the revision of the Quran?"
What I asked for then, and now, is the abolition of Shariat law and the legislating of a uniform civil code to ensure justice between men and women.
My rejoinder was published but the Bangladeshi newspapers only picked up the first story with my interview that had the mistake. They did not publish my correction. Anyway this was enough to make them crazy. It was not only the fundamentalists. But the fundamentalist groups and all the political groups became united at the time. When they started protesting and holding demonstrations against me, it started getting unbearable.
Three hundred thousand people, five hundred thousand people every day on the streets, baying for me. Then the government issued the arrest warrant against me. So it was with the Bangladeshi government and the fundamentalist forces ganging up that I had nowhere to go.
All those crazy people just wanting to kill me. They called general strikes, hartals. Everything was forcibly closed, for seven days, ten days to pressurise the government. Six people were killed in one day when people tried to re–open their shops defying the general strikes.
In my writings, I expressed the view that it is not merely the fundamentalists' interpretation of religion but religion itself that oppresses women. This they could not stand.
I had to go into hiding because I knew that if the police put me in prison I may never come out alive. Political murder is not uncommon in Bangladesh. The police could be fundamentalists believing that if they killed me they would go to heaven!
It became increasingly difficult for me. Very, very difficult for me to find a place. Nobody wanted to give me shelter.
Some people, very good people, supported me. I had to move from one place to another every night, not staying more than one night at one place. I stayed in hiding in small dark rooms of a 15–member family, among whom only one knew that I am in hiding. I couldn't get food for four days, six days. Because the person protecting me, she or he had to be careful not to approach me with food. So she would come to me stealthily like a cat after midnight and bring me some food.
That's all. I could not sleep, I just could not sleep, I was so scared.
I still hoped all through this dark period that things would change. My lawyers, too, were trying hard for me. But, after one and a half months my lawyers said that it is impossible to save you. We cannot continue anymore. Leave the country illegally.
The situation was out of control. The fundamentalists were on the street and the country was in their hands. At the time, though there was some opposition to the fundamentalists with groups coming out against the frenzy and violence of the fundamentalists, they were drowned out. Bangladesh became a fundamentalist country. And the government couldn't or didn't want to control them.
So some people bought me a wig with long hair and a burkha. I did not at that point believe that I would survive. No, no.
It was impossible. Few believed I would make it. But there was a lot of international pressure. Western governments had tried to put pressure to grant me bail but it did not work. After two months of negotiations and with the help of Europe and democratic governments, the government agreed to let me be taken out. I was taken out by the security police to the plane, on to Sweden. It was the EU's decision that Sweden would be a good choice for my immediate asylum.
This was in August 1994.
The chief police officer, of the foreign ministry of Sweden came to collect me from my hiding in Dacca. It was 2 a.m. when I left my country. It was arranged that the security police would take me from my place to the plane. For two hours before I boarded the plane, they wanted me to disclose the names of all those who had sheltered me for 45 days. I never, never told the name of anybody. They were obviously trying to oblige the Bangladeshi government who had to buckle under persistent international pressure and let me go.
Anyway, I was taken by the Swedish authorities and my life was saved. But those 60 days haunt me still. They remain, for me, a nightmare. How did I survive those sixty long days?
Have you written any personal account of that time?
Many publishers, even in Europe, have asked me to write about the period in hiding. I tried but couldn't. I started, one page, two pages, five pages but I just could not continue. Maybe some day I will be able to write. Just now it is too close, all still right in front of me.
Do you repent the stand you took considering that the cost has been so high?
Never.
Don't you miss your country?
It is nearly six years that I have been out of my country. I miss my country. I feel scared to count the years…I could not write for three years after I left. Then, slowly, I managed to start again.
What are you writing now?
I have just finished the first part of my autobiography Amaar Meyebela (My Girlhood). You know this has been published in French, German and other European languages uncensored. The Bengali version published by a publisher from West Bengal has had to be censored. Even the English version being published by Kali for Women is being censored. Now I am working on the second part, My Youth, that will be completed by the end of this year.
What was it like to grow up in a country like Bangladesh before and after the liberation war?
I wrote about this phase, in My Girlhood. I was born in 1962 and saw the war in 1971. I witnessed, first hand, the mass demonstrations against Pakistani rulers on the streets. The Bengali people were struggling for their linguistic identity. It was a mass movement in 1969.

When Bangladesh was born in 1971, it was a secular country. We fought for secularism. The Bangladesh war of 1971 proved that (Muslim) religious unity is a myth. It also proved that the Partition of India was wrong. It was such a positive battle. It had a positive meaning. But something happened afterwards.

Political leaders were greedy for power and Sheikh Mujib–ur–Rehman, the founding father of Bangladesh, was killed by the military and the military used religion for their own vested interests to remain in power. They did not think of the people. That is the way religion came back into politics and secularism was thrown out. The fundamentalists gained legitimacy.
Many publishers, even in Europe, have asked me to write about the period in hiding. I tried but couldn't. Maybe some day I will be able to write. Just now it is too close, all still right in front of me.

You know, the really positive thing was that from 1971 onwards, after the war when Bangladesh was born right until 1975, religious politics was banned. Nobody, no religious persons or parties like the Jamaat–e–Islami were allowed to participate in politics.

The Jamaat–e–Islami is the largest such religious–political group though there are some others. During the liberation war these forces had sided with the Pakistani army and killed Bengali people. They were Bengalis but they betrayed their own people. Because they were collaborators with the Pakistani army, for this reason religious politics was banned. But after the death of Mujib-ur-Rehman they came back. The ban against them was withdrawn.

Increasingly the secular fabric of Bangladesh has been damaged by the sway of fundamentalists. Many NGOs have been attacked by fundamentalists. Around 1992-1993, fundamentalists burnt 120 girls' schools run by the oldest, most prestigious NGO of the country. They did this spreading the myth that Christian schools are trying to make our girls Christian!

The government took no action against these fundamentalists who had committed this act. Not only that, the NGOs, too, started compromising with these forces. They started creating not merely schools but also madrassas to appease fundamentalists. Religious education was introduced to compromise and buy peace.

Women who work with the NGOs are threatened by religious fundamentalists. There were fatwas addressed to men whose wives work with NGOs directing them to divorce their wives. So many women were compelled to stop working with NGOs. So while there is good work being done by some NGOs, religious fundamentalists are targeting them.

How do you trace your personal journey towards atheism?
I studied the religious scriptures. That was enough. In My Girlhood I have described this process tracing it back to when I was 13–years–old. It did not happen just like that. When I was 13 I got hold of a copy of the Quran in Bengali so that I could read it and understand it. Every day since I was little, I had been made to recite the Quran. I asked my mother, who was very religious, "What is this that I am reciting?" "Just recite the verses", she would tell me. "You don't need to know. You don't have to know. Just recite."

I was never satisfied. I had to know the meaning of the verses that I was reciting. I was very curious to find out their meaning. That is what led me to find a copy of the Bengali translation. I read it and was full of questions for my mother.
I was never satisfied with her responses to these questions. I read that the sun revolves around the earth, and many things within the Holy Book that are totally contradictory to what my other education and my life's experience taught me: that woman are inferior and men superior because they earn money, that men have a right to beat women if they don't follow husband's orders. These kinds of things surprised me and caused me to wonder and question how all this can be contained in a Holy Book? I also saw what was happening in society in the name of religion.
Studying science in school and reading the Quran and its meaning at home brought me face to face with many contradictions. I found that what was written in the book was both illogical and inhuman. There are many parts of My Girlhood that have been censored by different publishers.
I was a very shy person. I was beaten by my father a lot, for studies. I never protested but I kept all the pain inside me so that perhaps one day, I could release them in my writing.
There were many incidents like this through which I experienced that something is wrong with religion. All religions. I happened to be brought up in a Muslim family, so my revolt is against Islam. But there is fundamentalism in every religion and women are oppressed by every religion.
What is your major concern as a writer — the gender question or the minority question?
It is really about oppressed peoples. Women are oppressed, religious minorities are oppressed, the poor are oppressed. I talk about them in my writing. I defend them.
Your message is through your writing. How much difference does it make to the people whose voices you portray? Does your writing in anyway change the overall scheme of things?
Well, you know on the sub–continent 70–80 per cent of the people are illiterate. So as a writer, how many people can I reach? That's the first question. Only educated middle class people in urban societies. That's all. Most of our people live in villages, in horrible conditions.
However, when I was writing my columns in Bangladeshi papers, I found ordinary women responding to me. They would say that I was writing their story so I should never stop. They were all silently supporting me, they would say. One woman recalled how she was forced to stop studying but inspired by my book she would return to studying. Others, after being educated, were prevented from working and they found strength to challenge this state of affairs. There were stories of unspeakable torture of wives by their husbands who also felt inspired to challenge their condition after reading my writing.
But this was a smaller community. The larger number of women are beyond my reach. They cannot read, they cannot write. I think of them.
Ever since my writings became controversial and I became the target of fundamentalists' attack, I was assaulted, insulted, I was even stoned by fundamentalists in public places. I could not go out. All this restricted my access to remote areas, to villages. I was confined to my room.
As long as I wrote love poems, which I started in 1975, it was fine. But since 1990, when my writings became social and political, directly related to women's condition, the problems began. But still, ideas that challenge the status quo travel in many ways. That is my hope.
What do you feel is the role of the writer and his or her relationship with social movements?
I was and am an individual writer. I worked in the hospital as a doctor and I used to write because I always thought I had to say something. As a doctor I cured the disease of the people, as a writer I tried to cure the disease within society. I never meant to be a writer. I was not a member of any women's organisation. People used to ask, how come Taslima Nasreen is called a feminist, she has never come to the streets, never been part of the movement? I intentionally abstained from membership of any women's organisation because I believed that as an individual I had the right to say what I wanted, a right that would get qualified if I became part of any women's organisation. Women's organisations compromise so much. I did not want that for myself. I was also surprised at the attitude of women's organisations to the mounting tirades against me in Bangladesh. They would say to me, you become a member of our organisation, then we will support you. I found this very surprising.
I am actually not very good as a street marcher. All my anger and protest is through my writing.
You have written a lot about the re-unification of Bangladesh and West Bengal as a separate Bengali identity. Do you still espouse that cause?
This is a complicated issue, not as simple as it appears. I think that Bangladesh does not want it and West Bengal wants to remain with India. India is a large country and there are many benefits being part of a larger country. Even being a citizen of a large country has many benefits. Besides, Bangladesh is a poor country, if it was a rich country, this may have been a conceivable temptation.
There's also the question of religion, too, which is an issue here. If such a unification were to take place, the Bengali Muslim would be in the majority. The Hindu majority in present-day West Bengal would become a minority. No majority likes to become a minority.
We do as writers, as secular activists, articulate this urge for such a unification. I myself have written a lot on the subject for which I was dubbed an 'anti-national traitor'! Simply because I said that I do not respect the national boundary!
I dream of a situation, maybe 100, 200 years later when borders have no meaning and relevance. A day when all borders and boundaries fly away into the seventh sky. When the world will be one. It will have to be when religion ceases to be important to people.
I do not think religion will exist 200 to 500 years later.