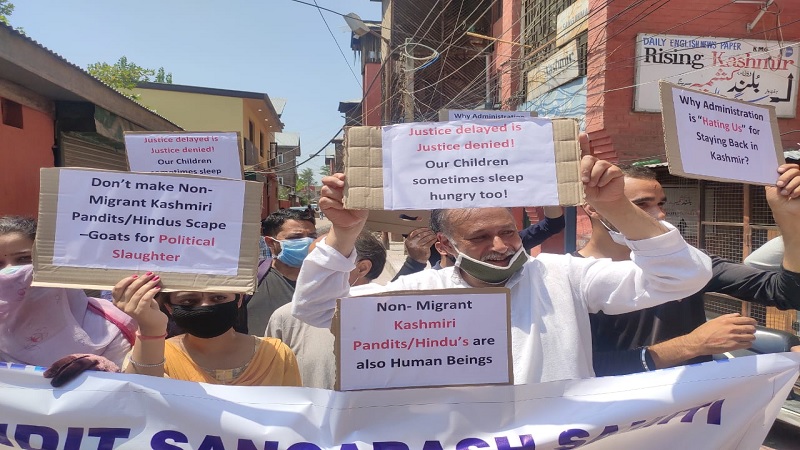 Sanjay Tickoo, president of the Kashmiri Pandit Sangharsh Samiti (KPSS) has been on a hunger strike since Sunday, September 20. In an interview to our Associate Editor Deborah Grey, he tells us why he was forced to take this extreme step.

Q) You have submitted multiple memoranda and representations to Jammu and Kashmir authorities and even met the Lieutenant Governor on August 27, 2020. What transpired in the interim that you were forced to go on a fast-unto-death?
Sanjay Tickoo: The non-migrant Kashmiri Pandit community in the Valley is in need of urgent relief. This is mainly because of non-implementation of employment schemes resulting in financial hardships for community members. This despite the October 2016 judgement of the Jammu and Kashmir High Court on the subject of employment schemes for the community. This and other concerns about families that live Below Poverty Line, were communicated to the authorities via multiple memoranda, the last of which was sent on August 12, where we gave them a fortnight to respond. When I met the Lieutenant Governor, he assured me that concerns raised by the community will be addressed and that he would communicate this to the Chief Secretary. However, when I contacted the Chief Secretary's office a week ago, I was told no such communication was received from the LG's office. I sent him two to three emails and requested for his time to discuss the issue again, but did not receive any response. I felt that the only way to highlight this step-motherly treatment non-migrant Kashmiri Pandits are receiving, is to go on a fast-unto-death.
Q) You have also said that you feel that the Disaster Management Relief, Rehabilitation and Reconstruction (DMRR&R) Department is deliberately ignoring non-migrant Kashmiri Pandits. Why is that?
Sanjay Tickoo: They are yet to implement the employment schemes despite the 2016 High Court order. We have visited them many times, but they remain arrogant. Plus, every time we have sent a memorandum or representation to any authority, we have sent it to the Relief Department as well. Yet they have failed to act. In fact, the Ministry of Home Affairs (MHA) had on June 23 asked them to expedite the selection process for jobs for eligible non-migrant Kashmiri Pandit youths as per the government scheme. However, they have not taken any action! It makes one wonder if the Relief Department officials are deliberately ignoring us. I wonder if all our memorandums are just thrown into the dustbin!
Q) Unemployment is still the biggest problem among youth, isn't it?
Sanjay Tickoo: After the High Court order was delivered in October 2016, there were 600 non-migrant Kashmiri Pandit youths who were found eligible for jobs under the government scheme. But a delay in implementation of the scheme has led to 86 of these people becoming ineligible as they have surpassed the age criteria. Now, what is going to happen to them? We urge the government to consider them for the scheme as it was administrative delay that caused them to become ineligible. Moreover, there are more than 500 youth who are eligible and even they have not been given jobs yet. The Service Selection Board hasn't even put out advertisements inviting applications from non-migrant Kashmiri Pandits, so that they can appear for competency tests. Earlier we used to approach the state administration. When J&K became a Union Territory after abrogation of Article 370, we approached the UT authorities. Now, because of Covid, the unemployment situation has become worse and in turn exacerbated the financial hardships faced by the community.
Q) Do you feel that the community has just been used to score political brownie points?
Sanjay Tickoo: Everyone tells me that the ruling party at the Centre is sympathetic to the plight of Kashmiri Pandits. But then why has nothing been done to alleviate the suffering of non-migrants Kashmiri Pandits? We are tired of this apathy, this step-motherly treatment. Eligible families among Kashmir Pandits who left the Valley due to militancy receive monthly financial aid. But non-migrant families get nothing! How is this fair? We are not asking for anything extra. Give non-migrants the same amount that is given to migrant Kashmiri Pandit families. This is one of our key demands. We have sent a total of 160 memoranda, out of which 110 have been sent just since June 2020. Nobody is taking us seriously!
Related:
KPSS begins fast-unto-death
Kashmiri Pandit delegation meets J&K LG
Here's why non-migrant Kashmiri Pandits feel betrayed
Teesta Setalvad in Conversation with Sanjay Tickoo
CJP demands justice for non-migrant Kashmiri Pandits