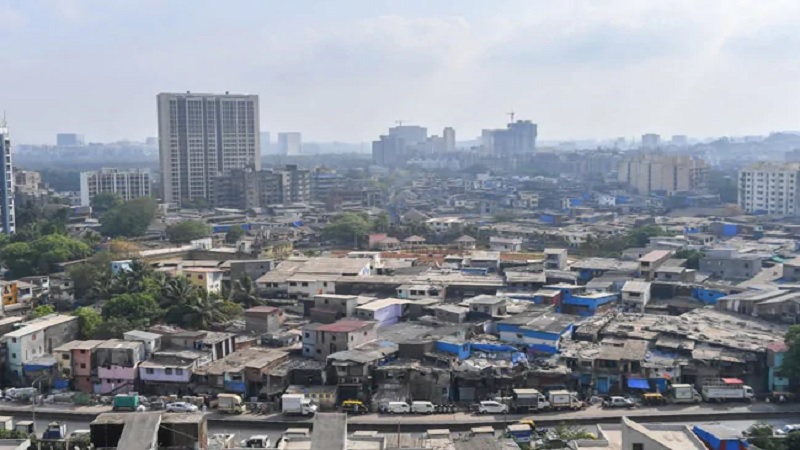 Image Courtesy:ndtv.com
First publish on 29 May 2020
43-year-old Shafiqa Bagwan is a social worker who lives in Dharavi, an area known as Asia's largest 'slum'. However, reducing the identity of this area to merely being a 'slum' is not only insensitive and inappropriate, but also inaccurate, she told SabrangIndia's Deborah Grey in an interview where Bagwan takes us through the trials and tribulations of people in her neighbourhood, that has become one of the largest containment zones for Covid-19 in Mumbai.
Understanding Dharavi and its people
Dharavi is a vast cluster of homes, shops and winding bylanes spread over just 2.1 square kilometers located between Sion and Mahim in Mumbai. It is home to over 7,00,000 people from all religious and linguistic backgrounds; Hindus and Muslims, Maharashtrians and Tamils, daily-wagers and small entrepreneurs, migrants as well as sons of the soil.
But what is often overlooked in the region's depiction in popular culture is that Dharavi is home to thousands of micro-entreprises related mostly to the production of leather goods, garment manufacturing, pottery, small electronics and recycling. Many of the goods produced here are exported to international markets. Though data regarding the size of the industries remains unreliable as most operate in the unorganized and informal sector, it cannot be denied that Dharavi has its own thriving economic ecosystem.
The people of Dharavi are hard-working people, who have modest means, but have hitherto lived independent lives relying on their own talent, efforts and entrepreneurial spirit to one day improve their economic condition and live the 'Mumbai dream'.
But, ever since the outbreak of the coronavirus and the subsequent lockdown to combat its spread, Dharavi and its people have been hit hard. In the absence of any means of income and their meagre savings having being wipes off, now the residents of Dharavi are forced to swallow their pride, ask for help. The impact of the disease has therefore been not just on health and incomes, but also on the dignity of people.
At the time of publishing this piece there were 1,675 confirmed cases of the disease in Dharavi with 36 new cases reported just on Thursday, May 28.
Shafiqa Bagwan, who has worked with several national and international organisations as a part of projects related to controlling the spread of HIV and skill development among youth, tells us what makes Dharavi so vulnerable and the shares with us the uique challenges its people face.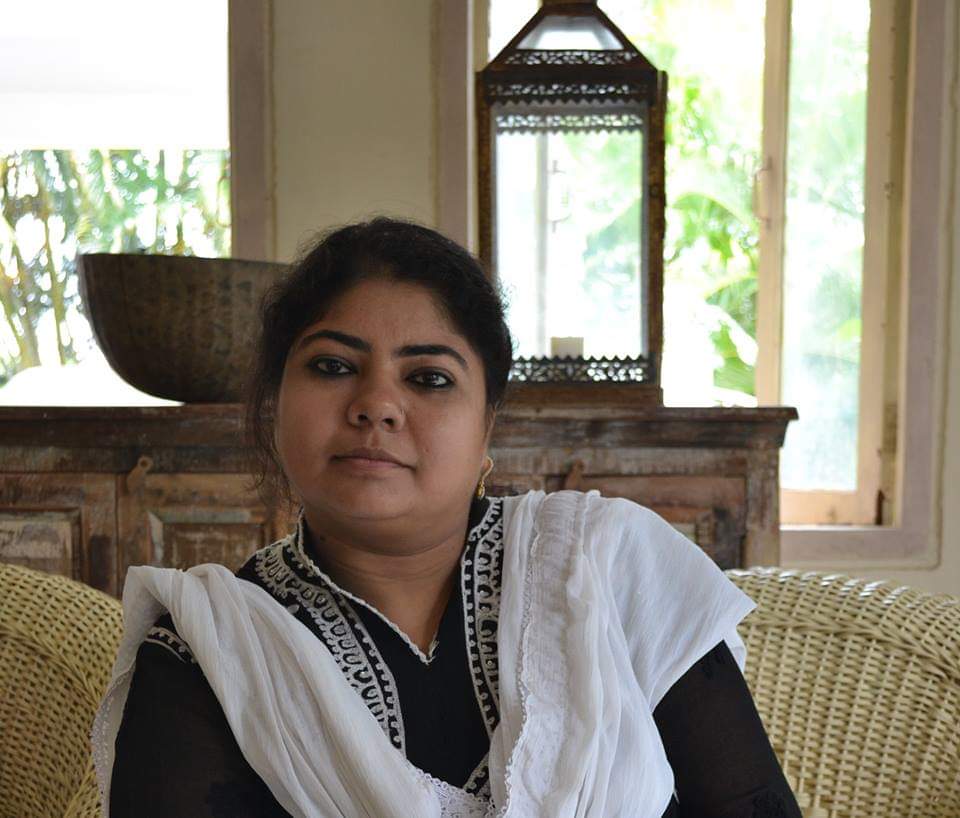 Q) Why do you think the infection rate is so high in Dharavi?
A) Well, when 7 to 8 people live in a kholi (local word for small tenement) that measures 6 feet by 8 feet, social distancing becomes a luxury. Moreover, they start feeling frustrated on account of being cooped up inside such congested homes and thus often venture outside, thereby completely defeating the purpose of the lockdown.
Earlier, I used to call the cops to dispel crowds whenever a large number of people would gather together. But then the people started retaliating against me and even my children, so I stopped. It is difficult to make the people understand that they need to stay away from each other for their own protection.
So many times, I see even the elderly who are most vulnerable to the disease step out of their homes, just to catch a fresh breath of air. What can one tell them? It is impossible to control children. The older ones at least are aware that they must wear masks, but the little ones often throw caution to the winds. Now in such a case, even if one person catches the virus, the entire family gets infected!
Q) When cases first started coming to light, how did people respond?
A) Initially, some social workers who work in the field of HIV intervention would go door to door to take temperature readings and check for symptoms. The people who showed symptoms were then quarantined at facilities set up in schools nearby. But most people just dismissed it as a bout of flu or fever that one catches occasionally, and did not treat the coronavirus outbreak with the seriousness it required. Even now, I see the same attitude among many residents. They go for walks to the field nearby thinking nobody else would be there, but it turns out a lot of people had the same idea and it becomes a small crowd.
Q) What can you tell us about the migrant workers living in Dharavi?
A) Most of the single men who lived together in shared accommodations and sent money home have left. That was a large number of people and after their departure the pressure on our shared resources such as community toilets has eased a bit. Meanwhile, those who have families here have stayed hoping that the lockdown would be lifted. They have exhausted almost all of their savings and now depend on rations and aid provided by NGOs such as Citizens for Justice and Peace (CJP). These families were on the brink of starvation!
Q) It is interesting you bring up community toilets. What has been the impact on sanitation facilities?
A) There are two types of toilets; the Sulabh Shauchalayas or paid public toilets run by the government and the common toilets and bathrooms that are present in the chawls and redeveloped buildings. Both these places have always been notorious for their poor hygiene despite previously being cleaned thrice a day. But now, the frequency of cleaning has dropped and the fear is that asymptomatic carriers of the virus continue to use these facilities along with uninfected people who have now become even more vulnerable as these toilets have become infection hotspots! But interestingly, public toilets where earlier it was often difficult to even find a bar of soap or handwash, now all have sanitisers!
Q) What has been the impact of the lockdown on women?
A) Their misery has only been exacerbated as now men who would earlier be out of the homes for the better part of the day are now at home all the time. They keep making demands for food and tea. Even today when it comes to domestic chores men are not equal partners and don't share the burden despite now being at home. Moreover, the instances of domestic violence have increased. Earlier the violence would take place only when the abuser came home. Now victims and abusers are at home together all day so the violence take place at all times. Also, an increase in frustration is causing newer people to become abusers. Needless to say, women and children continue to bear a disproportionate brunt of the violence.
Q) Now let us talk about the facilities still available. What kind of shops are open? What is still available?
A) grocery stores are open for a specific time every day. Milk and medical stores are also open throughout the day. But it is difficult to get vegetables as most shops are shut and there are no thelewalas (hand-cart pushers) operating these days. Most of the time, only onions, potatoes, tomatoes and garlic are available. I had once heard that someone managed to leave without being caught in the middle of the night to get vegetables from an early morning market somewhere in Mankhurd. Most vegetable vendors now just make small packages of whatever is available and sell from their doorstep or just in their immediate neighbourhood.
Q) Dharavi had its own economic eco-system. How has that been impacted?
A) After the shops downed shutter the unsold leather stock caught fungus. Now people are facing huge losses. I know of one man who ran a leather footwear shop who keeps his shutter up for a few hours each day selling small packets of onion and garlic. My husband had a garment business, that came to a grinding halt. Luckily both, my son and I can work from home, so our situation is not as dire as that of many others in Dharavi.
But the impact of the economic crisis truly hit me when one day I saw a young boy, no more than 8 or 9 years old selling tea. With no income, that was what his family for forced to do to survive amidst the lockdown.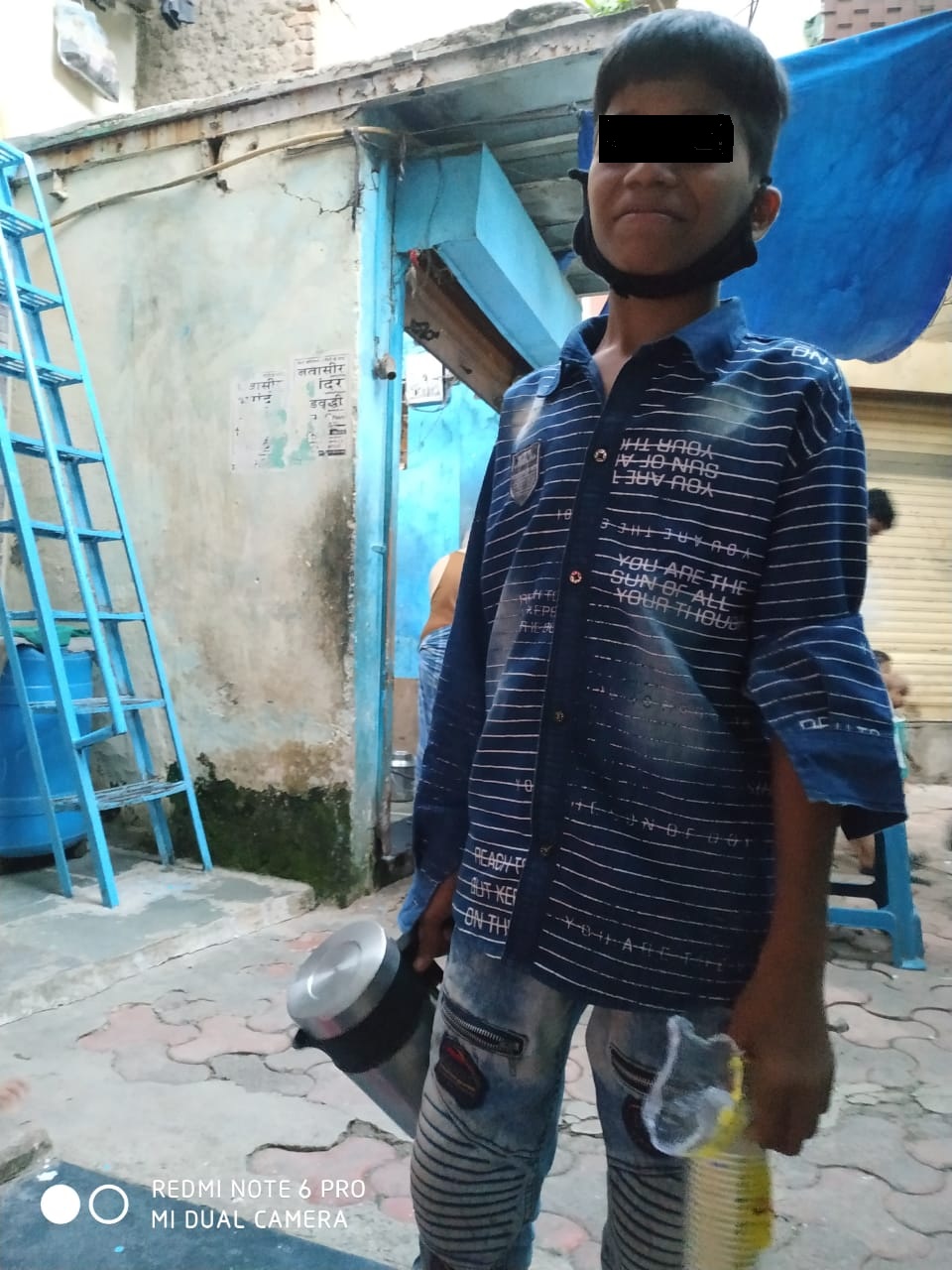 Photo credit Shafiqa Bagwan
Q) What was it like to observe Ramzan and what was Eid like amidst the lockdown in Dharavi?
A) Well, all mosques had made it clear right from the beginning that everyone will have to pray at home and must follow all lockdown norms. The entire month of Ramzan was therefore rather sombre as nobody ventured out to meet friends and family or eat traditional delicacies at the night-time food fairs, as none were set up. There was no Eid shopping either as garment stores were shut. But then we realized that all of us were suffering together. After all, Dharavi isn't home to just Muslims. All our neighbours from different communities and faiths were suffering just as much as us. Knowing we were all in this together helped us all cope. Some of my contacts in the Gulf also assisted in helping even the poor celebrate Eid by providing funds to purchase Sevai, sugar etc. to prepare traditional meals.
Q) Now that you have shared the problems faced by people, what kind of solutions do you think can help Dharavi?
A) We need greater awareness. The lackadaisical attitude of people who are even today dismissing the disease as a common cold, needs to stop otherwise the infection will continue to spread. Also, many families require financial assistance and aid in terms of food rations and essentials. CJP and a few other NGOs are doing this in different parts of Mumbai. In fact, Teesta Setalvad of CJP helped me get ration support from Deputy Collector Furog Mukadam who is arranging food supplies for people of Dharavi. But we need more intervention from the government, especially in terms of creating awareness among people.
Related:
Community toilets, filthy conditions spike coronavirus cases
BMC official passes away due to Covid-19, union alleges negligence
Covid-19: This is what happens when an area is sealed…
Dharavi a ticking bomb after two fresh cases take positive Covid-19 cases up to 9?
Affluent flyers bring Covid-19 to India, but mainly chawls and slums sealed off