Because he couldn't afford it, Vinod Nikole dropped out of college and set up a vada pav stall in Dahanu. Today he is Dahanu's MLA. Born into a family of landless Adivasi labourers, 43 year old Comrade Nikole is now a CPI(M) whole timer . A chance meeting with veteran Communist leader LB Dhangar twenty years ago drew him to the politics of the Left. In these elections, he polled a little over 72000 votes, defeating BJP's sitting MLA Paskal Dhanare by about 4000 votes. Mr Dhanare's assets are worth over 2 cr.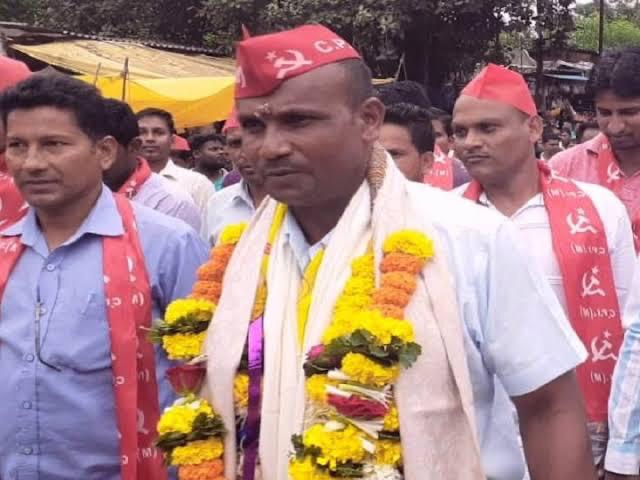 The reserved (ST) seat of Dahanu is one of the six assembly constituencies that fall under the Palghar district. It is home to the Warli people (among many other Adivasis) and is one of Maharashtra's most underdeveloped areas. Over 800 infant deaths have been recorded in Palghar in the last two years alone. Welfare workers in the region blame it on malnutrition. The government denies it. India's richest man lives barely two hours away.
For Dahanu to return one of its poorest sons to the state legislature is nothing short of a miracle. But when asked about his stunning victory, Comrade Nikole responded in the self effacing manner so characteristic of communist politicians.
Excerpts from an exclusive interview with Vinod Nikole.
What are the major issues facing the people of Dahanu ?
See my constituency is primarily a rural area. Health facilities have always been the major problem here. We have a Cottage Hospital in Dahanu run by district authorities that doesn't even extend basic health facilities to its patients. The hospital ends up shifting the patients 15km away to Gujarat for the minor treatments. I have seen cases of pregnant mothers and their unborn kids losing their lives while being shifted from one place to another. Secondly, even after the enactment of Forest Act in 2006, 70% of the total Adivasi population are landless in this district. They have still not recieved the pattas. Whatever little implementation has happened is because of our struggle.And I have promised them that I will raise the issue of the implementation of the FRA 2006 in Vidhan Sabha. See, there are funds that MLAs can use, but our MLA (outgoing) did not use it to improve health and other facilities. These questions should have been asked in the assembly but the ex MLA did not.
The incumbent MLA was your opponent, how did you take on a resourceful and muscular BJP manage and yet win the elections ?
You know the BJP MLA did not even go to the people to ask how they are. I have been a full timer party worker since the last fifteen years. I have struggled a lot, worked very hard. I have seen how people live, their daily struggle for existence from very close. I know their problems very, very well. We have also succeeded in solving some of their problems through long drawn movements – not too many, just a few. So the people, they think that this leader, this communist leader will think about everybody – peasants, workers, adivasis, dalits, all the constituents, irrespective of religion. They know that he is hardworking and sincere in holding up people's issues. On top of it, the young generation saw something in me, they thought lets vote for him, he is young. Even if it's not because he is young, but because the spirit of the fight that he brings to our issues, will now be reflected in the Vidhan Sabha. My opponent spent a lot of money in these elections. Money flowed like water in the constituency. But I personally know the voters and they put their hope in me.
Apart from this, the senior leadership of the party – Ashok Dhawale, ex MP, MLA Lahanu Kom , L B Dhangar guided me throughout. So I went to the people and spoke to them and then fought for them. Now that I have been elected, their hopes have been raised.
Apart from the Forest Rights Act, what other issues you are going to look into in the coming years?
We are going to oppose the central government's proposed Valvan Bandar project. The project is likely to destroy land and livelihoods in Dahanu and displace thousands of people. When a thermal power project was set up in Dahanu, assurances were given to the fishermen and farmers who lost their land. They were told that many jobs will be created, the project will bring prosperity to the region. Nothing of that sort happened. The same will happen with this project too. Noone will get anything. On the contrary, the little pieces of land that we own, on which we farm, which will be used by our future generations, will also be snatched away from us. We will have nothing to live by. We are determined not to let this happen.
How long have you been associated with the CPI (M) and what attracted you to the Left's ideology?
I told you that I was born in a family of farm workers. My father used to go to work on a zamindar's land. At the age of six I was put in a hostel of a local school, the Acharya Santoshi School. Then I took admission in Dandekar College for B.Com. But because my financial situation was not very good, I could not proceed with my education. Then my cousin brother and I put up a Vada Pav and tea stall for a living in Dahanu city. One day, Comrade Dhangar (veteran CPIM leader) visited our stall to have a cup of tea and after a brief chat, said that you work for the CPI(M), you work in the movement. As is the norm in Communist parties, he gave me a membership receipt on the spot and I paid Rs 10 for it. I told him then that I will not be able to work for the party. But Comrade Dhangar believed in me and said that you have the energy and capacity to struggle, you will work for your people. I joined CPI (M) in 2005 and became a whole timer. Back then the party used to pay me Rs. 500 a month. That amount is now Rs. 5000. My wife teaches at a local school and gets paid around the same amount. So that's how much we earn. In fact, this is why I never felt the need to open a bank account. The truth be told, it was only recently when my candidature was proposed that I opened a bank account (laughs)
What was your role in the Kisan Long March led by AIKS in 2018?
When the farmers of Maharashtra walked 200 kilometers last year, I walked the entire stretch with them. In Dahanu, we took the documents signed by the Chief Secretary to the local tehsil office for our rights. So we struggled. See, our leaders are not the kind to say to the peasants, you walk we are coming in a car – they walked with the farmers. Dr Ashok Dhawale walked, Jiva Pandu Gavit walked. We all walked.