Civil society members write to Chennai Commissioner of Police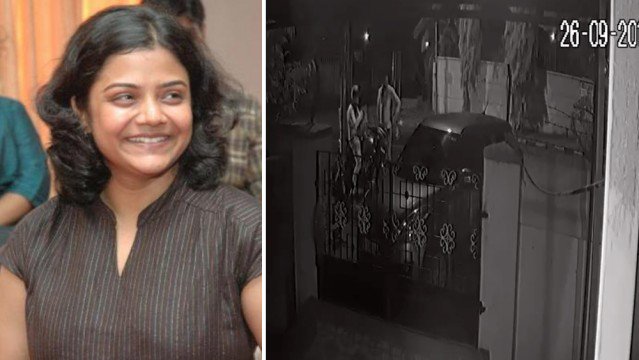 Civil Society members have expressed their shock and dismay at the "serious violation of privacy" and "threats to life" of Sandhya Ravishankar, a Chennai based investigative journalist, in a letter addressed to the Commissioner of Police, Chennai, A K Viswanathan. She has faced repeated threats and harassment because of her investigative reports on sand mining mafia in Tamil Nadu.
Ravishankar wrote a letter for the sixth time to the Chennai police in which she alleged intimidation by unidentified persons.

Sandhya Ravishankar's work on Sand mining mafia
Sandhya Ravishankar, in her four part series that was published in The Wire in January 2017 had uncovered the role of sand mafia in Tamil Nadu. In March 2017, she alleged that she was facing harassment at the hands of S. Vaikundarajan, who is the owner of the largest sand mining conglomerate in the country. Ravishankar had written about him extensively in her reports. S. Vaikundarajan, is the owner of VV Mineral. He along with his brothers and close associates exercise a monopoly over beach sand mining sector in the country by owning 53 of total 81 mining licences. The Industrial Mining Company on investigation was found to be under the ownership of Chandresan, Vaikundarajan' brother.

Tamil Nadu's Department of Geology and Mining, as a pilot project devised a satellite surveillance system 'Online Mining Tenement Registry' to identify illegal mining locations in 5 districts of Tamil Nadu. The administration in the process identified 2 mines that were particularly large in scale in Tirunelveli District. On further investigation, the administration learned that illegal mining was taking place over 8 hectares of land. Apart from this a large separation plant belonging to 'Industrial Mineral Company' was also found on field inspection.

The 'Industrial Mineral Company' was found to be operational without any licenses or clearances for the mining or the plant. The mining company also didn't hold any mining lease and has been illegally mining thousands of tonnes of minerals from the region.

Stalking and threats to life
On September 27, 2018, Ravishankar took to twitter to talk about this grave incident of threat to her life. She said that on the previous day she had found the petrol tube cut and initially thought of it as an incident of petrol theft. However, only after checking CCTV camera she found out that the men again came back and a man with a helmet alighted from his bike and came near her house. They sped away after about 20 seconds.

https://twitter.com/sandhyaravishan/status/1045503580252205056

Highlighting the callousness of Chennai police, the letter by civil society members noted, "We are particularly disturbed at the manner in which her repeated complaints to Chennai police have not met with the attention they deserve. There has been no satisfactory follow up by police much less any attempt to secure her privacy and protection." About a previous complaint lodged by her, the letter said, "On January 30, 2017, she submitted a complaint about these threats and the harassment she faced to then Commissioner of Police, Mr S George. Despite this, there was no let up in the harassment and, on March 20, 2017, she followed it by with separate complaints to both the DGP Mr TK Rajendran as well as the Chief Secretary Ms Girija Vaidyanathan."

However, the stalking continued and she had to lodge another complaint in September 2017. There had been no progress in that complaint either, the letter added.
Suspicious blog emerges
Last week Ravishankar found that a Twitter handle (@savukku) and a blog report by Savukku (alias of journalist Shankar) which refers to her meeting with a retired police officer and makes wild and unsubstantiated allegations that she was "leaking" information about political party rivalry in Tamil Nadu. What was more disturbing was that a clip of a CCTV video of Ravishankar walking into a cafe in Chennai, and meeting a source, was uploaded on the blog.

Ravishankar filed a complaint with Chennai police and alleged that her own preliminary inquiries with the café owner revealed that the CCTV visuals were procured by the Chennai police at the behest of a senior police officer of DGP rank purportedly close to the miner Vaikundarajan.

Civil Society letter urges Commissioner of Police to take action
The letter added, "It is clear from all these complaints as well as the latest incident, that Ravishankar's harassers are bent on a campaign of stalking and intimidation of her and will go to any lengths to violate her privacy and threaten her safety and security. They have, in the past, openly shared and doxed her personal details and compromised her safety. Despite all her complaints, they have continued to do so with total impunity and secure in the knowledge that their actions will not be investigated into and they will not face any charges for their completely illegal acts."

The letter urged the Commissioner of Police to take "serious and immediate note of these complaints and to direct his officers to investigate the complaints without further delay." Civil society members demanded immediate action against the trolling and harassment she has been facing. They demanded an administrative enquiry be conducted into the record of and publication of CCTV footage of Ravishankar and her protection from further intrusions into her privacy. They asked for a guarantee to provide her safety and security.