From farmers in villages to small traders and labourers in big cities, the cash crunch has taken its toll.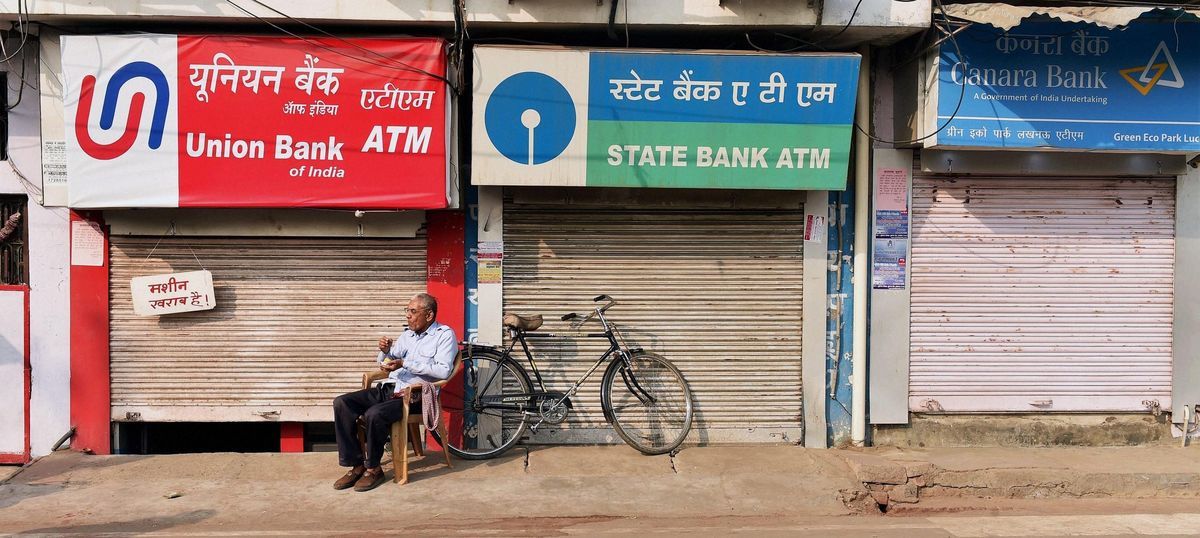 Image credit: PTI
Nearly two weeks since the demonetisation of Rs 500 and Rs 1,000 notes, Indians are still struggling to make sense of the dramatic decision. The most visible impact of the move to make 86% of currency notes in circulation illegal has been the long queues outside bank branches and ATMs across the country as people try to exchange their cash for new notes. But it is slowly becoming clear how this deliberate liquidity crisis is affecting every bit of the economy.

Deepening distress
The network of ATMs in India have a pronounced urban bias. While there are over 2 lakh ATM machines in the country, Reserve Bank of India data shows that at least 70% are in the urban areas. In addition, an estimated 65% of all bank branches are in cities and towns even though 62% of the population lives in villages. As a result, currency notes are taking much longer to reach the rural population, which is dependent on cash for most transactions.
The resultant distress has already begun revealing itself in many ways.

Rural markets and small traders: In rural markets in North India, the demonetisation shock has led to a sharp decline in both supply and demand of commodities. The empty markets have created a vicious cycle. Consumption has gone down due to unavailability of the legal tender.
The decreased demand means that profits of traders and farmers has been hit. Farmers are reluctant to sell their produce for the old notes since they would need the new ones to get ready for the next harvest and exchanging substantial amounts of the old currency was impossible due to withdrawal limits prescribed by the RBI.
Farmers: For farmers, even feeding their cattle has become a huge problem since it has become difficult to buy fodder. In Kerala, milk societies have warned of a marked decline in procurement as there is no cash to pay the farmers. Cashew plantations have stopped paying wages to agricultural labourers. The state's strong network of primary cooperative banks has slo been severely hit by the withdrawal limits.
Elsewhere in Tamil Nadu, the state government said that the disbursement of crop loans to farmers has been affected and this could hurt food production. Coming against the backdrop of the Cauvery water crisis, the cash crunch could cripple farmers of the delta region in Tamil Nadu.
Trucks and cargo: Truck movement has taken a beating, adding to the supply woes. Industry groups say about 60% of trucks plying on roads have been affected by the cash crunch, which means cargo simply isn't getting to its destination.
Labourers and the poor: For industrial labourers, the drying up of cash has meant that their wages were delayed. With withdrawal limit of Rs 50,000 per week for current accounts, businesses that pay wages in cash are strapped. Even in cases where the employers have managed to pay through bank accounts, labourers find it hard to access the money since they could not afford to skip work to stand in queues at banks for hours.
The demonetisation has even affected the eating habits of the poor. Left with no cash, those like the adivasis of Dhasai in Maharashtra are living on bare minimum and have even cut down on consumption of vegetables.
Banks: This is somewhat counter-intuitive, since banks are having to work overtime to handle the huge pressure of having to exchange or hand out money to the vast majority of the population, but this has meant that regular bank business – giving loans, assessing credit-worthiness, clearing cheques – the sort of stuff the economy runs on, has ground to a halt.
Tough road ahead
The sheer scale of demonetisation, aimed at curbing illicit money and fake notes but coupled with an attempt to force people to use the banking system, is hard to comprehend, since the policy affects just about every single Indian citizen and many others too. The Supreme Court on Friday noted with some degree of worry that riots could break out if the suffering due to demonetisation did not abate. Realising this, the government has decided to send more than two dozen teams of two or three bureaucrats to go out on field visits in every state to understand how demonetisation has been affecting them.
Even that might be inadequate. Whatever the aims of the scheme, it is clear its impacts will be massive and hard to predict, since the cascading effects of such a big liquidity crunch could travel deep into the system. Unless cash supply is set right quickly, the distress could deepen. It will take years to fully understand the effects of this shock to the economy, which politicians have insisted is just a "temporary inconvenience".
This article was first published on Scroll.in