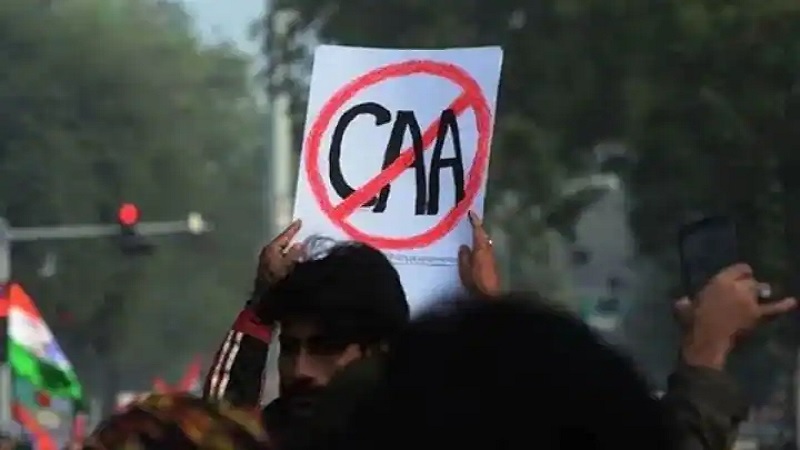 Image Courtesy:abplive.com
The Indian Union Muslim League (IUML) has moved the Supreme Court seeking a stay on the May 28 order of Ministry of Home Affairs (MHA) which empowered 13 districts across three states to grant citizenship to non-Muslim minorities from Afghanistan, Pakistan and Bangladesh, reported Bar and Bench.
When the IUML had sought a stay on the operation of the Citizenship Amendment Act (CAA), being the first body to challenge it, the Centre had submitted that it was not necessary to stay it since the rules under the Act had not been framed. It has filed an IA stating that the Centre "in a roundabout way, and in an attempt to circumvent the assurance given to this Hon'ble Court, have sought to implement their mala fide designs envisaged under the Amendment Act through the recently issued order dated 28.5.2021," reported LiveLaw.
In its application, the IUML has averred that during the pendency of the petition challenging the validity of CAA has gone ahead and issued the impugned order which is manifestly illegal and runs counter to the provisions of the Act.
The plea states that Section 5 (1)(a)-(g) and section 6 of the Citizenship Act read together do not permit the classification of applicants on the ground of religion and therefore the order goes beyond what is permitted by the provision itself. While Section 5 (1)(a)-(g) lays down terms for persons eligible to apply for citizenship by registration, section 6 permits any person (not being an illegal migrant) to apply for citizenship by naturalisation.
The plea further states that if this order is implemented and citizenship is given to persons based on their religion, and further ahead if the court strikes down CAA and the order, then it will be a "herculean task" to take back the citizenship thus granted.
In its May 28 order the Ministry of Home Affairs extended its powers under section 5 of Citizenship Act of registering as a citizen and under section 6 of granting certificate of naturalisation to the District Collector of :
Morbi, Rajkot, Patan and Vadodara in the State of Gujarat ;

Durg and Balodabazar in the State of Chhattisgarh ;

Jalore, Udaipur, Pali, Barmer and Sirohi in the State of Rajasthan ;

Faridabad in the State of Haryana ; and

Jalandhar in the State of Punjab
The order also sets out procedures for application and eventual verification. The applicant belonging to a minority community as deemed by the Citizenship Act and hailing from Afghanistan, Pakistan or Bangladesh has to apply for citizenship online and the verification of this application shall be done by the Collector at district level or the Secretary at the state level.
Related:
US Government lambasts India on Freedom of Religion
Give online applications for Indian citizenship under CAA: MHA
Seven Years of Narendra Modi in power