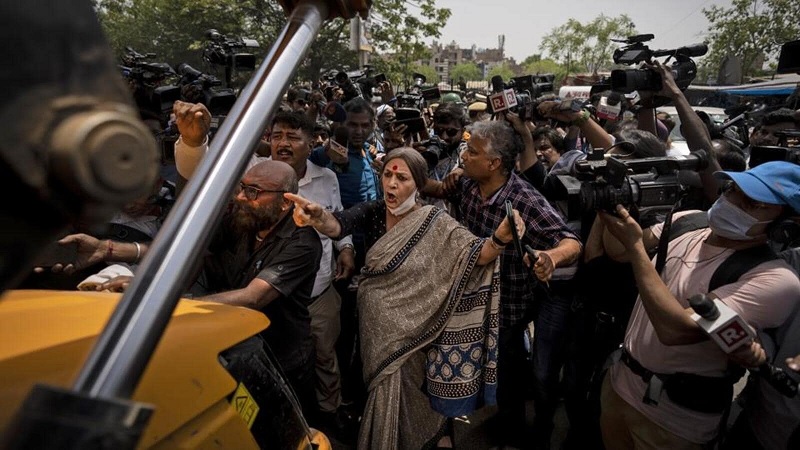 Image Courtesy:hindustantimes.com
A day after she stood in front of a bulldozer during a demolition drive in Jahangirpuri in Delhi, 74-year-old activist, politician and feminist Brinda Karat is once again leading the way in defending the rights of the dispossessed. She has now moved a petition against the demolition drive calling the action of the municipal corporation "absolutely and manifestly arbitrary and without following any due process of law."
As per excerpts of the petition shared by LiveLaw, Karat has further submitted that the "Jahangirpuri demolition drive in the guise of encroachment removal is immediately after the unfortunate incident (that) occurred in Jahangirpuri on 16th April." Karat went on to refer to findings of a CPI (M) fact-finding team, and that she had written to the Commissioner of Police about "the prejudiced and discriminatory approach of the police." Calling the demolition drive a "communal political game plan", Karat said that the drive was "totally in violation of principles of natural justice and statutory provisions".
The petition was filed through advocate Biju P Raman and the Court.
On Tuesday, Brinda Karat stood tall before a bulldozer at the site of the demolition drive in Jahangirpuri. It is noteworthy that communal violence had broken out in the region on Saturday when a Hindutva procession passed by a mosque on the occasion of Hanuman Jayanti. In the aftermath of the violence, the police arrested 14 Muslims. Though Prem Sharma, a member of the Vishwa Hindu Parishad (VHP) was also arrested, the police later withdrew their initial statement, allegedly under pressure from the VHP.
Fresh violence also broke out on Monday, the same day the Municipal Corporation of North Delhi had written to the Delhi Police asking them for 400 police personnel including women officials for maintaining law and order during a two-day demolition drive to remove encroachments. On Wednesday, April 20, 2022, the Supreme Court ordered that status quo be maintained till an urgent PIL against the demolitions was heard today. But the demolition drive continued despite this order; the insisting that they would stop the demolitions when they got a copy of the order.
The said PIL was being heard at the time of publishing this story.
Related:
Brinda Karat stands tall in front of bulldozers at Jahangirpuri's Tiananmen square moment
Jahangirpuri Violence: 14 Arrested, all from the minority community, main accused a minor?
Delhi police books VHP leader for illegal rally at Jahangirpuri
Fresh violence reported from Jahangirpuri
Jahangirpuri: "Peace" on the ground, but what about the fear in the hearts?
How will Delhi Police respond to VHP's threat?