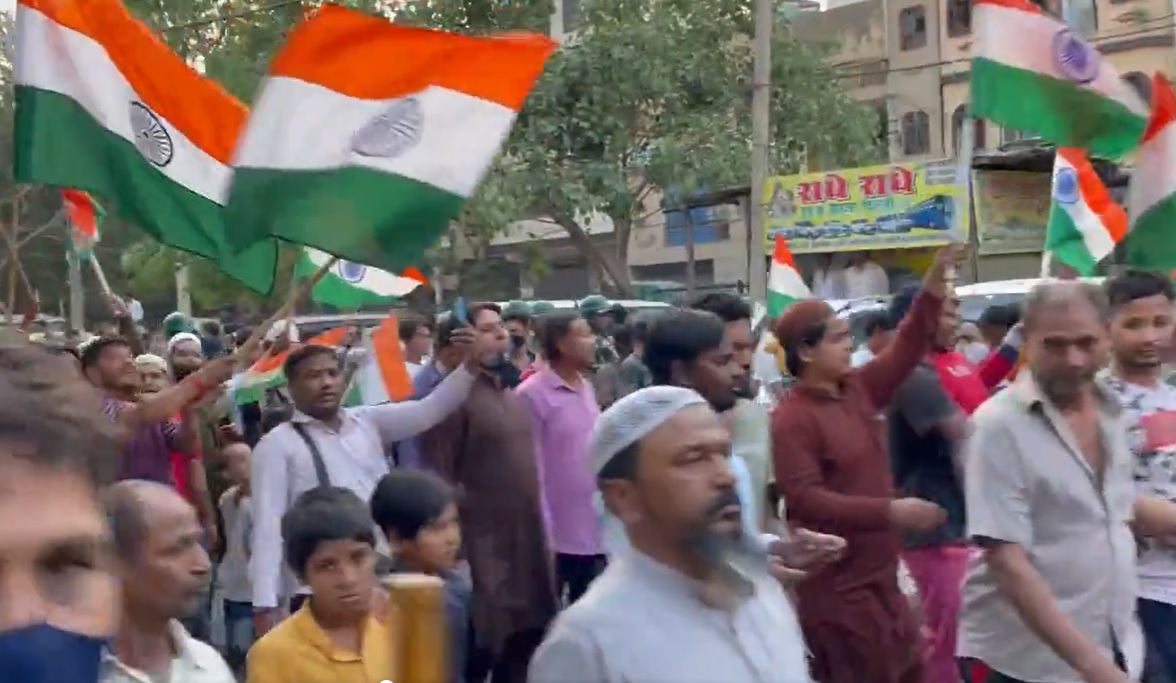 The "Tiranga Yatra' on Sunday, was a public appeal for peace and brotherhood. Hindus and Muslims walked together, holding the National Flag, a week after communal clashes sent shockwaves in Jahangirpuri area. Many residents have also lost businesses and have seen their homes and shops demolished in the sudden demolitions that were ordered by the municipal authorities.
"Bhai chara badana hai, sab ko sikhana hai," Hindus and Muslims, walked shoulder to shoulder, talking of peace and harmony. The yatra or march gathered strength on
People from two communities gathered and walked along the lanes of the area. They were cheered on by even more people who watched from the sidewalks, windows and roof top. Media and police personnel walked alongside the peace marchers, including children, who waved the national flag and appealed for peace and harmony. Some told the media that the area has never witnessed any communal clashes before and they were marching to restore the feeling of brotherhood that may have been damaged. Others recalled that they were a part of the Hanuman Jayanti Shobha yatra and were here again on Sunday in solidarity with their Muslim brothers. According to news reports, some carried a portrait of Dr BR Ambedkar.
People from all communities took out a Tiranga yatra in riot-hit #Jahangirpuri, #Delhi on Sunday. (Video by Gajendra Yadav) pic.twitter.com/FrgNWVdMAl

— The Indian Express (@IndianExpress) April 24, 2022
The procession had been announced earlier on Sunday and a buzz had built around it. It was held on Sunday evening amid tight security arrangements. According to news reports Usha Rangani, DCP North-West, told news agency ANI that the police had "organised a joint peace committee constituting members of both communities. They proposed to organise a 'tiranga yatra' in Jahangirpuri and appeal to the people to maintain communal harmony. Fifty people from both communities participated in the yatra."
A Tiranga Yatra was carried out by both the communities at #Jahangirpuri New Delhi to promote peace, harmony and equality in the country. @TheCognate_ pic.twitter.com/JoONkpuy8b

— Ghazala Ahmad (@ghazalaahmad5) April 24, 2022
Another news report quoted a local resident Tabrez Khan, who said "We want to live in harmony. We will ensure such incidents are not repeated. We request the police to reduce force and barricade." another resident Inder Mani Tiwari added "please do not believe in rumours. Communal clashes have happened here for the first time. We must ensure they are not repeated".
According to a report in India Today, locals showered flower petals and hoisted the national flag on their houses too. Residents of the most affected "C, B, and D Blocks of the area were also seen sending a message of communal harmony." stated the report. According to a report in Hindustan Times, "Block C were allowed to exit the block as police lifted some blockades that were earlier put up after the violence broke out."
Related
Evolution of Bulldozer Injustice
Eye witness account from the broken heart of Jahangirpuri
Jahangirpuri demolition drive: Brinda Karat walks the talk yet again!
Jahangirpuri: Navika Kumar, Anjana Om Kashyap demolish media credibility further