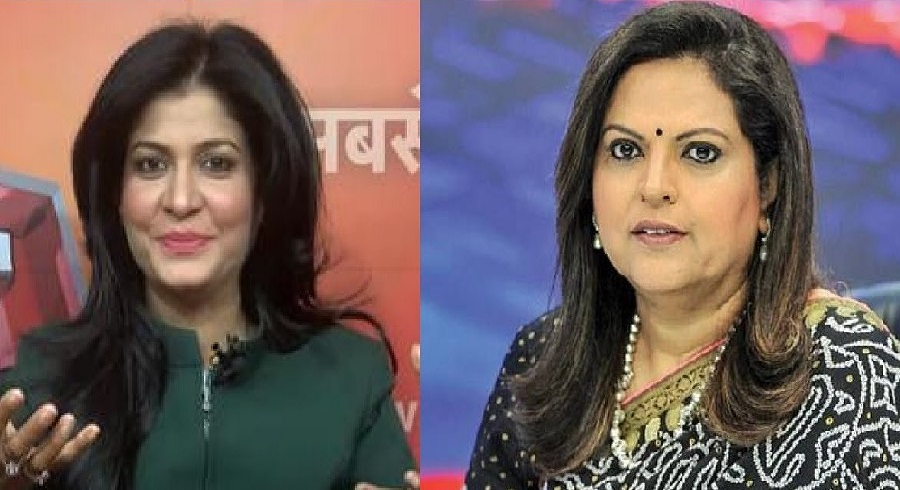 It was not just the shops, homes, places of worship that were destroyed by the North Delhi Municipal Corportaion's sudden demolition drive in communally sensitive Jahangirpuri. The JCB's and bulldozers also exposed, brick by brick, the viciousness of what has come to be known as 'godi media', or journalists who sit in the laps of powers that be. Some came out of their air conditioned studios, once again, for a ring-side view of the suffering of the poor. Others chose to stay in the air conditioned environs and share their sheer delight at the destruction going on. They even glossed over the fact that there were many Hindu residents who stood in solidarity with their Muslim neighbours, and both suffered economic losses.
Leading from the front of what is a lesson on how not to be a journalist conversing ground zero was Aajtak anchor Anjana Om Kashyap. Reporting live next to a JCB, she began by asking if she could ride in it. That space apart from the driver of the earth mover and demolition machine is for the officials sent to carry out the demolition. That Kashyap wanted to be at the vantage point of the administration reveals another layer of her style of '"reporting live". The delight of bringing what she said were "live images from the crane that is going to demolish illegal construction". That she had decided the status of the constructions even as the matter is in court may have its own implications.
Fourth Pillar of Democracy is part of Demolition of "Mera Bharat Mahan". #StopBulldozingMuslimHouses pic.twitter.com/OVRRAHWxGk

— Mohammed Zubair (@zoo_bear) April 20, 2022
Fire will break out and houses will be hit hard
Our house is just a little bit here.
Madam! I am a Hindu
Anjana Om Kashyap!Have to walk from here.
This person's voice and voice is saying that "I am a Hindu" The bulldozer sees Dharma and walks away.#StopBulldozingMuslimHouses pic.twitter.com/5nsrzrpYLf

— Ammar Akhtar farooqui (@Ammarakhtar81) April 20, 2022
While Anjana Om Kashyap was on the ground cherry picking who she wanted to speak to, ignoring the Hindu residents speaking of amity, and detailing the JCBs putting down structures in a frame by frame commentary, Navika Kumar, Kashyap's tv anchor colleague from the rival Times Now, was having "fun" on Twitter.
Dramatic increase in demand for bulldozers. Are we increasing domestic capacity for manufacturing or will we have to depend on imports?? #JustAsking. ????

— Navika Kumar (@navikakumar) April 20, 2022
She could not help making a 'destruction joke'. Kumar was then chastised by thousands of responses, not just from journalists, but even general users. She of course did not issue an apology nor take this offensive tweet with 'funny' emojis down.
The emojis at the end of this&the tweet is insensitive Navika.
I am certain you also have worked a lifetime to build four walls that you call home. Don't mock someone's poverty&their pain. Violence was wrong, let law make the pronouncement of that punishment not a bulldozer. https://t.co/60qM5KoD1v

— Priyanka Chaturvedi?? (@priyankac19) April 20, 2022
You are a sick person, Navika. It takes a lifetime to build four walls you call Home. https://t.co/ff0yg4zW7Y

— Rahul Pandita (@rahulpandita) April 20, 2022
She did a full show later with the hashtag "BulldozerJustice". She justified the demolition calling it a "precision strike on illegal structures" and said Hindu groups 'took the initiative' to voluntarily remove the encroachment structure of the local temple, while the Mosque had not. She then said Brinda Karat 'made a beeline to Jahangirpuri claiming vendetta against one community'. Navika is still trending for her 'bulldozer joke', 24 hours after her initial comments.
5 days after yatra was ambushed, 7 bulldozers clear encroachment.

'No discrimination' in demolition, but Opposition slams 'JCB of hate'

BJP justifies bulldozer crackdown, propaganda of ecosystem 'razed'.@thenewshour with @navikakumar pic.twitter.com/LPkyvxYR4o

— TIMES NOW (@TimesNow) April 20, 2022
Other journalists predictably added their two bits to the online commentary.
One hopes that the bulldozers at #Jahangirpuri will go beyond roadside mobile carts and clear out actual encroachment. pic.twitter.com/xdnMuSdZcS

— Abhijit Majumder (@abhijitmajumder) April 20, 2022
Exact spot where the #HanumanJayanti procession was attacked with stones in Jahangirpuri of Delhi. Illegal encroachments being removed. Supreme Court has stayed the demolition drive but written orders yet to reach local authorities.

— Aditya Raj Kaul (@AdityaRajKaul) April 20, 2022
Related:
Brinda Karat stands tall in front of bulldozers at Jahangirpuri's Tiananmen square moment
Jahangirpuri demolition drive: Do Supreme Court orders mean nothing to the BJP ruled Municipal Corporation?
Bengali Hindu refugee families allotted land in UP, while homes of Bengali Muslims face demolition in Delhi, Assam
72 percent of Mumbai's mosque hold off on loudspeakers
Karnataka: Court directs FIR against hate-monger, Chandru Moger
Mob sets three houses ablaze in Agra over interfaith relationship
Karnataka: Muslim man beaten up for travelling with Hindu woman