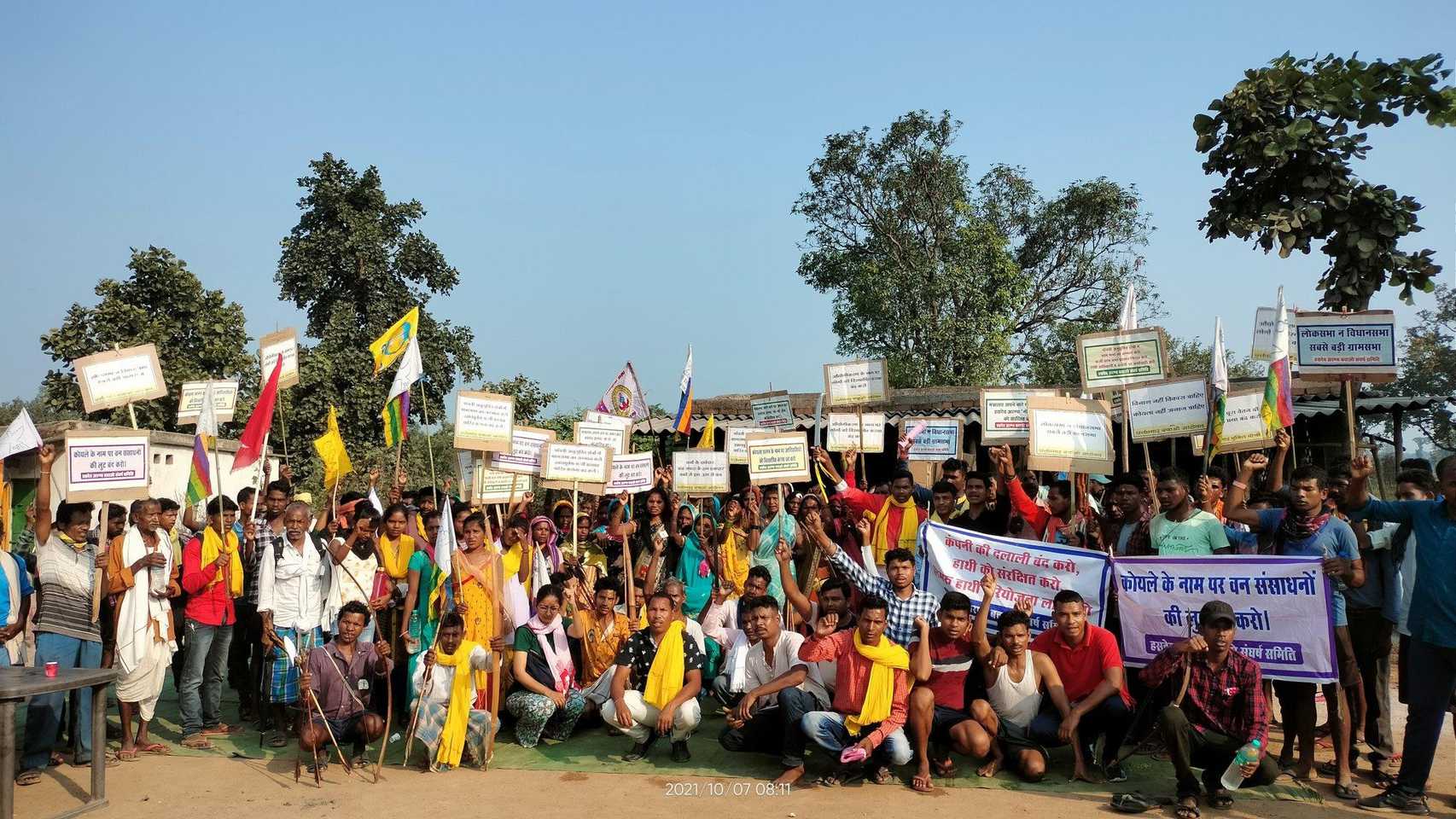 Considered the lungs of Chhattisgarh, Hasdeo Arand is a vast stretch of 1.7 lakh hectares of forests. But now, its biodiversity and ecosystem are in peril, as is a traditional elephant habitat within it. Also in peril are the livelihoods and villages of several Adivasis (India's indigenous tribal communities), all due to proposed coal mining projects in the area.
350 tribals started marching nine days ago, from Chhattisgarh's Sarguja and Korba districts, walking towards Raipur, seeking meetings with Governor Anusuiya Uike and Chief Minister Bhupesh Baghel, so that they can bring all this to their attention.
The Adivasis are opposing the proposed coal mining projects in Hasdeo Arand region which they say endangers the forest, in which also lies a catchment area for Hasdeo and Mand rivers, which irrigate the northern and central plains of the state.
There are 23 coal blocks on Hasdeo Arand, though this area was categorised as a no-go zone for mining as it has a rich forest cover.
Hasdeo Aranya Bachao Sangharsh Samiti is a joint platform of the protesters, and they say, that despite their protests six coal blocks have been allocated out of which Parsa East and Kete Basan (PEKB) block, and Chotia-I and -II block have started operations.
PEKB is being mined by the Adani Group as Mine Developer and Operator (MDO) with Rajasthan Rajya Vidyut Utpadan Nigam Limited (RRVUNL); and Chotia block is mined by Bharat Aluminium Company Limited (BALCO) of the Vedanta Group. Parsa and Kete Extension blocks were allocated to RRVUNL with Adani Group as the MDO, and Gidhmuri Paturiya block to Chhattisgarh State Power Generation Company Limited, with Adani Group as MDO. Madanpur South block has been allocated to Andhra Pradesh Mineral Development Corporation, with Aditya Birla Group as MDO, reported Indian Express.
The notification under Section 7 of Coal Bearing Areas (Acquisition and Development) Act, 1957, was issued on December 24, 2020 by the Ministry of Coal, and the Ministry received more than 470 objection letters, including those from the state government. Though compensation was announced for the villagers, the Adivasis say that money does not compensate for loss of what has been their traditional habitat for generations.
The protestors claim that the environment clearance was given, and the lands were acquired, without the Gram Sabhas' consent. But as per the Ministry, consent of Gram Sabhas is not necessary under the Act.
28-year-old Muneswar Singh Porte, said he has grown up witnessing protests and how villagers from neighbouring Korba district had struggled to get by after giving up their land for coal mining in the 1970s. "The houses they are given are very small, those who got jobs are paid very little – and most did not even get jobs," Porte told Reuters.
"Governments — both at the Centre and in the state — have been going against people. For environment clearance in Parsa, forged documents and wrong information has been submitted to the ministry," Umeshwar Singh Armo, a leading member of the Samiti told Indian Express.
A video of one of the Tribal women surfaced on Twitter, where she can be heard saying that they are marching to Raipur to reclaim their rights to their land and that they will not leave their homeland:
#Chattisgarh Adani group is snatching our homes, forest land where we are living from since 8 generations, where will our children go, we will protest in Raipur, govt should stop Adani company & return us our homes & our place" ..#SaveHasdeo pic.twitter.com/sUFwi6fk4Q

— The Dalit Voice (@ambedkariteIND) October 11, 2021
Government research advises against mining
The Indian Council of Forestry Research and Education's assessment of the Hasdeo Arand region concluded, "Mining related land-use changes will harm forest cover/density, forest type, and forest fragmentation. In addition, forest fragmentation will contribute to decreased patch/corridor connectivity, increased edge effect, change in micro-climate and promote invasive species if not taken adequate mitigation measures."
The study was commissioned by the National Green Tribunal (NGT) in 2014 after clearance was given to PEKB block. The study further observed that infrastructure development and mining will harm the quality of habitat due to fragmentation and mitigation, which will be a huge challenge, reported Hindustan Times.
Related:
Dilution of environmental laws, a persistent tactic: AIUFWP
India farmers, Adivasis and forest dwellers condemn FCA draft changes
Forest Conservation Act: GoI suggests fundamental changes Act, despite widespread objections