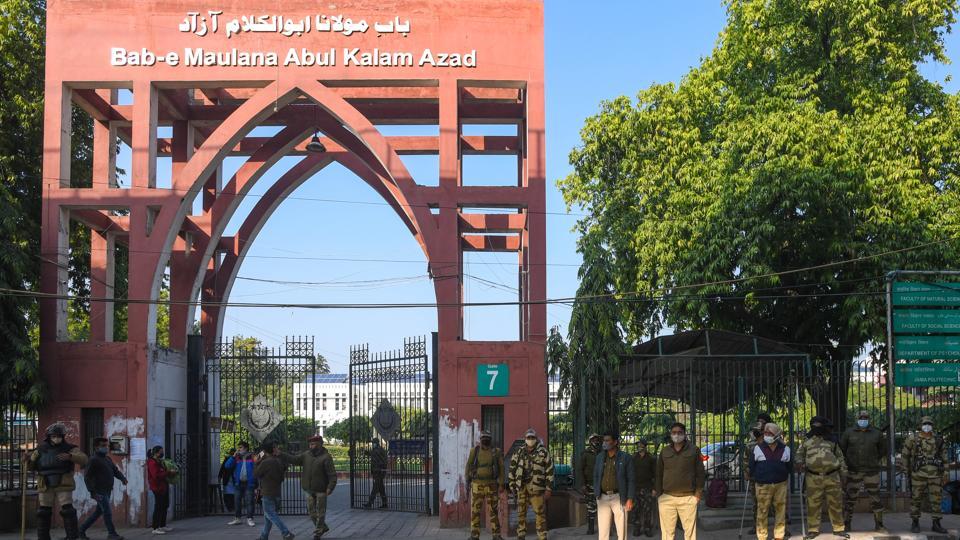 Scores thronged the Press Club of India on Wednesday, December 15. Most were students and journalists who had come to listen to author Arundhati Roy and other activists share their thoughts and mark the second anniversary of the police attack on Jamia Millia Islamia during the anti-CAA protests. The meet was crucial, one of the many that is being held to ensure that the memory of December 15, 2019, is kept alive.
On the panel besides Arundhati Roy, were activists Nodeep Kaur, Banojyotsna Lahiri, Farah Naqvi, Radhika Chitkara, Fawaz Shaheen, Farzana Yasmeen, student leaders Akhtarista Ansari and Anugya Jha. Speaker after speaker called out the government's inaction, and demanded that the "police officials who ordered and conducted raids on the protesting students in Jamia as well as Aligarh Muslim University should be brought to justice".
Author Arundhati Roy compared Citizenship Amendment Act (CAA) and National Register of Citizens (NRC) to Hitler's Nuremberg law, and said "Jamia, AMU and JNU students were attacked because they stood up against these laws," adding that the Rashtriya Swayamsevak Sangh (RSS) has taken over the national institutions.
What had happened that day at Jamia Millia Islamia University?
Police virtually laid siege to the Jamia Millia Islamia University (JMIU) campus in New Delhi for several hours. It began in the afternoon when a group of students were holding marches and demonstrations against the Citizenship Amendment Act (CAA) in neighbourhoods such as Mathura Road, New Friends Colony, Jamia Nagar and Sarai Julena, located near the university campus. That's when police allegedly cracked down on protesters who were at least hitherto protesting peacefully. Police allege that the protesters started pelting stones and also allegedly set on fire six buses and 50 other vehicles. The police then allegedly forcibly entered the university campus and unleashed brutality on unarmed students for hours.
Radhika Chitkara from the People's Union for Democratic Rights (PUDR) recalled the fact finding report of the union, and alleged, "The police used excessive force with the aim to inflict maximum harm on the Jamia students and people living in the neighbouring areas."
Fawaz Shaheen recalled the night of December 15 when police had stormed into the campus, and only gave them permission "when we told them that we need to get medical aid for students," reported Clarion. Farah Naqvi stressed on the need to speak out, and the role of fact-finding reports and fearless journalism, saying that the reports were challenged in court by the Centre, but with that "they basically challenged the truth."
According to the report, survivor Akhtarista Ansari, alleged that Jamia campus, was targeted because of its Muslim minority status, "They barged inside the campus and attacked students who were offering Namaz inside the masjid. The police used foul language against Muslim students." Ansari added, "We should remember that Sharjeel Imam is in jail for coming up with the model that made farmers protest successful."
Labour rights activist Nodeep Kaur called for support and solidarity among protest movements, while activist Banojyotsna Lahiri termed the attack on Jamia and AMU a "winter of despair" and the subsequent Shaheen Bagh sit-in a "spring of hope".
Jamia Millia Islamia graded A++ by National Assessment and Accreditation Council
Interestingly this meet was on a day when the news that Jamia Millia Islamia got an A++ rank in the National Assessment and Accreditation Council (NAAC) review, was also making the rounds. This is the highest rank given to an institution based on various parameters, including research, infrastructure, learning resources, evaluation, innovation and governance. A NAAC peer team reportedly conducted a review between December 6-8, 2021.
All the students who were injured are moving on with their lives: VC
On the day that marked two years of violence against students by police personnel at Jamia Millia Islamia, Vice-Chancellor Najma Akhtar told the media that the grade was an "aggressive answer" that the university "had not lost that day". She said "It is a day to remember for us but we are alive despite that, we have moved forward despite it. All the students who were injured are moving on with their lives. So we will not reduce our happiness… If we had become demoralised that day, we would have lost… This was an aggressive answer that we did not lose that day, and we will not lose in the future too."
She added, "Agar koi nainsaafi humare saath hui thi to uska jawab hum de rahe hain… Ye ek sabhya samaaj ka jawab hai, aur asabhya hote to hum bhi jawab de sakte the (If there was any injustice done against us, this is our answer to it. This is the answer of civil society. If we were uncivil, we could have answered differently),"as quoted in the Indian Express.
The Vice-Chancellor stated that, "This milestone for the university reflects the sheer hard work and untiring effort by all members of the university including the teachers, non-teaching staff, students and alumni. I personally extend my deep gratitude to all of them and hope that we will not only maintain this grading in the future but will also keep on working hard to improve our performance in academic, research and other areas."
Akhtar said with the New Education Policy (NEP) coming in, the grade would "make a lot of difference in the confidence of the universities," adding, "It's not only Jamia which is going to be confident, it is also the other universities because they can see that if they work in the right direction… They will be able to achieve the best rank."
Related:
JMIU students asked to sign declaration that says police didn't enter hostel
Social Media counter FM comments, shows ABVP member in police gear