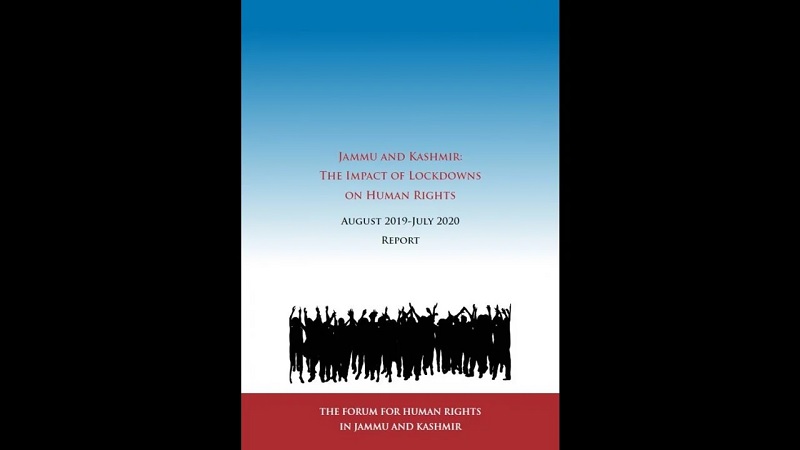 Image Courtesy:newsclick.in
The Forum for Human Rights in Jammu and Kashmir, has recently released a comprehensive report on the many human rights violations that continue, in the Union Territory. The forum comprises concerned citizens from across the country, who believe that, in the prevailing situation in J&K there is a need for an independent initiative to keep track of, record and share the continuing human rights violations.
This report has been compiled after studying citizens' replies to questionnaires sent by the Forum, government sources, media reportage, as well as reports and evidence collected by NGOs, fact- finding reports, and through public interest writ petitions. The forum also cites information received from industry bodies such as the Kashmir Chamber of Commerce and Industry. The report was made in the midst of the nationwide Covid-19 lockdown.
The forum's members are distinguished citizens who are world renowned in their respective fields. The forum is co-chaired by: Justice Madan B. Lokur, former judge of the Supreme Court of India, and Radha Kumar, former member, Group of Interlocutors for Jammu and Kashmir. The members are: Justice Ruma Pal, former judge of the Supreme Court of India,
Justice AP Shah, former Chief Justice of the Madras, and Delhi, High Courts, Justice Bilal Nazki, former Chief Justice of the Orissa High Court, Justice Hasnain Masoodi, former judge of the Jammu and Kashmir High Court, Justice Anjana Prakash, former judge of the Patna High Court, Gopal Pillai, former Home Secretary, Government of India, Nirupama Rao, former Foreign Secretary, Government of India, Probir Sen, former Secretary-General, National Human Rights Commission, Amitabha Pande, former Secretary, Inter-State Council, Government of India, Moosa Raza, former Chief Secretary, Government of Jammu and Kashmir, Hindal Haidar Tyabji, former Chief Secretary, Government of Jammu and Kashmir, Shantha Sinha, former chairperson, National Commission for the Protection of Child Rights, Lieutenant-General H S Panag (retd), Major-General Ashok Mehta (retd), Air Vice-Marshal Kapil Kak (retd), RD Sharma, former Vice Chancellor of Jammu University, Enakshi Ganguly, Co-founder and former Co-director, HAQ Centre for Child Rights, Ramachandra Guha, writer and historian, and Anand Sahay, columnist.
The report's executive summary recalls the total lockdown announced in J&K on August 4, 2019. Around "38,000 additional troops were flown in to enforce the lockdown," markets, educational institutions and all public spaces were closed, internet and telephone services were snapped, curfew was declared, public assembly was prohibited under Section 144 of the Code of Criminal Procedure, 1973 (CrPC).
The next day, August 5, cites the report, "The President of India voided all clauses of Article 370 of the Indian constitution and suspended the Jammu and Kashmir constitution… Thousands, including minors and almost all the elected legislators of Jammu and Kashmir (excluding those belonging to the BJP), were put under preventive detention." Five days later, the Parliament of India passed the Jammu and Kashmir Reorganization Act, dividing the state into two Union Territories, of Jammu and Kashmir, and Ladakh. According to the human rights report: "In the months that followed, national political figures were denied permission to enter the former state and were turned back from Srinagar airport."
The economic, social and political impact of these actions, and their long duration – eleven months thus far – have been disastrous, it states. It also highlights that forums to address issues concerning human rights, women and child rights, anti-corruption and the right to information, "were closed when the state was divided into Union Territories, and the Union Government decided not to reinstate them, even though Union Territories too are entitled to independent statutory bodies for oversight."
It states that there has been a "near-total alienation of the people of the Kashmir valley from the Indian state and people." The report is an attempt to "to document the numerous human rights violations in the former state over the past eleven and a half months (August 4, 2019 to July 19, 2020) under five broad heads: civilian security, health, children and youth, industry and media.
Some of its findings are:
• Counter-insurgency concerns have been given absolute priority over public, civilian and human security, leading to an across-the-board violation of human rights, including the vitiation of protections such as habeas corpus, prevention of illegal detention and strict restrictions on arrest and detention of children. There has been denial of the right to bail and fair and speedy trial, coupled with misuse of draconian legislation, such as the Public Safety Act (PSA) and the Unlawful Activities Prevention Act (UAPA), to stifle dissent.
• Harassment at barricades and checkpoints, and restrictions on mobile telephony and internet connectivity, have enormously impacted public health, and caused trauma and stress amongst the people of Jammu and Kashmir, violating the rights to health and medical care under the Indian, and Jammu and Kashmir, constitutions. The rights of children to a trauma-free environment have been arbitrarily ignored.
• The impact on education has been particularly severe. Schools and colleges functioned for barely 100 days between 2019 and 2020 (the bulk of which were pre-August 2019). After the COVID-19 pandemic lockdown, the limiting of networks to 2G has made it impossible for online classes to function adequately.
• The local media has been one of the worst sufferers. Journalists have been harassed and even had draconian charges slapped on them, for example under the UAPA. Their content, readership and revenues have suffered such a sharp decline that dozens of journalists have lost their jobs. The new media policy, which introduces censorship by the Directorate of Information and Public Relations (DIPR) in coordination with security agencies, is a death blow to the freedom of the press and the freedom of expression.
The Kashmir Human Rights Report recommends:
1. Release all remaining political detainees who were taken into preventive detention on or after August 4, 2019. Repeal the PSA and any other preventive detention legislation, so that they cannot be misused against political opposition, or amend them to bring them in line with our constitutional ethos. Release all detained juveniles and withdraw charges against them. Initiate enquiries followed by criminal and civil actions against personnel of police, armed forces and paramilitary forces found guilty of violation of child rights. Withdraw charges under the UAPA against journalists and activists.
2. Balance security considerations with public interest, giving utmost consideration to humanitarian concerns involving the population and eliminating hindrances to the welfare and well-being of the people. Curb the application of Section 144 to only those instances in which there is clear and present danger. Restore in practice the humanitarian guidelines to be followed when conducting Cordon and Search Operations (CASO), to prevent civilian deaths, injuries or any other damage or loss, and adequately compensate innocent citizens whose houses have been destroyed in Cordon and Search Operations.
3. Ensure that police and paramilitary forces at checkpoints allow smooth passage for medical personnel and patients. Where patients lack transport to hospital, provide aid by making vehicles available. Hold police and paramilitary personnel who harass civilians at checkpoints accountable and initiate appropriate disciplinary action.
4. Restore 4G internet and mobile services in toto. Noting that Jammu and Kashmir has below average access of children to online facilities (see section on children and youth, make additional efforts to provide access for such children.
5. Reinstate all the former state's statutory oversight bodies, especially those monitoring human rights, such as the Jammu and Kashmir Human Rights Commission and the Jammu and Kashmir Women and Child Rights Commission.
6. Rollback the new media policy and encourage all shades of opinion to be freely and peacefully expressed, as the laws apply in every part of the Indian Union.
The report may be read here: