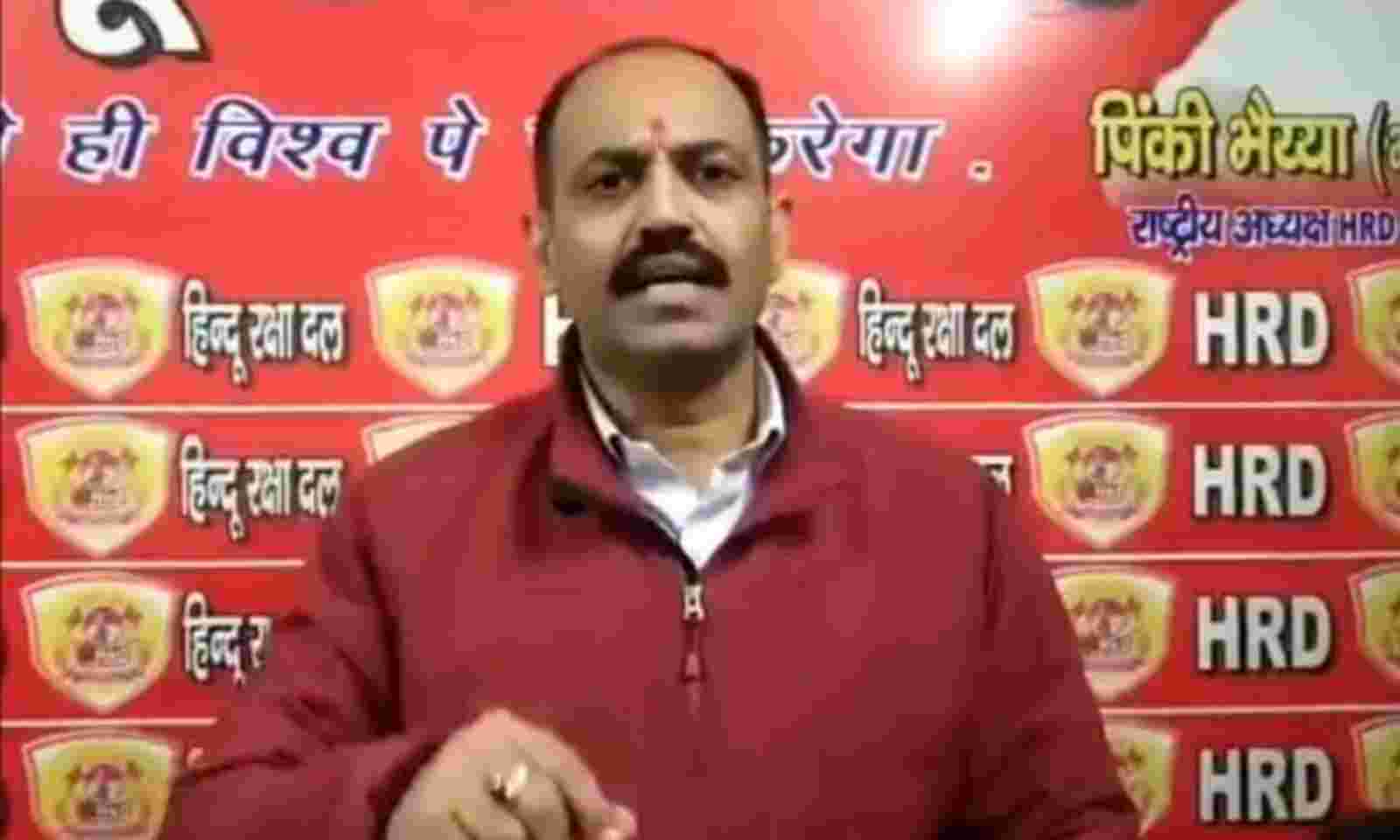 Bhupender Tomar, the Hindu Raksha Dal President commonly known as Pinky Chaudhary, has been granted bail by a Metropolitan Magistrate court in connection with the case of chanting communal slogans at Jantar the Jantar Mantar at a rally on August 8. Chaudhary has a history of inciting hate and violence against the Muslim community. Notably, he was denied pre-arrest bail by a Sessions Court in Delhi on August 21. Thereafter, he was arrested by Delhi Police after his "supporters" dropped him off at a Delhi police station in great pomp and show to surrender.
Chaudhary was denied pre-arrest bail by Additional Sessions Judge, Anil Antil, who perused the video clippings of Chaudhary's interview and observed that it was "impregnated with high octane communal barbs, laced with inflammatory, insulting and threatening gestures, ex facie indicative of the calculative design on the part of the applicant to promote hatred and ill will amongst other section of the community."
While upholding freedom of speech, the court had stated that the right cannot be extended to acts prejudicial to maintenance of peace, harmony and public order, and nor can it be permitted to invade or erode the secular fabric of our society. "In the garb of libertarian concept of free speech, the applicant cannot be allowed to trample the constitutional principles which promote inclusiveness and common brotherhood," the court had said.
Background
Chaudhary and the other accused Deepak Singh, Preet Singh and Vinod Sharma had allegedly called for the slaughter of Muslims on August 8 as part of a rally organised by Supreme Court lawyer Ashwini Upadhyay under the "Bharat Jodo Movement" against colonial-era laws in the country. In an area that is supposedly a high security zone, just a few kilometres from the Parliament, slogans like "Jab M***e Kate Jaenge, Ram Ram Chillaayenge" were chanted that have been recorded and widely circulated online.
Arguments
The counsel for the accused argued that he had been falsely implicated, and that he neither organised any protest nor was involved in raising inflammatory slogans. He submitted that the accused is no longer required for the interrogation and since other accused have been released on bail, the accused should also be released on grounds of parity.
The prosecutor argued that the act, committed by the accused/applicant, is prejudicial to national integration and communal harmony. He also submitted that the accused has criminal antecedents and is thus not in parity with the other accused who have been released on bail.
Court's findings
While granting bail to co-accused Preet Singh, the Delhi High Court had noted that he left the spot at around 2:00 P.M whereas the inflammatory slogans were raised at around 4:00 P.M on the location, and that he was no longer required for custodial interrogation.
Based on these observations, the court observed that Chaudhary left the spot of meeting at 1:29 P.M and is also not required for interrogation and hence, on grounds of parity with Preet Singh, Chaudhary be granted bail.
Chaudhary was thus granted bail, to be released on his furnishing bail bond in the sum of Rs.50,000/- with two sureties in the like amount on the conditions that he will not tamper with evidence, or commit a similar crime or leave the country.
The order may be read here:
Related:
Court reminds hate mongers, India is not a Taliban State
Hate Watch: Pinky Chaudhary gets grand send-off as he surrenders
Jantar Mantar hate speech case: Delhi HC grants bail to accused Preet Singh