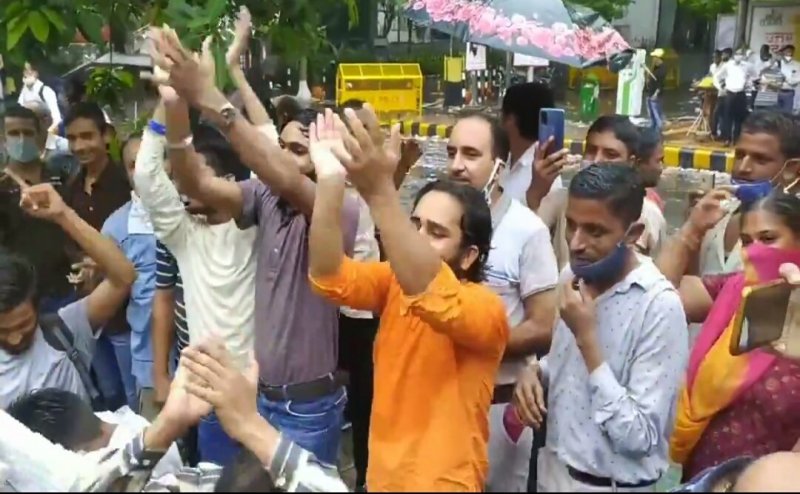 A Delhi court has denied bail to accused Vinod Sharma, president of Hindu outfit Sudarshan Vahini, in connection with the anti-Muslim sloganeering at Jantar Mantar in August.
The Indian Express quoted the ASJ saying, "he may not be the person who was directly delivering those inflammatory/hatred speeches; however, he was instrumental in organising the protest at Jantar Mantar".
The court held that this was evident from the material placed on record, like banners and posters, on which Sharma's mobile number and photographs are printed with a call to his supporters to join the protest.
Sharma's lawyer Rajat Aneja reportedly argued that the former and other Hindu outfit members have been implicated in a cooked-up story and that the viral video of the alleged incident is an edited record prepared by the Delhi Police to maliciously prosecute them.
On the other hand, Additional Public Prosecutor, S K Kain, appearing for Delhi Police reportedly contended that the accused, with his associates, conspired to use the Jantar Mantar event to create communal disharmony and to give communal colours to their illegal designs, and that they persuaded the youth of the society to propagate against a particular community despite knowing the fact that the sanction to gather at Jantar Mantar for the procession has been refused by the competent authority.
On August 8, some alleged accused called for the slaughter of Muslims as part of a rally organised by Supreme Court lawyer Ashwini Upadhyay, demanding the repeal of colonial-era laws in the country.
The group Sudarshan Vahini has been advocating for the accused who have been jailed for their alleged role on August 8 on social media platforms. On August 24, the outfit posted on Facebook that some members went to the Collector's Office and submitted a memorandum in the name of the President and Prime Minister of India, demanding the release of National President Vinod Sharma and his companions.
Earlier on August 12, the Metropolitan Magistrate, Udbhav Kumar Jain, had also dismissed Sharma's bail plea along with Deepak Singh, Preet Singh, and ruled, "Freedom to express oneself is indeed allowed to be enjoyed by the citizens to the fullest possible extent, yet with every right there is a corresponding duty attached. The principle behind Section 153A (Promoting enmity between different groups on grounds of religion, race, place of birth, residence, etc) IPC is to preserve religious/communal harmony and it is the duty of every citizen that while he enjoys his right to express himself, he preserves religious harmony. This indeed is the positive aspect of Secularism."
The court had noted that the slogans raised on August 8 were scathing, which were "undemocratic and uncalled for from a citizen of this country where principles like Secularism hold the value of basic features imbibed in the Constitution." Vinod Sharma has been lodged in Tihar jail since August 10.
Related:
Delhi Court rejects bail pleas of three accused in the anti-Muslim sloganeering in Jantar Mantar rally
Preet Singh involved in incendiary speech: Delhi court denies bail