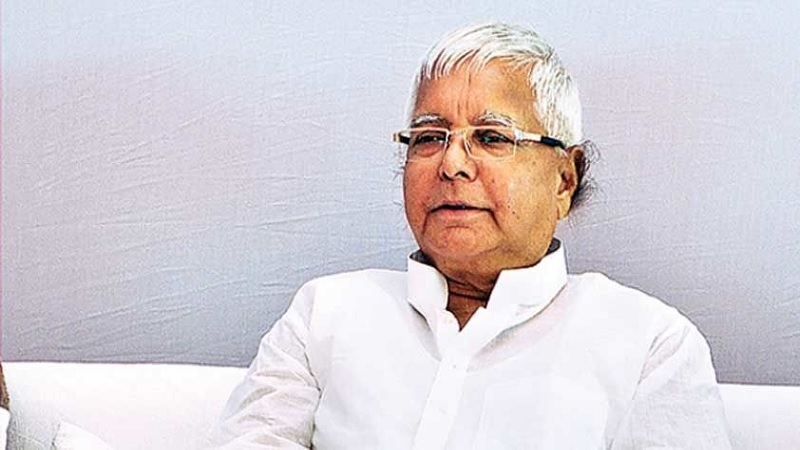 Image Courtesy:livelaw.in
Rashtriya Janata Dal (RJD) President, Lalu Prasad Yadav has been granted bail in the Dumka treasury case where he was convicted for withdrawing Rs. 3.13 crore from the treasury in Dumka city in Jharkhand, formerly in Bihar. Senior Advocate Kapil Sibal with Advocate Adit S Pujari represented Yadav.
As per an IE report, the High Court had rejected Lalu's bail plea in the Dumka treasury case in February this year and had said that he has to serve two more months in jail to complete half of the tenure of his total sentence. After reapplying for bail, he was granted relief today.
Justice Aparesh Kumar Singh of the Jharkhand High Court directed him to neither leave the country without permission nor change his address and mobile number during the bail period, according to a LiveLaw report.
Central Bureau of Investigation's counsel and assistant solicitor general Rajiv Sinha told The HT, "The bench of justice Aparesh Kumar Singh granted bail to Prasad on the condition that he would furnish two sureties of Rs.1 lakh each and Rs.10 lakh fine amount before the court below."
As per media reports, Yadav had already secured bail in the Chaibasa Treasury Scam case and the Deogarh Treasury Scam case last year. The Chaibasa treasury scam case involved fraudulent withdrawals amounting to Rs 33.67 crore from the Chaibasa treasury, whereas the Deogarh scam involved embezzlement of Rs. 84.5 lakh in the 1990's.
Yadav has been serving his sentence since December 2017 and was airlifted to AIIMS in the National Capital in January this year, after his health condition deteriorated while undergoing treatment at a hospital in Ranchi.
The veteran politician, as per a Bar and Bench report, was sentenced to a total imprisonment of fourteen years after being convicted in the fodder scam for offences of conspiracy, cheating, forgery, falsification of accounts under the Indian Penal Code and relevant sections of the Prevention of Corruption Act.
He was convicted in cases pertaining to the fodder scam- two related to the Chaibasa Treasury, one related to the Deogarh Treasury and another related to the Dumka Treasury. The trial in the Doranda Treasury case is still ongoing.
Related:
Fodder scam: Lalu Prasad Yadav gets bail in Chaibasa Treasury case
Bihar elections: No ticket for 'dabang' Ex-DGP 'Robinhood' Pandeyji