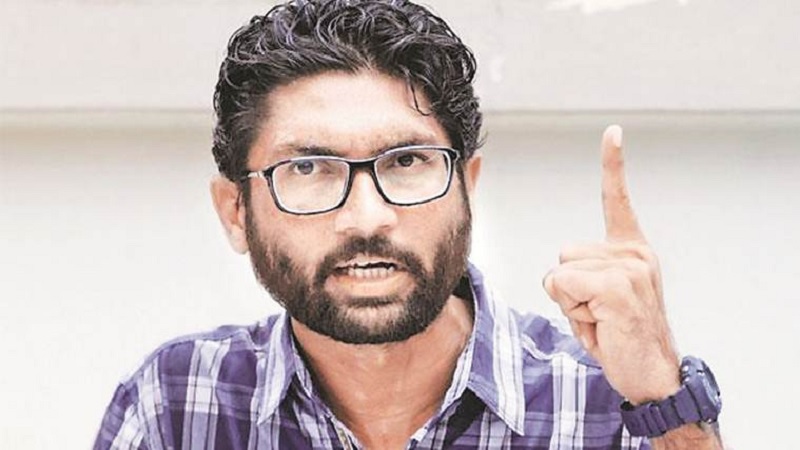 "Everytime I have demanded arrest of PSI Solanki in relation to a Dalit activist's murder, I have been suspended from the Assembly. Now, we will put our demands on the street – right outside Gujarat Assembly. Tomorrow, March 23, 11 am."
ये है भावनगर के कलेक्टर का हाल! अपना काम न करने की शर्म भी नही, ना ही पीड़ित परिवार के लिए कोई सहानभूति। किस के कहने पर आरोपी PSI सोलंकी को बचाया जा रहा है? ऐसा तो क्या जानता है ये PSI को पूरी सरकारी मशीनरी, यहां तक कि कलेक्टर भी चुप्पी साधे हुए है? #JusticeForAmrabhai pic.twitter.com/rUg2fqKRUz

— Jignesh Mevani (@jigneshmevani80) March 22, 2021
Jignesh Mevani, independent legislator from Gujarat has rallied support for the community and announced that he will fight for justice for Amrabhai Boricha. The Dalit RTI activist was hacked to death, allegedly by a group of Kshatriya men, in his home in Sanodar village of Ghogha taluka in Bhavnagar district earlier this month. However, it has been alleged that the investigations into the gruesome murder are proceeding at a snails pace.
Mewani, a vocal leader, had even raised the issue in the legislative Assembly last week. He asked why Solanki, a police sub-inspector, who is an accused in the case, had not been arrested so far, and demanded action. According to news reports, Mevani had sought an answer from Minister of State for Home Pradeepsinh Jadeja on why the sub-inspector was not being arrested. However Mevani was evicted from the Assembly, and suspended for a day by the Speaker.
On Monday, March 22, a group of Dalit citizens, and activist assembled at the Bhavnagar Collector's Office to submit another memorandum of demands, reported Counterview. Mewani was also at the Collector's Office along with Boricha's daughter Nirmala Boricha and son Mahesh Boricha. Mewani announced that the demand for justice for Amrabai Boricha will now be taken to the streets. He announced that a massive protest will be held in Gandhinagar tomorrow, March 23, and asked his supporters, and those who stood in solidarity with the Boricha family to gather opposite Gujarat Assembly Gate No.1.
According to another news report, on April 14, Ambedkar Jayanti, members of the Dalit community are also planning to take out a Lalakaar Yatra, or Challenge March, against oppression by the so called 'upper castes'. "On April 14, we will take out the rally and will try to get the possession of 14 land parcels in Gujarat which have been allotted to landless Dalits but have been wrongfully occupied by upper-caste people," Mevani told Counterview.
According to Niru Chorasia, Bhavnagar district coordinator of Navsarjan, an Ahmedabad-based NGO working for Dalit rights, "Boricha had been receiving death threats for the past seven years but despite his demand for armed policemen at his home, only two baton-carrying guards were provided to him with the result that the goons carrying sharp-edged weapons gate-crashed into his house and killed him." Chorasia was speaking to the media.
Mevani added: "The fact that Boricha was assaulted as many as 14 times shows that there is an absolutely blatant disregard for the rule of law in Gujarat as if the Constitution has gone for a six under the Rupani regime which, strangely, calls itself a sensitive administration." Amrabhai Boricha, a 50-year-old farmer, had given a complaint, about a month ago, at Ghogha police station against Kshatriyas but the FIR was not registered. Boricha had then approached the court.
Boricha's daughter, Nirmala, who was also injured in the attack described the incident to media persons, "First they threw stones on us. As my father rushed inside the house for safety, the assailants broke the gate, barged in and attacked my father with spears, iron pipes and swords, killing him". According to other news reports, Boricha's was the lone Dalit family in Sanodar village and the Kshatriyas were trying to usurp his agricultural land as well as residential plot.

Related
Dalit RTI activist hacked to death in Gujarat
The Question of Bahujan Women
Hathras: Man accused of sexual assault, shoots father outside village temple
Dalit teenager killed, body dumped in Aligarh field