The paradigm shift of treating voice as data is now here.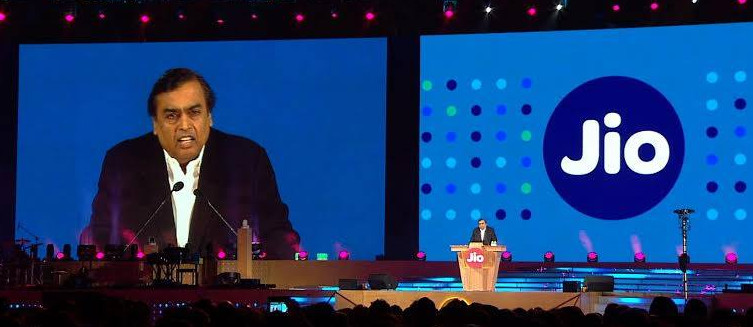 Image: fonearena.com
---
Make no mistake, Reliance Jio's entry into mobile data and voice services is going to cause a tectonic shift in the industry. Not because the rates for data are low, and voice is free. The Jio rates are not significantly lower than what other players are offering. Nor because the PM himself appears to be pushing Jio, an Ambani product, using his "image".
So why do I think this is a tectonic shift? Mukesh Ambani's Reliance Jio has now birthed the convergence paradigm — all voice calls should be treated as data — that everybody knew was coming. They just moved the start date of this paradigm forward. Further, they have built an infrastructure that is primarily geared to data, and therefore in line with this new paradigm.
For a telecom company or a consumer, revenue is finally not the revenue per call or revenue per Gigabytes (GB) of data, but what the telecom company extracts from you as a consumer: the average revenue per user (ARPU). It is the monthly bill that you pay that really matters. This is what Jio is betting on. It recognises that voice calls based on internet applications on your smart phone – Whatsapp, Signal, Skype – are already being done as data. As they do not have any existing voice customers, they lose nothing by offering free voice. In order to get free voice, the consumer will have to subscribe to a data plan. As long as the average revenue per user remains high in the data plans, Jio has no problem giving away voice free.
Looking at Jio's data plans, their ARPU – even for the lowest slab which is Rs. 149 for 28 days – is going to be higher than what the bulk of voice consumers today pay and almost the same as the ARPU of Vodafone, which has the highest ARPU – of Rs. 178 per month – among the existing telecom players.
Most of voice calls today use data links for the backhaul, particularly for long distance. Jio is using this model for all voice calls. For those who would argue that this is the dreaded Voice over Internet Protocol (VOIP) that needs to be separately licensed, they "forget" that the existing Unified License already has a license for VOIP, which the existing operators have not exercised. JIO is using the hole that exists in the existing Unified License scheme of the VOIP license to defeat the "keep VOIP out strategy" of the existing major players. With Jio, they now have an enemy within their ranks. This is the major disruption that is on the anvil now.
Can the existing telecom operators fight this disruption? That will depend on what they do now. One is clearly offering VOIP as per their original terms of the Unified License and bring down the costs for voice. The second is to offer a quality of service that is better than what Jio can offer. The have a country wide network, and can leverage that to their advantage. What they will find hard to beat, is the fibre optic network that Jio has built across the country, that is streets ahead of the competition.
Are Jio rates ridiculously low as it is being hyped in the media? No, they are not. This is the razzmatazz of marketing. They have apparently offered Rs. 19 for free voice and 0.1 GB of data, which is unlimited at night. Seems very attractive for young users, does it not? But let us look a little closer. The Rs. 19 plan is for a day! This means over 30 days it is Rs. 570 and therefore not low at all. And night is defined as 2 AM to 5 AM! The Jio plans, once you look at them closely, look a lot less attractive than they appear at first sight. If we "deconstruct" them, offer by offer, we see they have a 7 day plan, a 21 day plan, and finally a 28 day plan. If we convert them to equivalent monthly plans – apples to apples and not apple to oranges — we find that there are others who are offering similar data services. For example, Anil Ambani's Reliance is offering data services – Rs. 500 for 5 GB as against Jio's Rs.499 for 4 GB — that are actually cheaper than equivalent Jio plans.
For the existing telecom operators, this is the evil day they have been postponing. About 70% of their income is from voice calls. If we consider them as data, the voice consumers are being charged 60 to 70 paisa per call minute, which should only be 2 paisa per minute in data terms. Of course, they would have to generate more revenue to compensate for their voice revenue loss by treating voice as data. This demands that their data traffic increase dramatically and requires a major scaling up of their networks. This is what they have not done. Instead, they have been relying on very high data charges (based on purchasing power parity calculations) and the huge income they earn from their legacy voice services.
Is Jio a boon to the Indian telecom sector? Far from it. While Reliance did break – along with BSNL and the consumers – the mobile operators cartel, they also broke a number of laws. Some of them were criminal acts, carried out with full knowledge of the owners – Mukesh Ambani and Anil Ambani. They got away with a rap on the knuckles and some minimal fines. In this case too, they have received the blessings from the Department of Telecom in various ways. One is securing the 4G or BWA license itself. They created a front company – Infotel Broadband Services Pvt. Ltd – who paid Rs.12,847.77 crore for 20 megahertz (MHz) of the spectrum in all 22 circles, or 5,000 times its net worth of Rs. 2.5 crore! Once Infotel secured the licenses, all pretence was dropped and it was formally "acquired" by Mukesh Ambani's Reliance.
The Comptroller and Auditor General (CAG) in its May Report has charged that Reliance Jio has been shown undue favours to the tune of Rs. 20,000 crore. The DoT has tried to give an answer to the CAG's observations and we will have to see what the CAG now does. But there is little doubt that a company with net worth of Rs. 2.5 crore where the reserve price itself in thousands of crores is a gross violation of bidding practices.
This article first published on www.Newsclick.in