The last municipal election was held in 2005 and the last panchayat election was held in 2011. Officials have said that disclosure of candidate details will endanger their lives and make them vulnerable and thus are conducting a 'faceless' poll.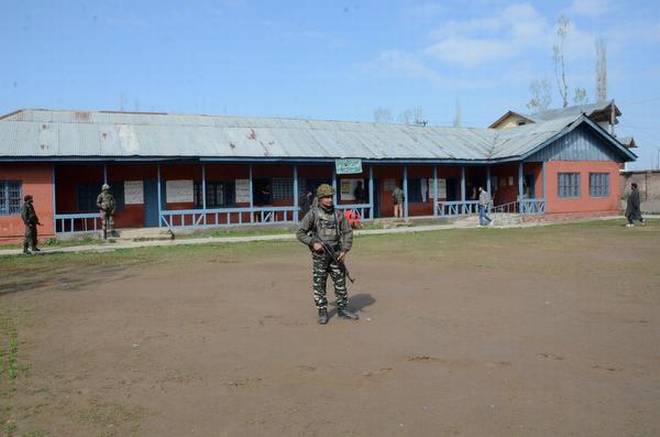 Srinagar: There is a shroud of secrecy over the local body elections in Jammu and Kashmir with BJP primed to win a majority as most posts remain uncontested. The first phase of the elections begins on October 8 but there has been no local campaigning, no names of the candidates revealed and no publicity or rallies in the region. "Even the names of candidates who have filed nomination papers or their political affiliations are not being disclosed," reported The Indian Express.

"So far, 851 candidates have filed nomination papers for seats in 598 wards and 40 municipal bodies in the Valley. Across J&K, 1145 seats are up for grabs in 79 municipal bodies and a total of 3005 candidates are in the fray," the report said.

Officials have said that disclosure of candidate details will endanger their lives and make them vulnerable and thus are conducting a 'faceless' poll, the report added.

"The PDP and National Conference, two big parties in the state, are boycotting the polls while the BJP, Congress and Sajad Lone's Peoples Conference are in the fray. In the Valley, there will probably be no contest for 60 per cent of the seats," the report said.

JKLF chairman Yasin Malik was arrested ahead of panchayat and local bodies elections, in Srinagar on Tuesday.

The last municipal election was held in 2005 and the last panchayat election was held in 2011.

Names of candidates leaked by Hizbul Mujahideen
Even though tight security measures are not allowing for any details to be disclosed, private details of 30 candidates from BJP and Congress were released by accounts associated with militant outfit Hizbul Mujahideen.

"Details of 30 candidates for the polls in Dooru Verinag Municipal Committee in south Kashmir's Anantnag district have been released on social media by accounts associated with militant outfit Hizbul Mujahideen. By Tuesday evening, a video was put out on the Facebook page of one BJP candidate from Dooru Verinag announcing her "resignation from all activities". Her name was among the 30 candidates on social media," an IE report said on Wednesday.

BJP and Congress leaders in the state confirmed to The Indian Express that the names put out on social media are indeed those of their candidates. "All these candidates are now under police protection. The list doing the rounds on social media names 17 Congress and 13 BJP candidates. It also names their parents, residence, ward number from which nomination has been filed, and the candidates' respective party," the report said.

"Senior BJP leader and party MLC Sofi Yousuf said that besides the 13 names of party candidates leaked on social media, names of nine BJP candidates, who had filed nominations from Municipal Committee Ashmuqam in Anantnag district, were made public two days ago. 'Their contact details, including phone numbers and personal details, were made public…it has created fear among the candidates," Sofi said in the report.

The candidates concerned about their security are being given accommodation and protection.

BJP wins 60 wards unopposed
On October 2, The Hindu reported that BJP had already won 60 municipal wards as they were unopposed, whereas Congress won 26.

"The Bharatiya Janata Party has made a headway in the urban local body election in the Kashmir Valley by winning 60 municipal wards unopposed, mainly in the volatile south Kashmir, while the Congress has won only 26 wards. Of the 624 wards scheduled to go for the four-phase polls from October 8 to 16, the BJP claimed to have won at least 60 unopposed in the three phases and expects the tally to cross 70 when the fourth phase details are made public by the Chief Electoral Officer in Srinagar," the report said.

Regional parties like the National Conference and the Peoples Democratic Party, have boycotted the polls because the Centre has not clarified its stand and have accused them of defending the Article 35A and Article 370 in the Supreme Court.

"It is heartening that for the first time we have started winning wards in the urban local bodies in Kashmir. The edge is that we have started winning them in the hotbed of militancy in south Kashmir such as Kulgam, Pulwama and Anantnag," BJP spokesman Altaf Thakur told The Hindu.

Lashkar makes death threats, Panchayat Ghar set ablaze
A video of LeT commander Suhaib Akhoon alias Romee has surfaced on social media in Kashmir in which he can be seen issuing a threat to those who have filed nominations for the upcoming municipal polls.

"He also told them to withdraw their nomination forms within three days, failing which they will face dire consequences. After this fresh threat by the Lashkar, an independent candidate has walked out of the fray. Aijaj Ahmad, an independent candidate contesting in the Baramulla Municipal Committee, uploaded a video on social media and appealed to people to forgive him and distanced himself from the local body poll," reported India Today.

"Meanwhile, another panchayat ghar was set ablaze by some unknown persons at Wathoo of DH Pora area in Kulgam. It is the 12th panchayat ghar to be set ablaze after the announcement of the panchayat poll in J&K," the report said.

Rajnath Singh's promise for Panchayats
In a series of tweets on September 28, Union Home Minister Rajnath Singh announced what the govt will offer Panchayats after the local body elections in October.

Rajnath Singh said financial powers of panchayats are being enhanced 10 times from Rs 10,000 to Rs 1 lakh. Similarly, the financial powers of block councils are being enhanced from Rs 25,000 to Rs 2.5 lakh.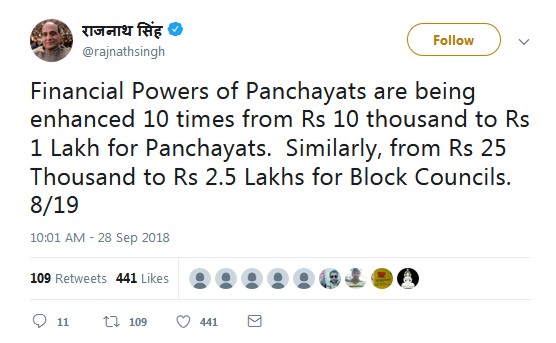 "Powers for "own fund generation" are being given to panchayats. These will include Building Permission Fee, taxes on entertainment, advertisement, hoardings, various kinds of businesses and professions," he said.

Rajnath Singh announced better payment for Special Police Officers (SPOs) in Jammu and Kashmir. "Considering the crucial role being played by the Special Police Officers in anti-militancy operations, MHA has enhanced their honorarium from existing Rs 6,000 per month to 9,000 on completion of 5 years and Rs 12,000 on completion of 15 years," he tweeted.

He said, "MHA has approved a scheme of Rs 5.5 Lakh financial assistance to nearly 5,764 West Pakistan Refugees settled in J&K. Amounts due to the eligible beneficiaries will be transferred in their bank accounts."

These elections will also pave the way for making available nearly Rs 4,335 crore mandated by 14th Finance Commission in the form of central grants to the local bodies.

"In addition to the selection of eligible beneficiaries for various schemes, panchayats will also be involved in the implementations of schemes like the National Health Mission, Samagraha Siksha, Mission for Development of Horticulture, Pradhan Mantri Krishi Sinchayee Yojana (PMKSY) and others," he said.

On an average, every Panchayat will now get around Rs 50-80 lakh per year at its disposal for implementation of such schemes. To further strengthen the panchayats, additional posts are being sanctioned for accountant, data entry operator and block panchayat inspector, he said.

He also promised more power to Leh and Kargil development bodies.