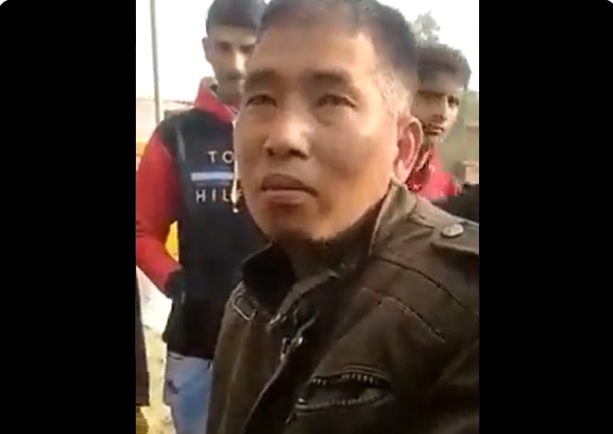 'Bol Jai Shri Ram…bol saale…" a hindutva goon screams at a visibly terrified man from the north east, as he tries to explain that he is a christian by birth as are his parents. However the goon is not in a mood to listen and continues screaming at the man, "you are here to convert people.. Who called you here. The victim, later identified as Christian priest from Manipur, tries explaining that the people who came to visit were already christian believers, "woh mere aane se pehle prabhu ko mante hai," he says. "You are here to convert… say Jai Shri Ram… is he not a prabhu?"
Another goon films the incident, that took place in the Kathua district of Jammu and Kashmir on Christmas for not saying 'Jai Shri Ram' as per their demand. The video eventually went viral on December 30, Thursday, even though the goons are yet to be identified by the local police.
Absolutely Pathetic!
This was happened with Mr. Chunglien Singsit, Manipur.
Forcing him to chant 'Jai Shri Ram' in Kathua district, J&K.

This is unacceptable. Northeast will never forgive BJP's divisive politics.@INCManipur pic.twitter.com/06fXshUgaZ

— SS Kim (@KimHaokipINC) December 29, 2021
According to a report in The Wire the priest, Chunglenlal Singsit, recalled, "The incident happened around 3 pm on Christmas. I had gone to a believer's house nearby in Kathua to pray. I returned home and went out to the market to buy some gifts for my three children. That was when two men stopped me and began accusing me of converting the family I had visited that day and was forcing me to say 'Jai Shri Ram'." Chunglenlal, is from the Kuki tribe and hails from Manipur's Kangpokpi district, he has been living in Kathua for the last three years and is a priest in a Christian organisation named Friends of Missionary Prayer Band.
He told the media that the goons also "phoned someone" and eventually "a crowd of 100 people had gathered, some of whom threatened to beat me for religious conversion while the three men slapped me a few times. In the video, you see me wetting my lips repeatedly; that was because I was so scared that my mouth and throat had gone dry. I could barely speak out of fear. They also called the local police and accused me of carrying out religious conversion in the area. While I told the police what actually happened and denied carrying out any conversion, the police picked me up instead; kept me for over 24 hours in lockup, shouted abuses at me and also beat me in custody. The Kathua SSP said if I don't leave for Manipur within five days, action would be taken against me. I was released after 24 hours because my organisation members asked if I was arrested and sought a first information report copy to seek my bail."
SabrangIndia called SP Kathua, Ramesh Chander Kotwal, to verify and seek the police version however calls went unanswered. According to the news report in The Wire, the personal assistant to the SSP, Kathua, denied that any arrest or detention of a Christian priest on the charge of conversion had been made, "We have no information about any such case in Kathua."
The Evangelical Fellowship of India (EFI) recorded over 305 cases of attacks on Christians until November end alone. There is some other data available but the actual picture is always hidden behind these figures. It is only through the painstaking documentation of such incidents that take place in the farthest corners across states that we are able to get a semblance of how widespread these incidents have become. Tragically, often it is the "viral" video on social media up-loaded and shared by the perpetrators themselves that are the source of such "data."
On Christmas weekend, communal mobs were out targeting Christians, and others, celebrating the festival of joy, including at school functions, across the country.
The law not only forbids such incidents but encourages fair investigation and prosecution of these. However, rarely do the police or law enforcement act, even more rarely do the courts initiate suo motu action.
Related
Hate Speech: The worst words of 2021, we hope do not spill over into 2022
Had a happy Christmas weekend? Have a look at how communal mobs celebrated theirs
Uttarakhand Police summon Dharma Sansad accused